Your Invisible Sales Force
October 12, 2023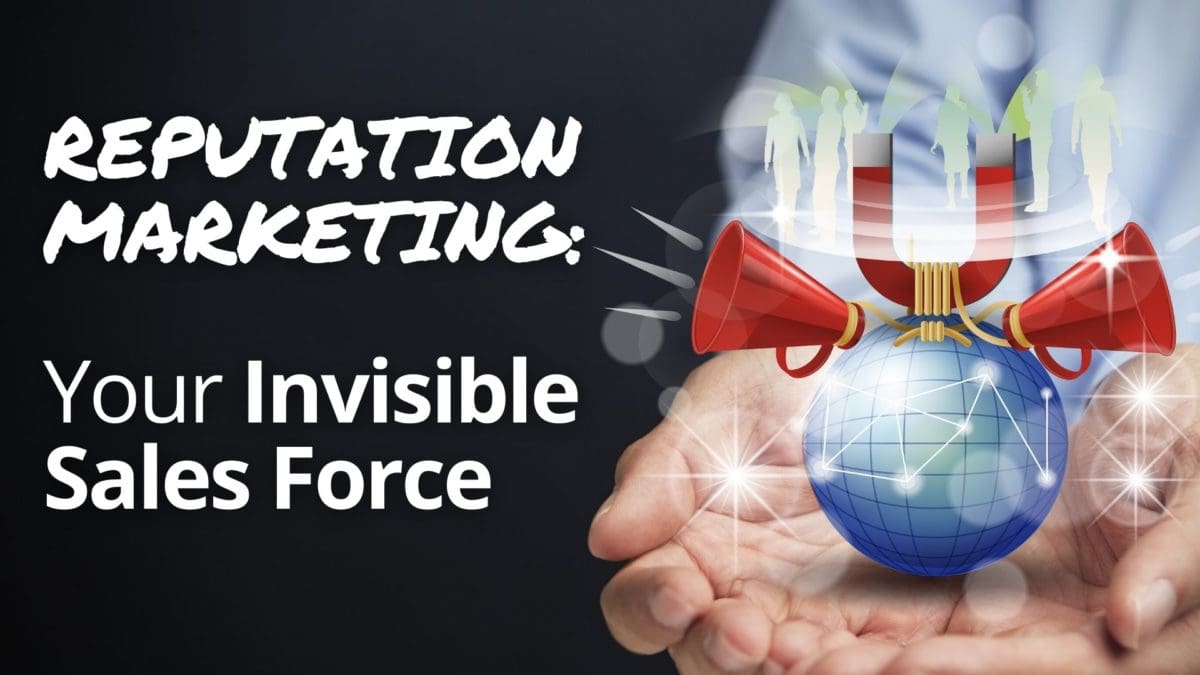 Let's get right to the point: If you're adept at marketing, you'll substantially reduce your need for traditional prospecting.
Establish a robust reputation within a specific target market and become highly referable—this will draw interested prospects to you. Personal introductions to right-fit prospects are easier to convert into clients, saving you time and effort. Below, we'll delve into why marketing strategies are paramount for sustained growth and less labor-intensive client acquisition.
The Thrill of the Chase
Prospecting has its own allure. Known as "the thrill of the chase," it's often seen as a core skill, especially in the financial services industry. Agents and advisors are taught to generate leads via cold calling, social media outreach, and networking events. While these activities can result in new clients, they demand high levels of energy, time, and persistence.
Reputation Marketing: Your Invisible Sales Force
Contrast this with a well-executed reputation marketing strategy that serves as an invisible sales force. It funnels highly interested, qualified prospects directly to you, reducing the hard slog of traditional prospecting. Marketing is not just about short-term wins; it's a strategic function aimed at building a robust pipeline for the long run.
The Pitfall of Solely Relying on Prospecting or Marketing
Prospecting-Only Approach: Focusing only on prospecting can lead to an unstable flow of leads, often resulting in fatigue and reduced efficiency.
Marketing-Only Approach: Sole reliance on marketing could mean you miss out on opportunities that require a more hands-on approach to cross the finish line.
Prospecting vs. Marketing: Real-World Examples
Pure Prospecting Activities
Telephone cold calling
Door-to-door visits
Direct mail or internet-generated leads
Booth or table at an event
Social media prospecting
Hybrid Activities
Educational events
Networking and related activities
Requesting personal introductions and referrals
Bring-a-guest social events
Pure Marketing Activities
Building a reputation in a clearly defined target market
Value-driven social media posting
Establishing a network of Centers of Influence (COI's)
Unlock Your Full Potential with Reputation Marketing
Reputation Marketing focuses on establishing a strong reputation within a niche market. This makes you a magnet for right-fit prospects.
Your efforts to create relationships with Centers of Influence who also focus on your target market is enhanced – leading to joint activities and great personal introductions. To go deeper with this strategy, check out my 3-part blog on this topic:
Part 1: https://referralcoach.com/targeting-niche-market/
Part 2: https://referralcoach.com/reputation-marketing-target-market/
Part 3: https://referralcoach.com/maximize-your-target-market/
The Future is Now
The choices you make today in your marketing and prospecting efforts will manifest in your business performance in the upcoming months. Therefore, integrate effective marketing strategies now to reduce your future dependence on high-effort prospecting.
Summary
Establishing a reputation in a well-defined target market can significantly minimize your reliance on time-consuming prospecting. By mastering the art of attracting right-fit prospects through targeted marketing, you are essentially making prospecting an ancillary, not primary, means of client acquisition.
---
Virtual Referral Training is Here
Supercharge Your Success!
Start Your Journey with the All NEW Cates Academy Today and
Learn a Proven Process to Attract More Right-Fit Clients.
The Cates Academy for Relationship Marketing™ is Bill Cates' comprehensive online video-training program that will help you generate significantly more income in less time by leveraging the power of referrals, personal introductions and communicating compelling value. Work smarter, not harder!
Get the details and join us: www.CatesAcademyIndividuals.com