The Fastest Way to Get More Clients with Linkedin
September 14, 2017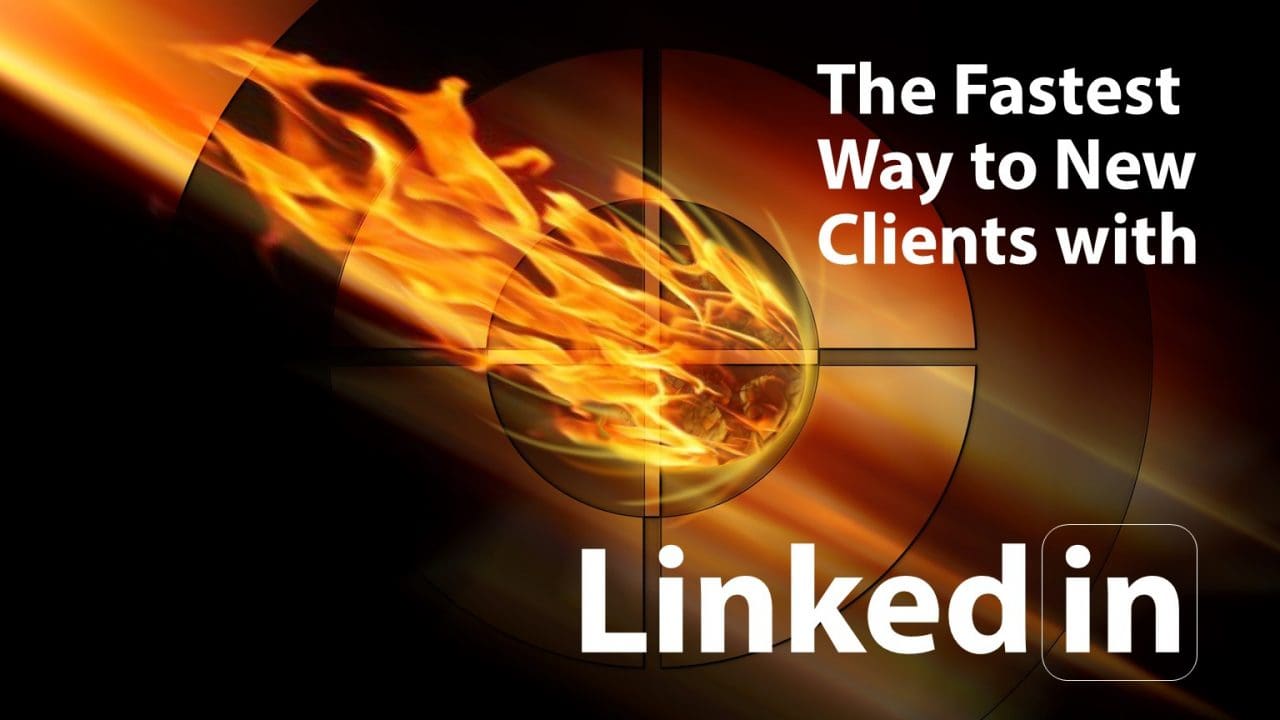 I often get asked for tips on how to use Linkedin to get introduced to prospects.
Before I get into specific tactics for leveraging Linkedin to produce more referrals and personal introductions, let's take a step back and look at the big picture, shall we?
What percentage of your LinkedIn contacts do you know well – well enough to provide them with a personal introduction to someone whose service you like?
For me, that would probably be about 10 percent. What do you think the percentage is for your clients?
Here's the point: if you look at a client's profile in hopes of finding possible prospects (people close enough to your client that they'll feel comfortable making a personal introduction), it's a bit of a crap shoot. Heck, you could suggest 10 people and your client may not know any of those folks well enough to feel comfortable making a personal introduction. 
How to Use Linkedin to Get More Clients
Narrow Your Focus – Narrow Your Search
What you may not know is that the easiest way to produce results with LinkedIn referrals is by focusing on a target market.
Assuming your Target Market is large enough and has the "financial capacity" to take advantage of the great work that you do, narrowing your marketing focus just might be the best decision you ever make for your business.
To dig deeper into this concept, here are Parts 1, 2, and 3 of my blog series on Reputation Marketing:
Part 1:  https://referralcoach.com/targeting-niche-market/
Part 2:  https://referralcoach.com/reputation-marketing-target-market/

Part 3:  https://referralcoach.com/maximize-your-target-market/
How This Applies to LinkedIn Referrals
When you focus on a well-defined target market, you can cross reference your LinkedIn search with your clients in that niche, and produce a list of contacts who are also in your target market.
The likelihood of your clients knowing these folks well increases significantly, since they are in the same target market.
When your clients know you are focusing on people just like them (their company, industry, university, etc.), they become predisposed to help you reach their colleagues.
Bonus Idea: Look at the Comments
Try looking at the comments on your clients' (and prospects') posts.
You can often tell by the words, and tone, of a post that the person posting knows your client well.  These folks should be added to your inventory of possible introductions from your clients.
Remember to look at the 3 blog posts I referenced above. These will help you make this strategy much more effective.
FREE REPORT: Quick Start Guide to Linkedin Referrals
If you want more ideas about how to use Linkedin to get more clients, it's your lucky day!
I have teamed up with Claire Akin, author of The LinkedIn Guide for Financial Advisors and president of Indigo Marketing Agency, to produce a special report on how to use LinkedIn to create more referral business.  It's yours for free by heading over to:  www.LinkedInReferralOptimizer.com.
Also, SAVE THE DATE! On October 10, I'll be teaming up with Claire to bring to you a complimentary webinar on how to use LinkedIn to grow your business. Stay tuned for more information and a link to register for this free educational session.
Are You Receiving Our Weekly Business-Growth Tips? 
For these and other free resources, go to: www.ReferralCoach.com/resources