The 60-Day Value Discussion Challenge
February 20, 2019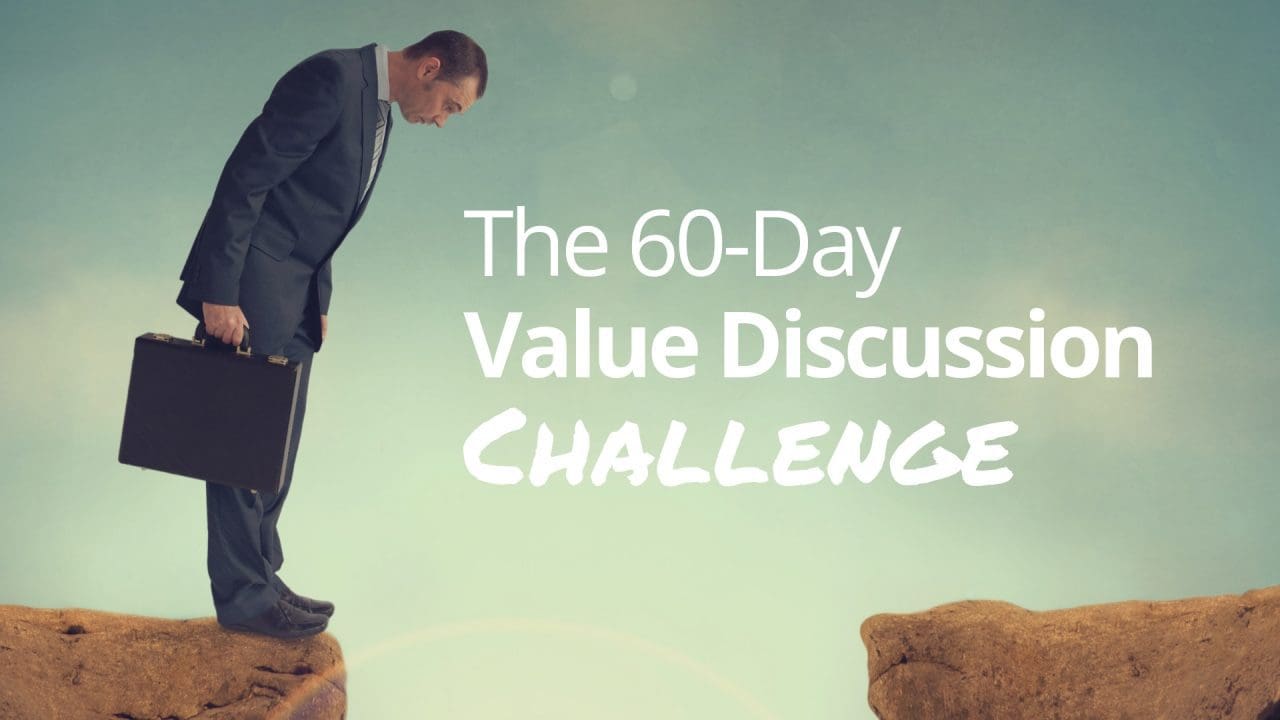 Of all the strategies and tactics I've been teaching for 25 years – the most effective (therefore, most important) is what I call the Value Discussion.
The value discussion is just that… a discussion with your prospects and clients to make sure that you are meeting their expectations, and that they are finding value in your process, as well as your product and/or service.
3 Reasons Why The Value Discussion is Critical
Checking in with your prospects and clients – conducting Value Discussions – does several things:
You can uncover any unmet expectations, unexpressed problems or complaints before they fester and poison the relationship.  Customers and clients tend to let you know about the big stuff – the balls you may have dropped.  It's the little ones that can come back to hurt you.
These short conversations will increase the all-important prospect and client engagement. A study conducted by Julie Littlechild with Absolute Engagement showed that 72% of clients who gave referrals were asked for feedback.  That's huge!  Checking in with your clients is the single most significant thing you can do to create a sense of engagement.
Your prospects and clients get in touch with your value. When your client speaks up about what's working for them, they can carry your value to others. That's why I call this a "discussion."  It's not a "value telling" where you just tell your prospects or clients the value you've provided.  And it's not a "set up" where you say something like, "Have you found value in this meeting? (Yes) Great! Who do you know___?"
Put these three dynamics together and it's no wonder the Value Discussion will produce referrals without even asking for them … sometimes, right on the spot.
Here's My Challenge to You
For the next 60 days, build the Value Discussion into most of your meeting agendas.
Near the end of your agenda, put the words Value Discussion or Value Check-In or Communication Review.
Encourage your clients to get any little complaints off their chest – anything that's not working 100% for them.  You might even refer back to a past problem to make sure everything has been cleaned up and there are no residual bad feelings.  Then, encourage them to tell you where they find value in the work that you do, and/or how you continue to earn their business.
The Value Discussion – Sample Scripts
While you will have to adjust your word tracks to fit your situation, here is a start to help you find your own words.
Prospect Experience Phase – First or Second Appointment

"What's the most important thing we discussed so far?"

"How are we doing so far? Are you finding this information helpful? Tell me about it."

New Client – Onboarding Process

"We've been through a process, have we not? I've asked you a lot of questions and here is the fruit of our labors – so far. Please tell me about what value you feel this process has given you."

Ongoing Client – Throughout the Relationship

"Let's put the economy aside for a minute and talk about something we can control – namely our communication and overall working relationship. First, is there anything that's not working for you in this area? Anything you think we need to improve upon?"

"Shifting gears, what has been working for you? What do you like about our relationship and the work we've been doing together?"
***NOTE: Always begin with the "what needs improvement" side of the discussion. If there is something that needs to be fixed or merely vented, then you want to get that up and out first.

TIP #1:  With your long-term clients, when you confirm your review appointment, let them know that you'll be checking in with them about how the relationship is going. They will appreciate this "heads up."
TIP #2:  With your new clients, let them know that one thing they can expect from you is that you will be checking in with them from time to time to make sure that everything is being communicated, and that they are seeing the value of the relationship.
Are You Up to the Challenge?
Start checking in with your prospects and clients more often. You'll begin to see that this is such a simple, yet powerful concept.  You'll discover little problems or concerns you didn't know were there, you'll become more referable, and you'll even start getting more referrals without asking.
Do this for 60 days and I can almost guarantee you'll get some unsolicited referrals and strengthen your client relationships.
Don't forget to tell me how it goes!
I really want to know!  I might be able to fine tune your results and we can "share the wealth" of ideas!
---
NEW! Our Most Affordable 1:1 Coaching Package
"Before I met Bill Cates, I was making a ton of cold calls. Bill showed me how to go from cold calling to referrals and I tripled my production the very next month. I would not be where I am today without learning Bill's processes."
James Mwombela, Insurance Advisor
(Washington, DC)
Do you find it challenging to…
Get unsolicited referrals?
Ask for referrals/introductions without feeling uncomfortable? 
Get prospects to return your calls and emails?  
Confidently communicate your value in a way that turns ideal prospects into clients? 
Get introductions from key Centers of Influence? 
Maximize social event marketing?
If you answered "YES!" to any of the questions above, you're in luck. Over the past few months, I've offered a very limited number of exclusive, highly-discounted 1:1 personal coaching packages to my webinar participants. Due to the popularity, we've decided to extend this offer to our readers as well! 
If you want to breathe new life into your client acquisition process and make 2019, then reserve your spot today! We're only accepting 15 coaching clients, so don't wait… 
Learn More & Reserve Your Spot (ONLY $499!)
You May Also Like:
5 (Easy!) Ways to Get Your Linkedin Messages and E-mails to Stand Out