21 Ideas for People Who Hate Networking Events
March 27, 2023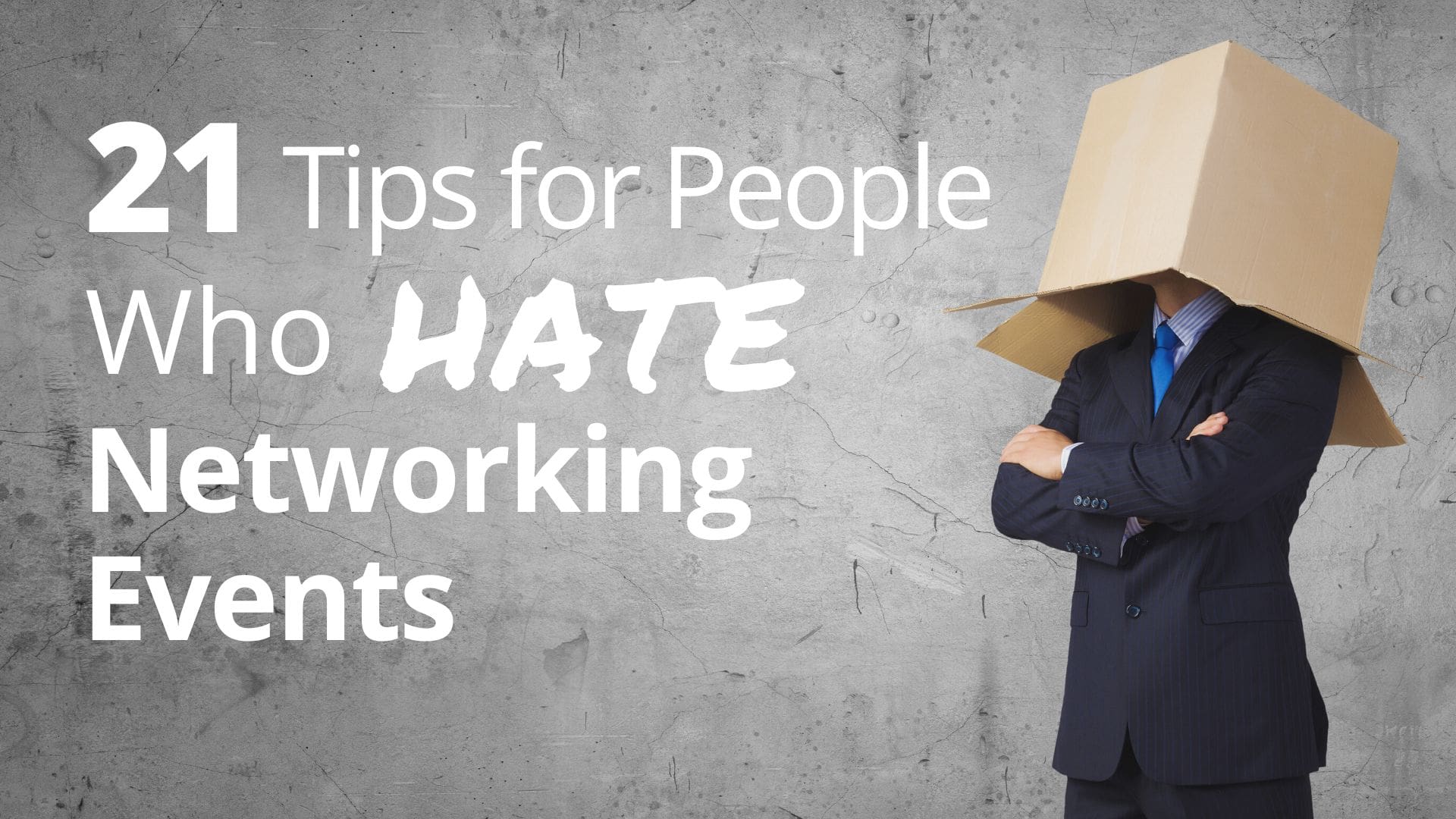 Believe it or not, when I attend business events – unless I'm there to give a speech – I turn pretty shy.  Because of that, I've forced myself to develop some effective strategies and methods for networking that  I hope you will find helpful.
–
Hate Networking Events? Try these 21 tips.
–
6 Tips for Connecting with People at Events
–
1. Be a curious and unselfish listener.
2. Manage distractions to make good eye contact.
3. Manage interruptions. Stay focused and do your best to not let others interrupt meaningful conversations.
4. Take notes on their business card. (Except in most Asian countries where writing on someone's business card is considered inappropriate.)
5. Reconnect before you leave the event.
6. Keep your word; follow up how and when you promised.
–



3 Great Questions for Giving
–
1.  "If I ran into a great prospect for your business, how would I know it and how would you like me to introduce them to you?"
2.  "If I were to introduce someone to you, whom I know you'd like to meet, what one sentence should I use to describe you and the way you do business?"
3.  "What do I need to know about you and your business so that when I'm talking to someone, I will know if you should meet her?"
–
7 Ways to Make the Most of Network/Referral Groups


–
1. Find the right group for your business.
2. Talk about your business in terms of how you truly help others.
3 Be crystal clear about who a good prospect is for you.
4. Meet with members outside of the meetings – to really get to know each other and become more referable.
5. Go to give!
6. Think in terms of giving and receiving quality introductions – not just leads.
7. Give it at least 6 months. Sometimes your best referrals/introductions come when the members really get to know and trust you.
5 Strategies for Meeting and Serving the Organization's Influencers


–
Every group – be it an industry group or local business group – has what I refer to as Influencers. These are often the more successful members of the organization who have also taken on a leadership role at some point. These Influencers can be a great source of referrals for you – if they know who you are and how you benefit others.
1. Determine who the Influencers are before the event.
2. Do a little intelligence gathering on each of the Influencers you want to meet.
3. Use others in the organization to introduce you to them, if you can.
4. Find ways to be of value to them, either directly at the event or in other ways.
5. Determine a what's-in-it-for-them reason to stay in touch after the event.
How do you get the most out of going to networking events? Share a tip or two with me.  (I really want to know!)
What works for you? Or what questions do you have? I'd love to hear from you.  Please leave your comment below.  We can all learn from each other. Thanks!

---
You May Also Like: