Overcoming 3 Virtual Prospecting Challenges
September 9, 2020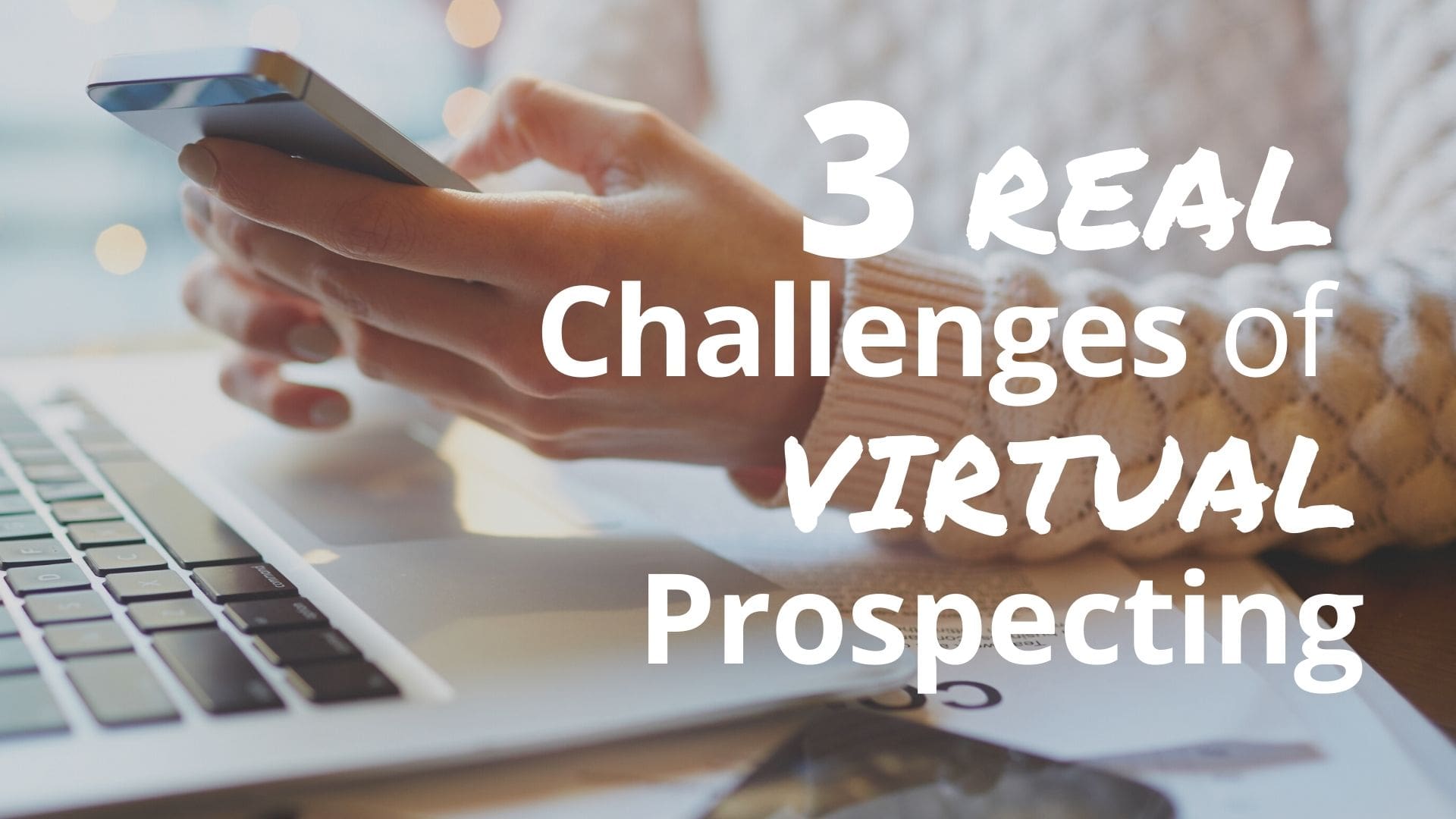 Is this "virtual world" here to stay. Yup! Okay, maybe not as prevailing as it is now for most of us, but the convenience and efficiency of virtual meetings is too tempting to have them go away.
Heck – I've been speaking with some financial professionals who have been working virtually (50 to 100 percent) for years.
Here's what I know. All my discussions with financial professionals – no matter what they're level of tenure and/or success – most tell me that they have not yet mastered the challenges of acquiring new clients in this virtual world of ours.
3 Virtual Prospecting Challenges and Some Simple Solutions
Here are 3 prevalent challenges and a few solutions designed to remove those challenges:
Challenge 1: Gaining the Attention of Prospective Clients
Solutions:
Work from referrals as much as possible. (What else would you expect from The Referral Coach?)

Use the power of a Target Market to gain insight and build your reputation.
https://referralcoach.com/niche-marketing-commitment/
https://referralcoach.com/targeting-niche-market/
https://referralcoach.com/reputation-marketing-target-market/
https://referralcoach.com/maximize-your-target-market/
Use pre-call research. Gain as much context as you can about your new prospect before reaching out to them.

Find and share any commonalities (education, sports, hobbies, community service, pets, etc.).

Start all your messages with empathy – appreciation for their circumstances – before saying too much about yourself.

Use humor – if you know you can with them, perhaps based on what you've learned about them from your referral source.
Challenge 2: Keeping Them Engaged Virtually
Solutions:
Always use video if the prospect is willing. Give them a heads up when scheduling the call so they will be more prepared.

Capture their attention quickly with an interesting fact (statistic) or point of view. Most movies open with a scene that hooks the viewer. You can do the same.

Work from an agenda filled with insight-building questions. Questions pull people back into the conversation even if their mind has started to wander.

When appropriate, use short videos, infographics, and other illustrative devices to put their attention back on the screen.

Keep your virtual meetings shorter than you would with your in-person meetings. You may have to break your process into more steps. Just like a Netflix series, create an interesting and/or important hook to make them want to take the next step with you.
Challenge 3: Find and Solve the Right Problems and Opportunities
Solutions:
Your prospects and clients will almost always devote more resources (time, energy, and money) to problems and opportunities that are most important to them. Critical problems (those that MUST be solved) are the ones most likely to keep things moving and allow you to win the business.
Read this blog post: https://referralcoach.com/blac-and-white-model/

Determine how critical or important a problem or opportunity is to them. Try not to waste time on the lower-level issues.

Determine the cost of inaction. There may be an investment of time and dollars to solve the problem, but there's always a cost to doing nothing. Help them figure that out and you'll see how important the issue is to them.
Did you identify with some of these challenges?
What other challenges do you face? Leave a comment below and I will respond as quickly as I can.
---

Thursday, September 17
12:00pm Eastern | 11:00am Central | 10:00am Mountain | 9:00am Pacific
Bill Cates, a 25-year veteran in helping financial advisors with his iconic "referrals approach to growth" and Rob Knapp, developer and coach of the well-known "Supernova process to get segmented, organized and grow" are joining together for a conversation you don't want to miss.
Rob Knapp will show you how to:
get your team organized and keep them organized. (Organization)
grow your practice by shrinking it. (Segmentation)
leverage your team for growth. (Leadership)
Bill Cates will teach you how to:
enhance and leverage super referability.
get your client advocates to introduce you to more Right-Fit Clients.™
maximize your target market for frictionless growth.
This session will be geared toward specific actions you can take – validated by many success stories – to create tangible growth in revenue and profitability.
Rob Knapp, a 30-year Merrill Lynch advisor, regional director and author of The Supernova Advisor, Supernova Multiplier, and co-author of Supernova Teams, coaches financial advisors and their teams on creating a concierge level of service for their clients. Financial advisors have found that by using his model they gain back control of their day and leverage their teams to create growth. Rob says, "Every client deserves to be an A client."
Bill Cates, CSP, CPAE as been showing advisors how to create exponential growth for 25 years. He's the author of 4 best-selling books, Get More Referrals Now, Don't Keep Me a Secret, Beyond Referrals, and Radical Relevance. He is also the founder of The Cates Academy for Relationship Marketing. Bill says, "It's time to move from just prospecting to attraction marketing, where you can increase your revenue without increasing your expenses."