Is a Referral by Any Other Name… Still as Sweet?
December 22, 2021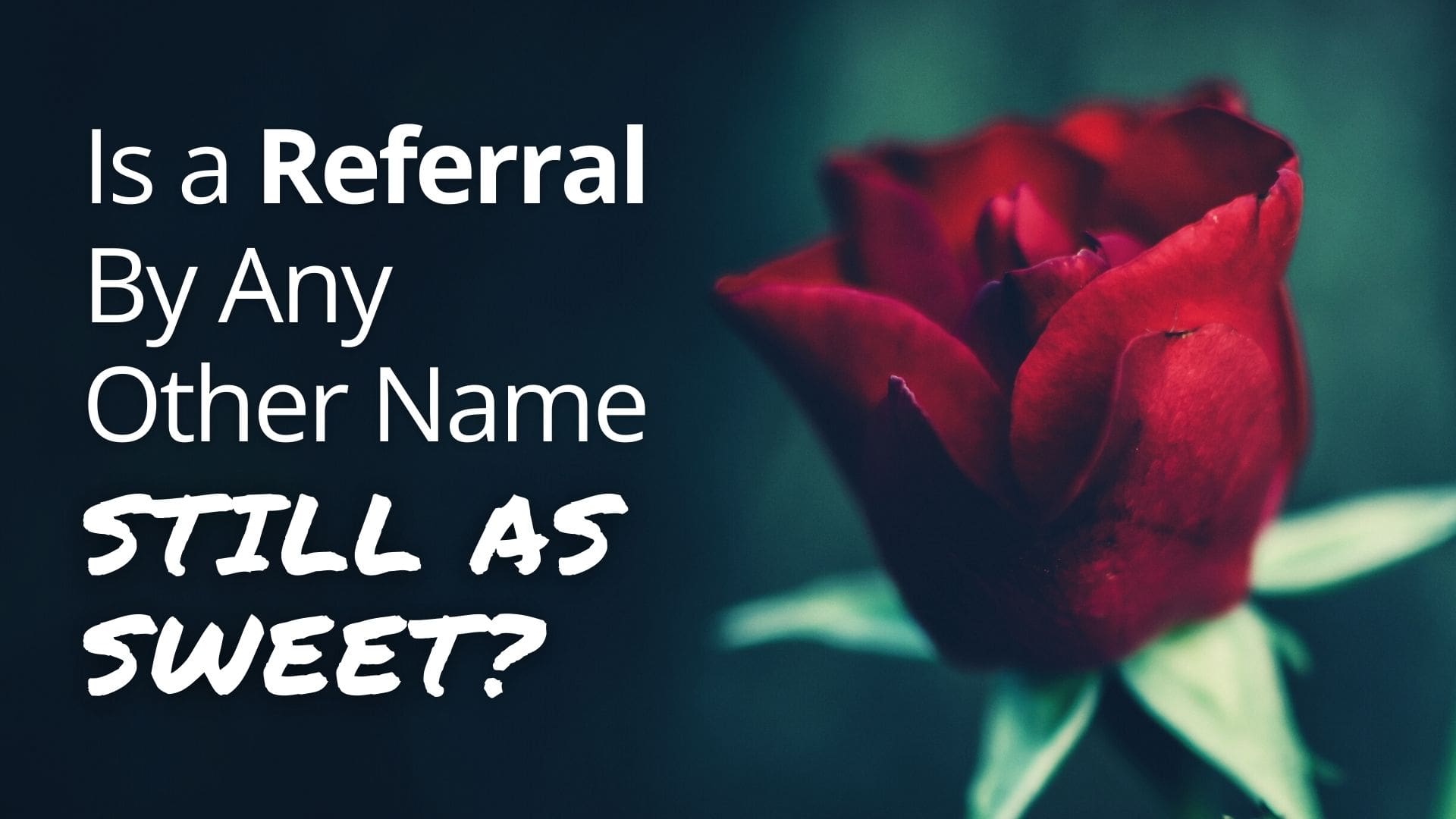 You'll find the famous line, "A rose by any other name would smell as sweet," in Shakespeare's Romeo & Juliet.
What about with referrals? Is a Referral the same as Word of Mouth, is the same as a Recommendation, is the same as an Introduction?
There seems to be a lot of conflicting perspectives around referrals these days. First, should we even use the term referrals?
There also seems to be a lot fuss about whether financial professionals should even ask their clients for referrals – or whatever we decide to call them.
Some contend that asking clients can damage the relationship. Others contend that if you ask in the right way, it can also actually strengthen the relationship.
I thought I'd jump into the conversation based on my 26 years of helping financial advisors multiply their best clients. I've had the honor of working with some of the most successful advisors in the industry. One of my current coaching clients has over $5 billion in assets and another has gone from $300 million to over $1 billion working with me over the past 10 years.
What Word Should We Use?
Word of Mouth
Is the value you deliver, the experiences you create, and the relationships you build remarkable (worthy of remark)?
I sure hope you're getting some word of mouth. If you aren't getting the occasional prospect contacting you, then you better get working on your client engagement and creating better experiences for your clients throughout the entire client journey.
Referrals / Referred Leads
This where a client says, "Call George. Use my name." The problem is that George doesn't pick up his phone and he wonders why his friend gave out his name. Referrals like this are pretty much a thing of the past.
Recommendations
Being recommended – vouched for – is an important part of any sort of word of mouth, referral, or introduction. While you might assume the recommendation is implied, it's always better if your referral source doesn't leave that part to chance.

"Take her call, it will be time well invested." OR "I recommend you at least talk to him."
Introductions
Speaking of recommendations, when you're speaking with someone who has the ability to connect you with prospects, I highly recommend you use the word introductions.
With so much noise in the marketplace and with all the barriers people have created to keeping that noise out, we need to think and speak in terms of connections… introductions.
I've written quite a bit about introductions over the years – how to get them and the various types of introductions. I've provided a few links at the end of this blog to past articles. I recommend you check them out.
I also recommend that you have your favorite way to get introduced and at the same time, be ready to be flexible to what your referral source thinks will work the best for them and the new prospect.
Personally, my favorite type of introduction is the Email Handshake. (See links at the end.)
This is Interesting
I'd like to summarize a recent post from Julie Littlechild (www.AbsoluteEngagement.com).
She writes…
About 42 percent of clients say they provided a referral in the last year; advisors report meeting referrals from about four percent of clients.
That gap, of course, is remarkably frustrating but it's also a stunning opportunity.
And the big question is 'why'.
You don't need to look much further than your clients for the answer. They say they are 'referring', but the definition of a referral ranges from a passing mention to the equivalent of driving a friend or family member to your office.
A study of investors across the country found that a high percentage of clients provide referrals to their advisor. However, it also showed that only one in four of those referrals are introductions. It turns out we only meet about 10 percent of the referrals that are made.
CLICK HERE to read Julie's full post.
What are the lessons for us?
First, clients are willing to refer and introduce. We should be getting some without asking and if we ask in the right way, we'll get even more.
Second, we're not done until we get connected (introduced) to our new prospect.
Further Reading
Email Introductions 2.0
https://referralcoach.com/email-introductions/
Creating Engaged Introductions
https://referralcoach.com/create-engaged-introductions/
How to Get Introduced in a Virtual World – VIDEO
https://referralcoach.com/introductions-in-a-virtual-world/
Forward this article to a friend or colleague.
And don't forget ALL our resources – many of them free – are waiting for you at www.ReferralCoach.com/resources.
---
Virtual Referral Training is Here
Are you ready to grow your business … and change your life?
You can learn and implement our proven process while working from home or not seeing clients and prospects face to face.
Get the details and join us: www.CatesAcademyIndividuals.com