10 Strategies for More Referral Partner Introductions
April 13, 2017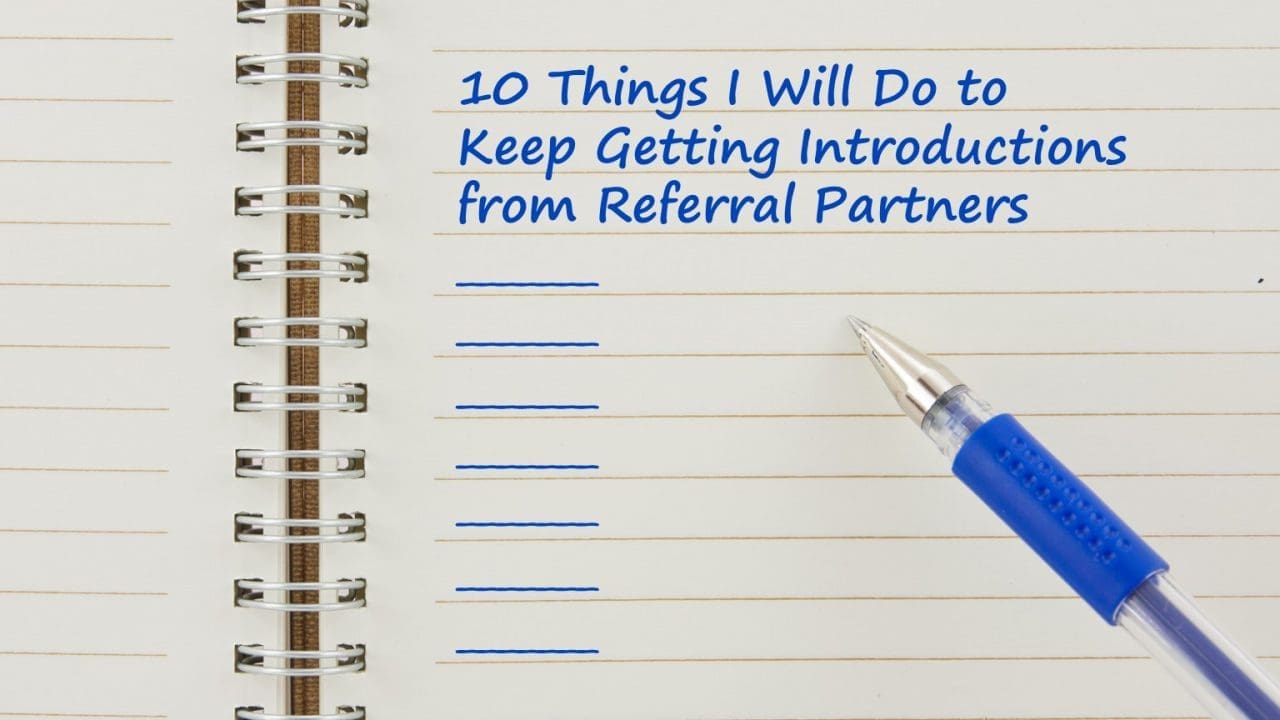 In preparation for our next complimentary webinar (April 24), here's a 10-strategy checklist to maximize your referral results with Referral Partners and Centers of Influence.
This checklist is by no means exhaustive and I will be giving you many other ideas on the April 24th webinar.
Hopefully, you have already realized that a great Referral Partner can be worth a lot more to your business then any one client.
My question for you is this… "Do you have a clearly laid out plan – and are you working that plan – to meet great Referral Partners on a regular basis?
It is my belief that hardly a week should go by without some activity to meet new Referral Partners and/or strengthen your relationship with current Referral Partners.
DISCLAIMER:   These ideas don't work unless you work these ideas.
Your Referral Partner Introductions Checklist
___ Identify at least 5 categories of Referral Partners
Every industry has what Ivan Misner (founder of BNI) calls "Contact Spheres." Identify 5 (or more) natural Referral Partner categories. Create a plan for meeting them.
___ Ask your clients and other Referral Partners for introductions to more.
You can certainly meet potential Referral Partners at networking events, but your best source will always be your clients and other Referral Partners who can vouch for your value.
___ Provide value before trying to get referrals. 
Your first goal with a potential Referral Partner is to provide value. Look for ways to contribute to their business with resources, ideas, introductions, and thought-provoking questions.
___ Determine the business chemistry.
You're not going to get along or connect with every potential Referral Partner. Do you generally like this person? Will you enjoy connecting? Would you do business with this person yourself and feel comfortable sending people their way?
___ Have a clear, concise way to explain the benefits of your differentiation.
Your Referral Partners will want to know how you, your processes, and your products/services differ from others who they perceive are in the same business as you. And always, always, always translate how that difference creates one or more concrete benefits for your clients.
[arve play_icon_style="youtube" width="480″ height="270″ src="https://www.youtube.com/embed/OygpXEEej6U" frameborder="0″]
___ Make sure you are referable.
Last week I told you about Alex, my own financial advisor, who used a simple but powerful strategy to become super referable and start a flow of introductions from an estate planning attorney. If you missed last week's post, check it out here: ALEX'S GREAT REFERRAL STRATEGY
HINT: Don't assume that just because you sent your potential Referral Partner one or more referrals that this automatically makes you referable. It doesn't.
___ Know who makes a great prospect for your Referral Partner.
If you believe your Referral Partner is looking for a reciprocal referral relationship, be sure to get crystal clear on who makes a good prospect for them; who they serve the best. (Note: Not all Referral Partners will want or expect reciprocal referrals. Some just want to have a great resource to whom they can recommend others.)
___ Teach your Referral Partner about your Ideal Client Profile.
One of the prime reasons why Referral Partners don't provide great introductions is that they aren't sure how to recognize someone who is a good prospect for you. Make sure your Referral Partners know how to recognize a great prospect for you.
___ Get clear on how each of you want to be introduced to ideal prospects.
Never assume a Referral Partner knows how you like to be connected with your new prospects. You definitely want more than just word of mouth. You want to be introduced in some way.
___ Agree on how often you will meet.
Productive Referral Partnerships require a certain level of ongoing communication. You both need to remain referable in each other's eyes. You want to make sure you are meeting each other's expectations for the relationship. Agree on how often you'd like to meet – monthly? Quarterly? Semi-annually?