11 Benefits of Becoming Radically Relevant
July 2, 2020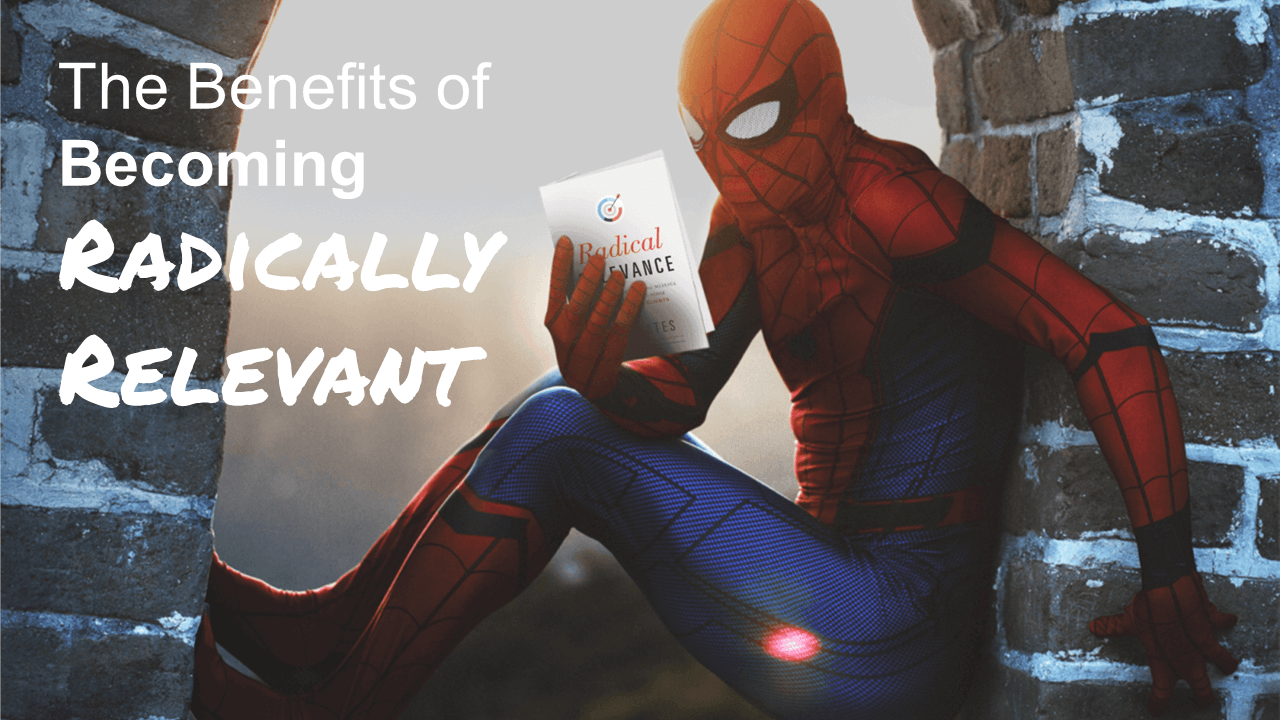 EXCERPTED FROM BILL'S NEWEST BOOK: Radical Relevance
Becoming and remaining relevant to your prospects and clients—and communicating your relevance in a clear way—is foundational to your business success.
Here are a few of the many benefits of keeping the concept of relevance top of mind whenever you think about communicating your value.
A more relevant message will…
Help you move from push prospecting to attraction marketing.
Grab your prospects' attention and stimulate their interest.
Build trust more quickly.
Present more actionable solutions to your prospects and clients.
Increase decision-making speed.
Be more likely to turn into action.
Yield processes, products, and services that bring more value.
Focus your marketing time and dollars more efficiently.
Make your marketing more effective so it yields better results.
Create more effective prospecting efforts that yield better results.
Give you confidence because you know your efforts are appropriate and on target.
3 Radically Relevant Action Steps
Make sure all (or most) of your messaging begins with something that is familiar to the recipient before introducing a new concept.

Assess if you might be relying too much on technology (email, website, social media, etc.) to make solid connections with your prospects. See how you can insert the human connection into your marketing plan.

When you write marketing messages, do your best to strike an emotional response with prospects and clients.
In the coming weeks and months, I'll be sharing excerpts from my newest book, Radical Relevance. www.RadicalRelevanceBook.com
In today's business environment, having a radically relevant message is more important than ever before. Get started now! www.CoachCates.com
Questions? Comments? I'd love to hear from you in the comments section below.
---

Grow Your Business in This Virtual World
A High-Content Webinar for New Agents & Advisors
Thursday, July 16
12:00pm EDT,   11:00am CDT,   10:00am MDT,   9:00am PDT
FROM: Bill Cates
Becoming referable with your natural market and quickly in new relationships
Asking your natural market and clients for referrals
Turning referrals into introductions that turn into appointments
Expanding your natural market in a virtual world
FROM: Gail Goodman
Managing your practice at home
Changing your prospecting mindset to become more effective
Prospecting virtually – practical, immediately-usable ideas
Using effective phone language for securing appointments
Training your assistant to help prospect
Turn surviving into thriving! Turn 2020 into a great year!
REGISTER RIGHT NOW & TELL YOUR COLLEAGUES