14 Categories of Differentiators that Matter
March 14, 2023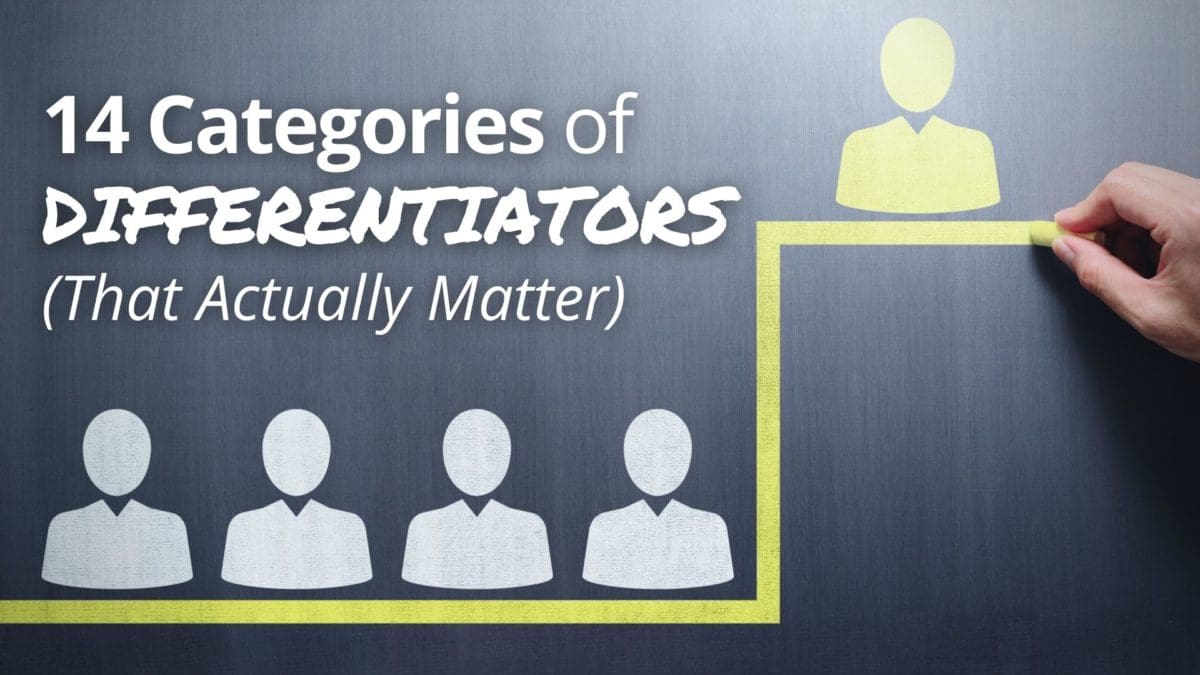 I've written about the topic of differentiation many times and I suppose I will continue to do so until I ride my bicycle (or kayak or golf cart) off into the sunset.
In my latest book, Radical Relevance, I provide 17 "rules of relevance." Rule #5 is Only Differences that Matter, Matter.
So, first and foremost, anything you use to distinguish yourself must be relevant to your prospect. Otherwise, you might as well be invisible.
I often coach advisors to have more than one differentiator. This increases the chances that at least one of those differentiators will attract attention and compel the prospect to pay attention. Plus, while one differentiator may not be super compelling to your prospects and clients, several working together can be.
Before I go much further, I need to ensure you know what DOESN'T make you different. If you need that reminder, go here: https://referralcoach.com/5-things-that-dont-make-you-different/
Here are 14 categories of differentiators for you to consider using (as long as they are true):
View all of the Top Advisor Podcast episodes mentioned below, here.
1. Specialize in business owners within a target industry such as contracting, franchising, retail, and hospitality. The list is practically endless. Check out my Top Advisor Podcast interviews: #2, #7

2. Specialize in employees within large companies. Check out my Top Advisor Podcast interviews: #9, #23, #27

3. Specialize in folks within an affinity group (women, philanthropists, families with children with special needs, and athletes). Listen to Top Advisor Podcast Interviews: #13, #19, #36

4. Specialize in university employees – both faculty and administration.

5. Specialize in a narrow group of professionals, such as attorneys, physicians, veterinarians, and architects.

6. Provide a team of experts within your firm.

7. Offer a truly superior discovery, planning, or onboarding process. Listen to Top Advisor Podcasts: #3, #5, #16
---
The Differences Grab Their Attention
The Relevance Keeps Them Interested
The Benefits Drive Them to Action
---
8. Specialize in serving clients of a certain financial demographic – income, assets, accumulators, pre-retired, and/or retired.
9. Emphasize your special credentials and/or certifications.
10. Specialize in a specific product and/or solution for specific challenges and opportunities.
11. Offer access to information truly not available elsewhere.
12. Provide a level of service and client contact that is truly distinctive from others.
13. Focus on the size of your firm. Listen to Top Advisor Podcast: #33
14. Emphasize your culture or values. Listen to Top Advisor Podcast: #20
The best way to discuss what makes you different (with your prospects and centers of influence) is to ensure they understand the benefits of that differentiator.
So, yes, communicate what makes you different. But don't stop there. Communicate how they will benefit from that difference.
---
Virtual Referral Training is Here
Are you ready to grow your business … and change your life?
You can learn and implement our proven process while working from home or not seeing clients and prospects face to face.
Get the details and join us: www.CatesAcademyIndividuals.com