A fun way to talk about your value at the holidays
November 16, 2017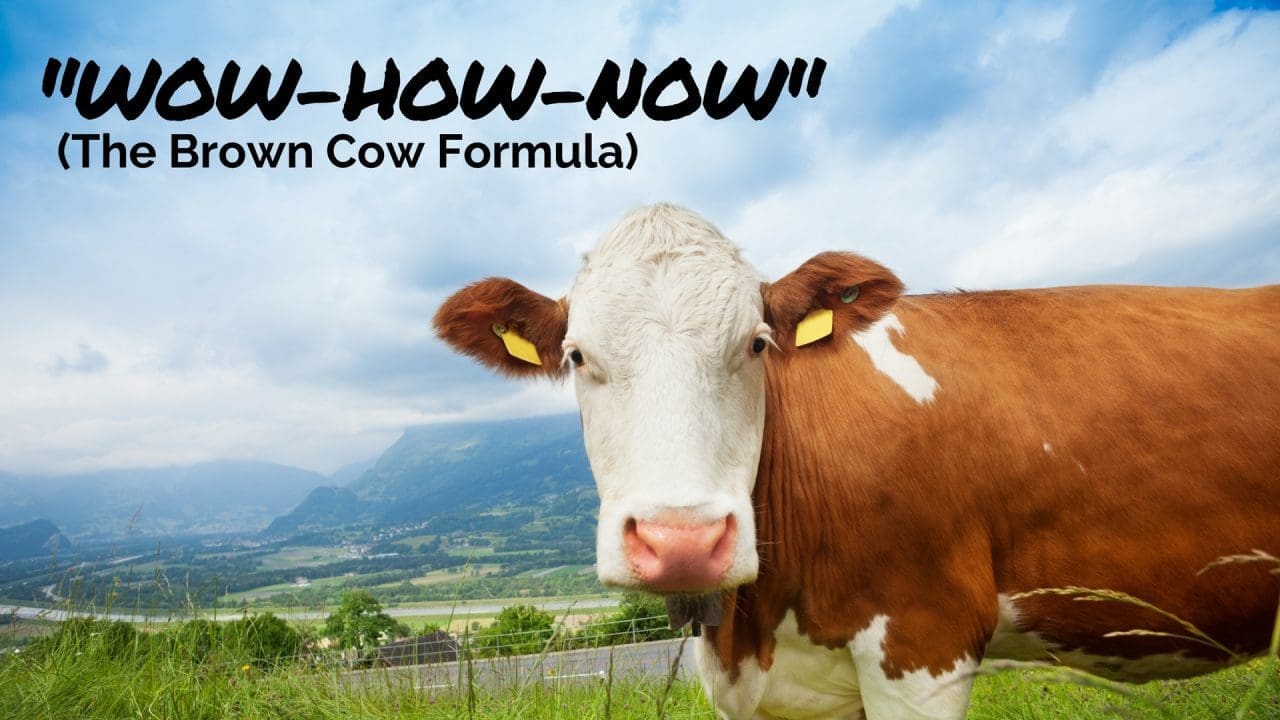 The holiday season is here, and you'll soon be heading to social events attended by family, friends, colleagues … and possibly even clients (and their friends).
Here's a simple way to talk about your value without coming on strong and chasing guests to the bar for a refill.
Brian Walter, founder of Extreme Meetings, is one of the most creative people I know. I particularly love his clever approach to answering, what he calls, "The Question."  As he explained to me in his always dramatic-style of delivery, "You know the question I'm talking about. You're talking to someone in an informal situation…at a social event, on a plane, in line at Starbucks, or in the bleachers at your kid's basketball game… when someone asks you the single, most important, awkward, open-ended inquiry you receive in your professional life: "What do you do?"
Brian Walter's "Wow – How – Now" (Brown Cow) Formula
Brian told me that, in social settings, you want a use a progressively-revealed, conversational answer to the question "What do you do?" Your answer should be delivered in such a way that people want you to keep talking.  To do this effectively, he recommends following the "Wow-How-Now" Formula. (By the way, I can't be the only one with brown cows running through my brain when I hear the name for this method … right?)
The WOW is your 3-4 four second immediate answer to "What do you do?" Then comes HOW; a sentence or two that explains a bit about what and/or how you provide value. After that comes the NOW. Now is the start of the three most powerful words in the English language, "Now, for example."  Because that's the start of a story. And everyone likes a good story. Especially if it's short.
It's pretty much the same as the headline, subhead, and body copy of an advertisement.
Step 1 – The Wow
I'll give you a few examples of the Wow to get your creative juices flowing. Here is where you can have some fun. 
Psst – One more thing. These are all hypothetical examples. Take your time and work with a friend or colleague to find the best words for you.
What do you do?
Defibrillator Salesperson – I'm in the human jumper-cable business.
Bill Cates / Referral Coach – Some people call me a motivational speaker, but my fiancée probably won't back that up.
Mortgage Broker – I help my clients purchase their next home, but often feel like a marriage counselor.
Financial Advisor – It's my job to make sure my clients don't run out of money in retirement. In other words, I'm a financial therapist.

Don't have a sense of humor?  Fine!  But keep it short and make it interesting or your dead in the water. The other person will say, "That's nice. Have you tried this veggie dip yet?"
Step 2 – The How 
Usually the other person will give you a verbal or visual clue that lets you know they are finding you fun or interesting or both – so you can continue to this step.
Defibrillator Salesperson – It's my job to help save lives by getting our automated defibrillator units… you know, The Paddles, into companies and schools.
Bill Cates / Referral Coach – I help my clients acquire more clients – but not just any old clients. The ones they really want – their Ideal Clients.
Mortgage Broker – My job isn't just to find them the best rate available, but to find them the best mortgage for their situation. This is not a one-size-fits-all business.
Financial Advisor – In a nutshell, I help my clients get crystal clear on their financial present, their financial future, the challenges and opportunities that lie ahead, and then provide them with a plan to make sure they feel confident and calm about money.
Now for the hardest part. Stop talking! Let the other person react to what you've said and tell you how what you do relates to them.
When they are done, they will ask you a follow-up question or just shut up.  Either way, it's time for the NOW.
Step 3 – The Now 
 "Now for example…"  Real-world story follows. It could be funny, or poignant, or just a bit interesting. Says Walter, "You've got them with the Wow and How. I can pretty much guarantee that they will lean in for a story."
This story can be your client-centered Why; why you believe in the work you do or how you helped a recent client save them from themselves.
Fun!  Memorable!  Repeatable!  And likely to create opportunities to meet people who need to know about the value you bring to the market.
Learn to Play Verbal Ping Pong
Here's my complete – and very fun – interview with Brian Walter:
www.VerbalPingPongReport.com