Use this Pre-Appointment Routine for More Referrals
April 18, 2023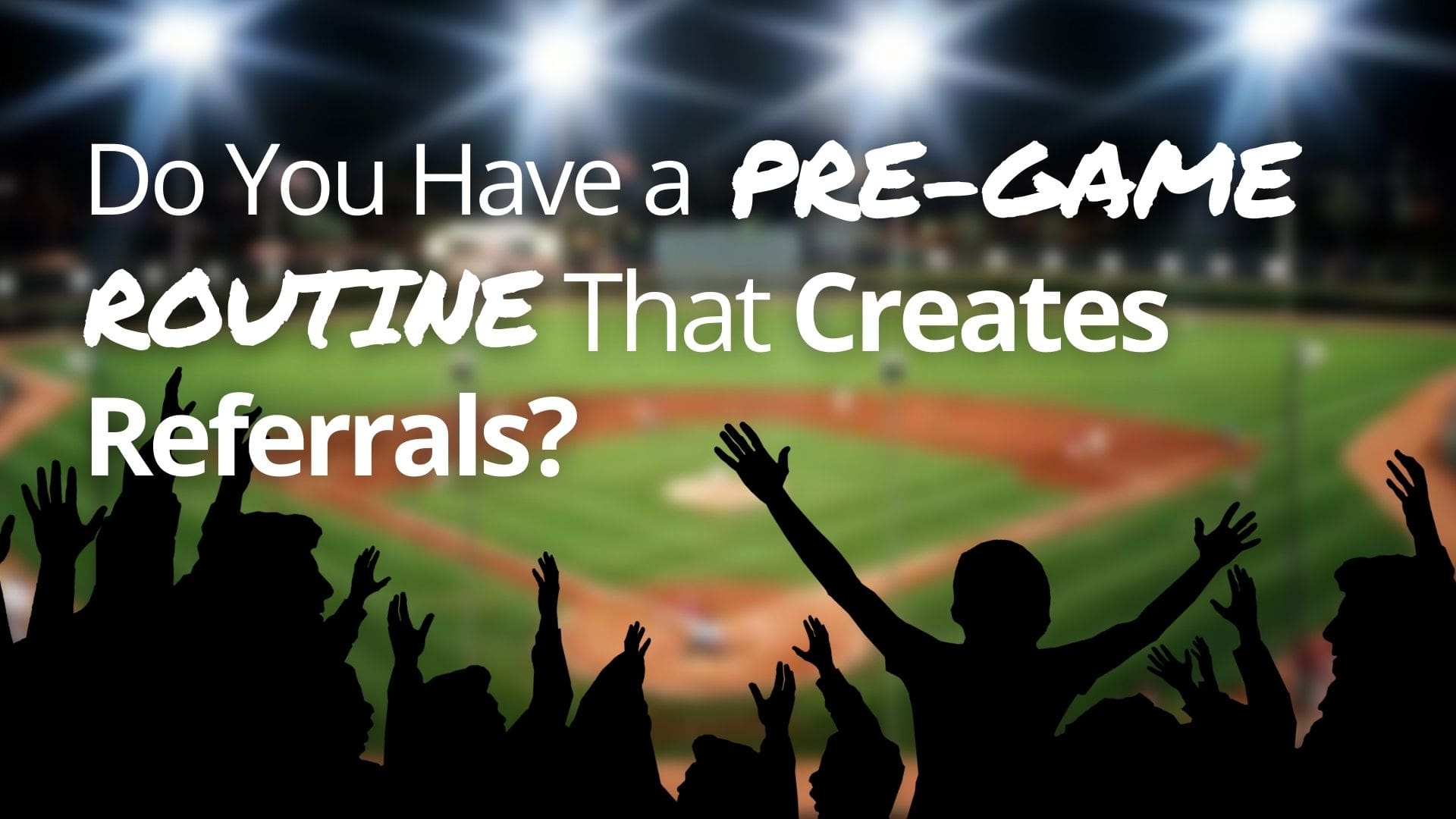 Have you every gotten to an athletic event early enough to watch the players warm up for the game? Whatever the sport, most every athlete has their "pre-game routine" that put them in the right mental and physical state for the impending competition.
I was a professional musician for several years (a drummer). I used to have a pre-performance routine that I followed to a T before every appearance.
What about you?  What is your pre-appointment routine?  Do you follow a checklist to make sure you don't forget anything important? Do you prepare an agenda?
And what about referrals and introductions? If you use a pre-appointment routine related to referrals and introductions you'll never forget.  You may wimp out, but you won't forget.

Your Pre-Appointment Checklist to Get Introductions


1. Prepare your meeting agenda.
Running an appointment from an agenda makes for a more efficient meeting. Clients love knowing where the meeting is going and checking off the items.
You increase the chances of staying on track and covering everything you intended to cover.
HINT:  Ask your prospects and clients what they'd like to make sure is on the agenda BEFORE you create it. This way, you'll be prepared for everything.

2. Add value discussion or expectations check to the agenda.
The starting point of just about any request for introductions is the Value Discussion. This is where you make sure your prospects and clients are seeing the value of the meeting, the process, and/or the overall working-relationship.
This conversation will often lead to unsolicited introductions.

3. Think about specific people you know they know.
Coming prepared for your request will boost your confidence and your results. The best way to ask for introductions is to come to the appointment with a request for an introduction to one or more specific people you know are in your client's life. It's the path of least resistance for both you and your clients.
You know that money intersects all aspects of one's life. Being a great financial advisor means gaining as much context as you can about your prospects and clients throughout the lifetime of your relationships. The more context you have, the better you can serve them. Plus, this will help you learn more about others in your clients' lives – creating an inventory of possible introductions.

4. Think about relevant categories of people.
In addition to specific people that you know that they know, you can also suggest specific categories of life events and money-in-motion events. These events often trigger someone's awareness for wanting to find a talented financial professional.
The goal of this step and the preceding step is to help your prospects and clients picture specific people in their mind's eye. Instead of drawing a blank, they will begin thinking of others who should at least know about your important work.

5. Practice the conversation.
The best way to add confidence to your approach, that will lead to your clients responding positively, is through practice. The best practice is with a friend or colleague. Next best would be talking it out with yourself – maybe as you're driving to an appointment.
If a baseball pitcher is working on a new pitch, do you think he's going to try it in a game for the very first time? Heck no! Or if a musician has a concert coming up, is she going to read the music for the first time during the performance? Highly unlikely.
The most underutilized way to build skill and confidence around speaking to clients about introductions is through practice.
---
Virtual Referral Training is Here
Are you ready to grow your business … and change your life?
You can learn and implement our proven process while working from home or not seeing clients and prospects face to face.
Get the details and join us: www.CatesAcademyIndividuals.com