7 Tips to Running a Virtual Sales Meeting
May 28, 2020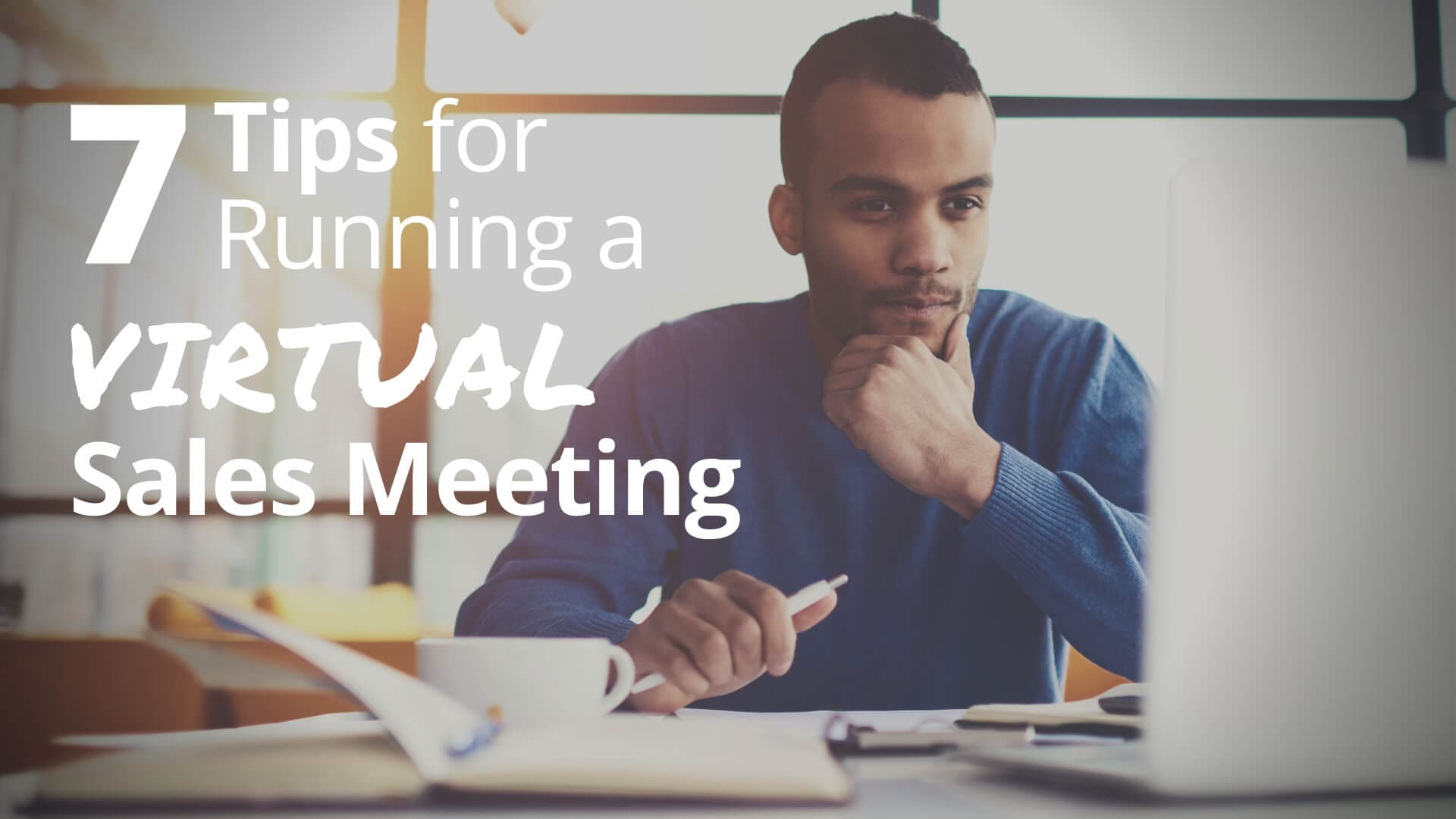 Blame the pandemic for the fact that virtual sales meetings have been fast forwarded about 4-5 years. They've been around for a long time, but now we are being forced into doing more.
Additionally, many prospects will start requesting these instead of driving to you or vice versa.
Now… does this change the basic principles of a sales process? Not really.
The principles pretty much stay the same. The execution, however, can change.
7 tips to help you run a successful online meeting:
Don't Let the Technology Get in the Way

You've probably already seen other information on the technical side of running an online meeting. Here are 3 key elements to a successful experience:

– Lighting: Have a source of light in front of you without a bright source behind you.

– Sound: Use an external USB microphone. Good quality sound is important. If your set up creates a low rumble or a bit of an echo, place a blanket over your desk or have some cloth all around to improve the quality of the sound.

– Camera Angle: Try to get the camera as close to eye level as you can.
My Pet Peeve

– You know how important eye contact is – right? Remember that when you're looking at your computer screen, looking at your prospect – you're not making eye contact with them. You make eye contact when you look into the camera lens. It takes a bit of getting used to and you don't have to be perfect. Just move in this direction.
Keep Your Meetings Shorter

If you're used to doing 1-hour meetings in person, cut your online meetings to 30 minutes (45 minutes maximum). It's tougher to hold their attention, especially if they aren't used to online meetings.


Work from an Agenda

You'll manage a better meeting if you run it from an agenda. If possible, send the agenda to your prospect the day before for feedback – or at least before your call so they can have it in front of them.


Ask High-Value Questions

Don't forget that "telling isn't selling." A good portion of your meeting should be about asking high-value questions. There are two main types of high-value questions.

– Questions that teach.
– Questions that expose a potential gap.


Don't Stay on the Surface

When you ask your high-value questions, don't settle for surface answers. The three best probing words I've ever learned are, "Tell Me More."


Go for the Impact of the Problem

When a prospect reveals a gap or a problem, don't rush to let them know you can fix it. First, learn more about how that gap or problem is impacting them. Is it an aspirational problem they may want to fix some day or is it a critical problem they simply must handle?


Make a Recommendation

You won't usually convert a prospect into a client with weak questions such as, "So, what do you think?"

Make a recommendation related to their gap or problem and your ability to make things right. "George, based on your situation, here's what I recommend…" Recommending a specific course of action displays confidence in your ability to address their issue(s) and demands a discussion about what's the next best step.
I'd love to hear from you and what you're doing to make virtual sales presentations work for you. Please leave a comment and/or question below.
---
Virtual Referral Training is Here
Special Referral Stimulus Offer SAVE $200
You can learn and implement our proven process while working from home or not seeing clients and prospects face to face.
Get the details and join us: www.CatesAcademy200.com