The Key to Talking About Your Value at Social Gatherings
October 25, 2023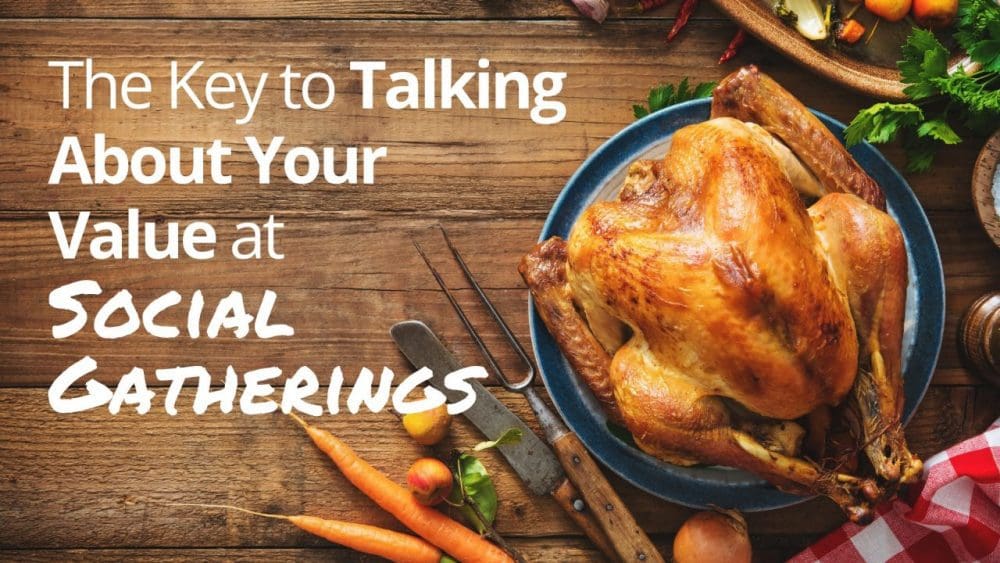 Imagine you're relaxing in the Lazy Boy in the family room, following a big holiday dinner with your family, and your sister's new beau plops down on the sofa next to you and asks the dreaded question, "So, what do you do?"
In the span of about 4 seconds, you're thinking, "Do I launch into my Elevator Pitch? That seems like too much. Do I pretend I didn't hear the question and stay focused on the football game? Nope, not a good way to treat my sister's boyfriend. Do I give a cryptic answer and hope he doesn't ask me anymore?"
"But wait, this guy might actually be a great client and he seems to know a lot of people."
How to Talk About Your Value in Social Settings
Talking about what you do in social situations is a bit tricky. You don't want to come on to strong and you also don't want to miss opportunities.
They key to striking this balance is to immediately humanize the work that you do, so that the person to whom you're talking connects with both you and the value you deliver.
Here are 5 different ways for you to humanize your value:
Your Client-Centered Why Talk about why you believe in the work that you do, how you are making an important difference in the lives of your clients. People will usually be attracted to your passion.


Tell a Story A quick story about how you provided some value to one of your clients (without revealing the name of your client, of course), can create some interesting conversation.


Have Fun Adding humor to your answer will create laugher and further conversation. For example, there is a mortgage broker in Australia who says, "I'm a mortgage specialist, though much of the time I'm more of a marriage counselor."


Do You Know How…
This is a simple formula I learned from Donald Miller (Author of Building Your Story Brand). You start your answer by stating a problem that most people can relate to and then position yourself as the answer to that problem. For example…Do you know how most people aren't saving enough money for retirement and are fearful they'll run out of money? Well, I help my clients create a plan and then follow that plan to make sure that doesn't happen to them.


Anyone Can… But Only We Can… I learned this formula from Caryn Kopp (Author of Biz Dev Done Right). The formula goes like this: Anyone can_____________________________. (Or variation of this.) But only we can__________________________. For Example, ___________________________.

"Many financial advisors create financial plans for their clients. But we go way beyond just the plan, helping are clients stick to the plan, making adjustments as necessary, and ensuring the plan gets realized."


***Remember – Your words need to be genuine for you and totally fit your context.
---
Virtual Referral Training is Here
Supercharge Your Success!
Start Your Journey with the All NEW Cates Academy Today and
Learn a Proven Process to Attract More Right-Fit Clients.
The Cates Academy for Relationship Marketing™ is Bill Cates' comprehensive online video-training program that will help you generate significantly more income in less time by leveraging the power of referrals, personal introductions and communicating compelling value. Work smarter, not harder!
Get the details and join us: www.CatesAcademyIndividuals.com