Talking About Your Value Proposition at Social Events
October 27, 2016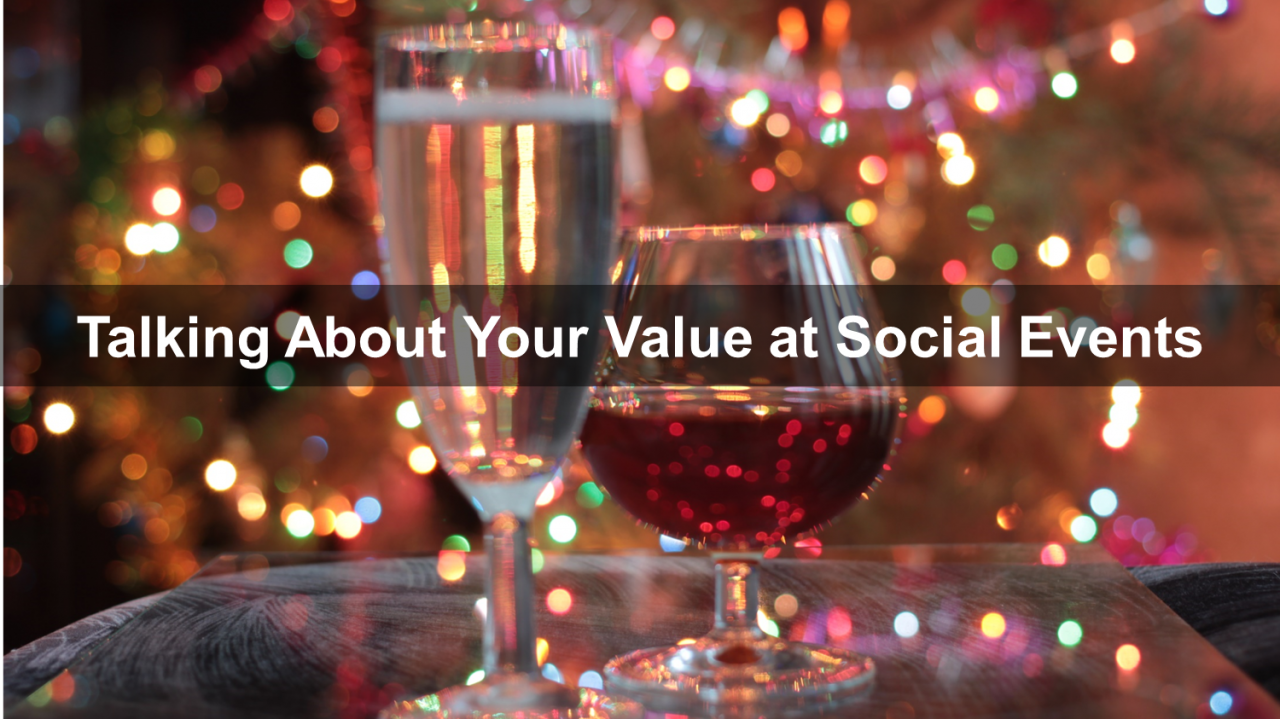 'Tis the season for many social events, where you'll be spending time with friends, close family, distant relatives, neighbors, and – yes – total strangers.
Many of these people might make great clients for you.  Many others may never become clients, but might have the ability to refer and introduce you to others.
Let's say you're at a holiday party or other social event and someone asks, "What do you do?"  How do you respond?  Do you whip out your best elevator speech?  Do you pretend you don't want to talk about the great value you bring to your clients?
Are you blowing an opportunity by being too promotional or being too modest?
The Two Biggest Mistakes People Making When Communicating Their Value Proposition at Holiday Gatherings and Other Social Events
Mistake #1 – You smile because you have a chance to use that great networking event elevator speech that you've practiced 20 times in front of a mirror.  You're confident, passionate, and irresistible.  The other person, looking a little stunned, responds, "That sounds very interesting. Excuse me while I freshen my drink."
Mistake #2 – Because this is a social event and not a business networking event, you don't' want to scare anyone away.  Because you don't want to make it look like you came to this holiday party to prospect for new clients, you downplay your value, you get overly modest, and you change the subject.
"So, hot shot Referral Coach, what should I say at social events?"
There is a middle ground.  In fact, there are a number of ways to talk about your value at social events so you don't come across as salesy or that you're even trying to turn that old friend into a prospect for your business.
In my upcoming complimentary webinar (November 3, 2016), I'll show you how to formulate your compelling value proposition.  Then I'll show you a couple of ways to adjust your value proposition so it's totally appropriate for a non-business, social situation.
Method #1 – Give an Example
First – Answer the question. If you're a financial advisor, you can say, "I'm a financial advisor."  If you're an executive coach, say, "I'm an executive coach."
Second – Shift to a specific example. You can say something like, "Let me tell you about a client I was working with the other day…"   Then tell a little story.
At social events, you don't want to talk like you're reading your marketing brochure. Tell a story.  The more interesting the better.  Of course, you leave the names out.  And as best you can, tell the story in an interesting way – convey the problem that the client presented and then one or more of the solutions you presented in return.
There are others ways to approach this, but this is all we have time for at the moment.
Make sure you reserve your spot in our complementary webinar on Nov. 3. Go to: www.ReferralCoach.com/webinars
---
FREE Webinar on November 3rd:
"Talking About Your Value During the Holidays and Beyond"
A High-Content Webinar from Bill Cates, CSP, CPAE
Sponsored by: Insurance WebX
NOVEMBER 3rd at 12:00pm Eastern (11:00am Central, 10:00am Mountain, 9:00am Pacific)
What do you say when people ask, "What do you do?

What do you say when friends or family ask, "How's business?"

How do you get friends or family interested in meeting with you for a business conversation?

Create a Compelling Value Proposition that Actually Sparks Interest
You Will Discover:
How to adjust your value proposition for social settings of all kinds.
A super-simple formula to communicate your value in only 2 sentences.
Why differentiation is often overrated, and where you want to focus instead.
How to talk about your value in an authentic and interesting way that turns mild interest into results-producing action.
2 proven methods to determine your full value.
6 critical elements for a compelling value proposition.
Your secret weapon that sets you apart from absolutely everyone else when someone asks you, "What makes you different?"
Don't Just Talk About Your Value – Move People to Take Action! REGISTER TODAY!
I'd love to hear from you!  What questions do you have? Post your questions and tips for maximizing social events in the comments section below.