CASE STUDY: A Referral-Generating Email Script
December 6, 2021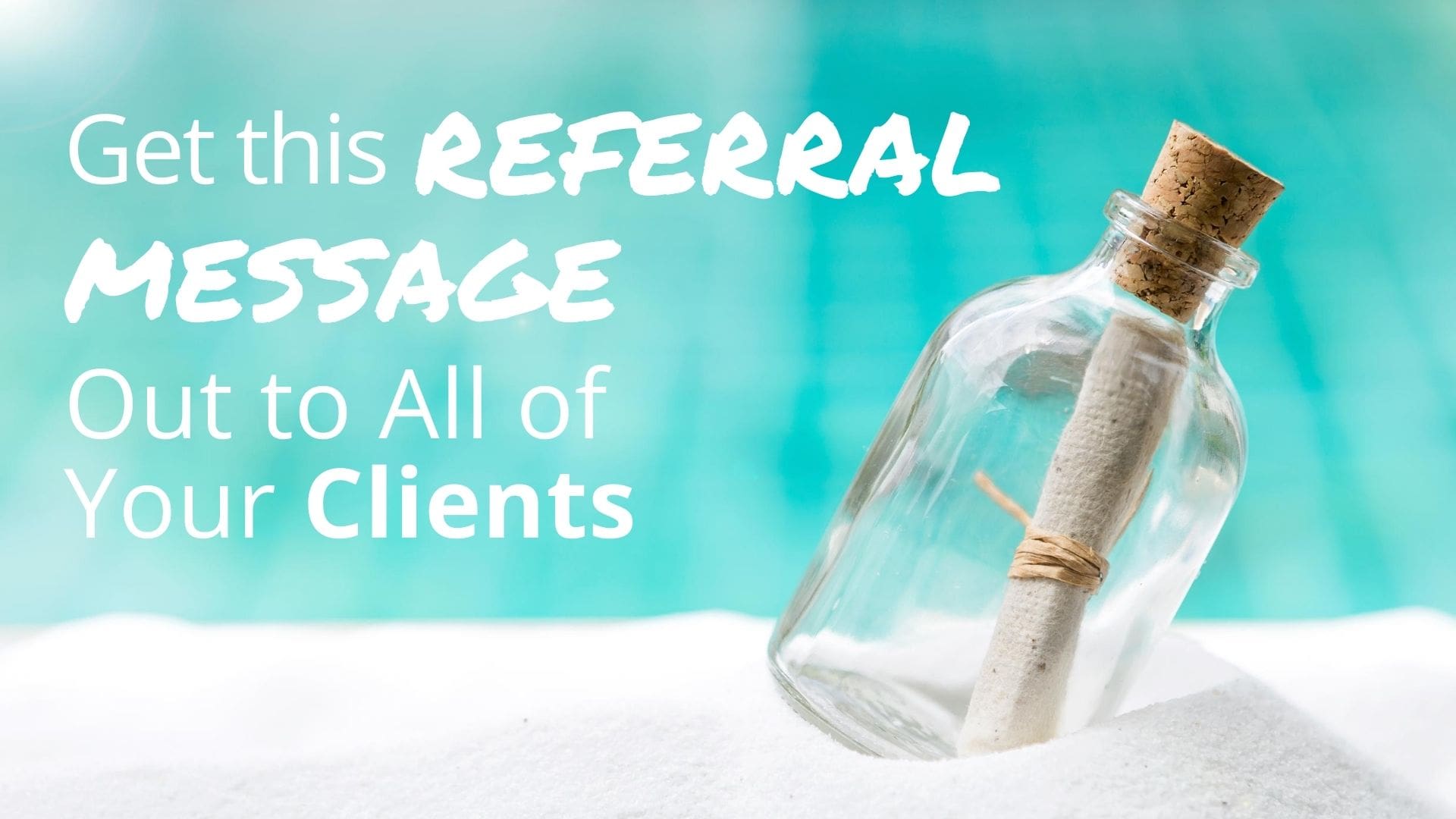 I've never been a big fan of generic requests for referrals and introductions, either via email or regular mail.
With that said, I think that part of your effort to build your firm's culture of new clients through referrals and introductions can be part of a letter or email campaign.
Since most people don't have the time that it would require to write customized letters to each client, letters are usually generic in nature. While I suppose it can have some value, using email gives you much more flexibility to personalize.
If you send a 1:1 email to all of your B+ to A+ clients, you can easily personalize the first or second sentence of each message and then paste in the rest.
A Message Worth Sending to Your Best Clients
Notice that the headline above says, "Best Clients." If you're new in business, then you can send this message to just about all of your clients. If you're more established, you'll probably only want to send it to the clients who likely have the ability to send you ideal prospects.
I recently coached a group of 8 advisors who are part of a larger firm located on Long Island, NY. They came to me with an email they thought they would send to many of their clients. It was pretty strong, though I was able to help them tweak it a bit to increase the effectiveness of the message.
With their permission to share, what follows is the final version that they are now sending to many of their B+ to A+ clients. Notice how the second and third sentences are customized to the specific client, removing the feeling that this is a purely mass-produced email.
George – I hope all has been well with you and your family. You must be excited about your daughter starting at the Naval Academy shortly. What a great experience for her!
I've been grateful for the opportunity to work with you and help you achieve your financial goals. You may have noticed I've been more mindful about asking for introductions lately. This is because I want to ensure that you know I am completely accessible to the people that you care about to help them through these challenging times.
I've also come across various situations that have brought concern to me. I see families who are working with advisors that are not being proactive with their advice and guidance. I've also seen advisors that aren't keeping those same family's best interests at heart. Not only does this lead to an overall misunderstanding of their true needs, it also leads to a lack of clarity and confidence toward their present and future financial situation.
Who do you know who might be worried or unsettled about the financial impact of COVID-19, or someone who should just know about the work that we do? I'm never too busy to see if I might become a valuable resource for them.
Who comes to mind? Let's set up a brief call to discuss the best way for you to introduce me to them – so everyone feels comfortable and, perhaps, we pique their interest in a conversation.
Regards,
Jennifer
I am certain that your version of this email will be different. It should be. It should reflect your manner and your business. In fact, I would love to hear what you might do and say differently. Feel free to write a comment below.
You may be tempted to come up with a one-size-fits-all email message. While certainly easier, I urge you to resist that path. I can assure you that it is worth the extra time and effort to personalize each message just a bit.
Will this email produce an immediate surge of introductions? Probably not. Though it will likely produce some – making it well worth the investment of time. This sort of message becomes part of your overall goal to establish a culture of referrals and introductions.
---
Virtual Referral Training is Here
Are you ready to grow your business … and change your life?
You can learn and implement our proven process while working from home or not seeing clients and prospects face to face.
Get the details and join us: www.CatesAcademyIndividuals.com