Does Providing a Referral Bonus Work? Is it Appropriate?
August 11, 2016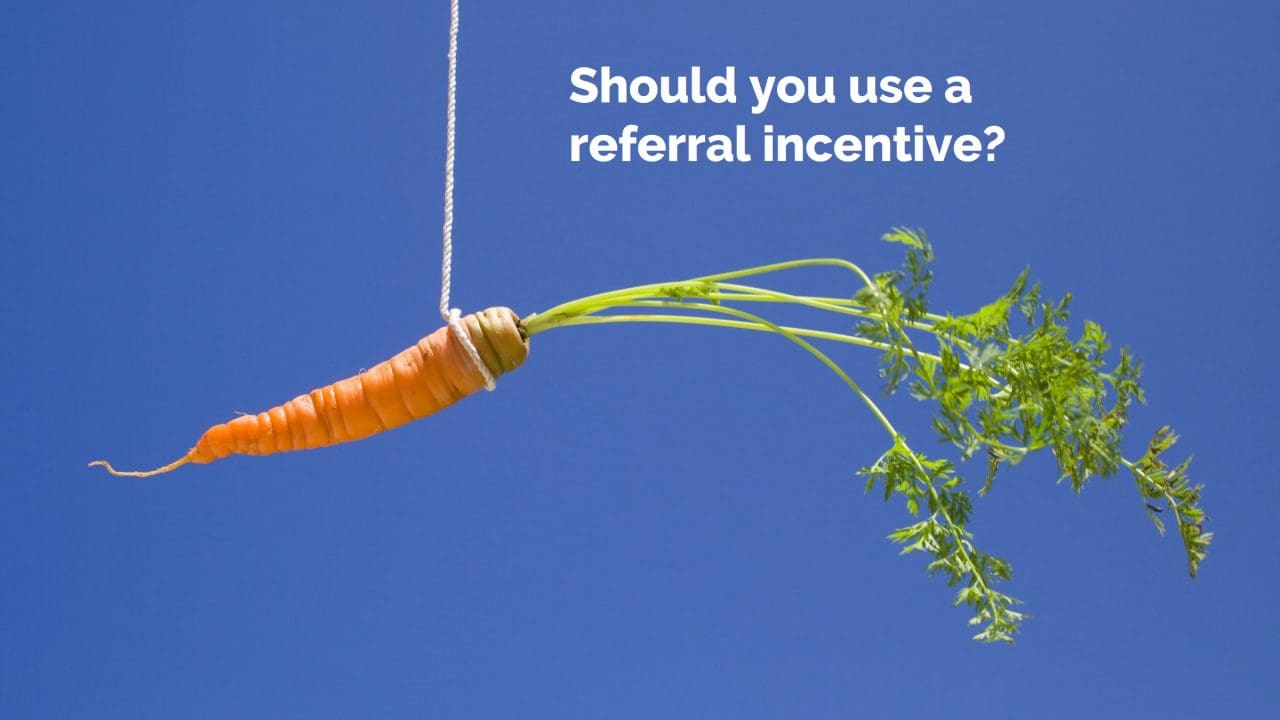 "How should I reward people for giving me referrals?" A common question… without one perfectly right answer. Is a Rolex too much for a referral bonus? Obviously!   What about a gift card to Starbucks? Probably!
In some industries – like financial services – you could easily get in trouble if you "thank" or "reward" for referrals and introductions in the wrong way.
Remember – You want to reward the giving of the referral or the providing of an introduction. Don't wait for the referral prospect to become a client. Reward the giving. IF they become a client, you can always do a little something extra.
4 Levels of Referral Bonus or Thank You Gift
Handwritten Note – A handwritten note is minimum. I have a pre-printed note card that says, "Thanks for not keeping me a secret" to which I always add a personalized note.   Whether you go custom or not, make sure you have note cards always handy to dash off a note as quickly as you can.
Small Gift Card – Many folks like to add a gift card in with the thank you card as an added referral bonus and gesture of thanks. This isn't about the money. A $10-15 Starbucks, Home Depot, or movie theater card is fine. I know some folks who like to send coupons for a free ice cream cone – for the children.
Gift from a Website – A small gift that's perfectly tailored to your referral sources' personal interest is a great way to get a lot of bang for your buck. I like to go to my clients' LinkedIn profile and find out what university they attended. Then I go to Amazon.com to find coasters or a similarly priced item with the school's logo.  I always have the item shipped to my office first. If they are local, I'll hand deliver it. If they are out of town, I'll ship it out with a personal note.
Personally Engraved Items – Just about anything you can think of can be engraved, embroidered, or screen printed.   While on my financial advisor's boat to watch the Blue Angels practice for the Naval Academy graduation, I accidentally lost one of his drink cozies overboard. The next day I went to a website and ordered a dozen personalized cozies just for him.  Steak knives, cutting boards, frames, wine, champagne, or beer glasses… you name it – you can have it personalized for your client.  Here are a few of the many sources for this great concept:
Of course, you have to adjust this strategy for your business model and for your clients and referral partners.
For referral partners – people who provide a more regular flow of introductions – you probably don't want or need to send a gift or referral bonus every time. Just keep these partners in the loop and take them out for a meal, round of golf, or similar business-friendship building experience that they will enjoy.
SAVE   THIS   DATE   ! ! ! ! !
Referral Champions Training Camp
March 23-24, 2017 – Westin Hotel – Baltimore, MD (BWI Airport)
If you'd like a proven process to become more referable, be appropriately proactive for referrals, and turn referrals into introductions, then you must attend this 1½-day immersion into the Referral Advantage Program.
Save the Dates!   Don't Schedule Anything Else!