Personalizing Your Client Gifts = More Bang for Your Buck
September 1, 2021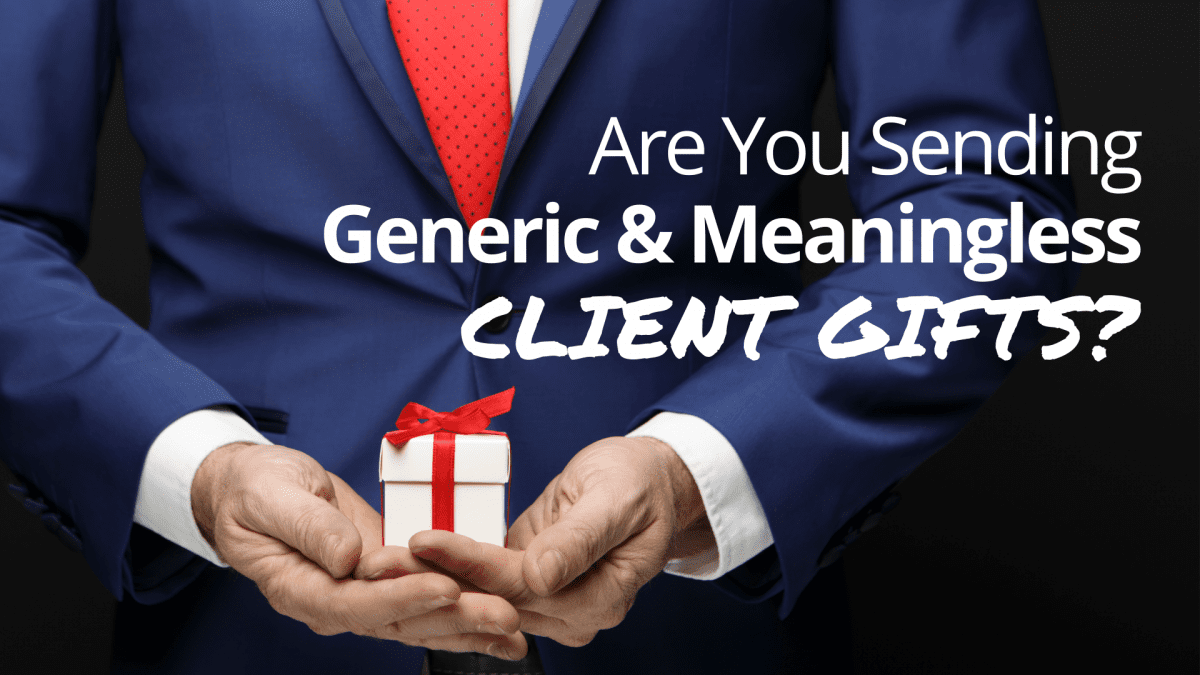 Whether you're sending a gift to a client to say "thank you for the opportunity to serve you" or to your referral source to thank them for an introduction, the more personalized your gift, the more meaningful it will be for them and the more impact your gift will have.
There are three types of personalized client gifts. The gift can be personalized to your client's world. For example, I'm always sending reasonably priced gifts related to a client's favorite sports team, university, author, etc.
Client gifts can also be personalized to your world. I have a lawyer friend who spends a full day every holiday season baking gourmet brownies with his wife to send out to his clients and referral sources. Since they have been doing this for years, their lucky recipients (myself included) have come to expect and look forward to the brownies' arrival.
Gifts with your logo on them are not really gifts, they're promotion. With that said, if the gift is highly utilitarian and appreciated by your client, they are worth considering. More on this later.
Gifts Personalized to Your Client's World
As I mentioned above, not only might you personalize client gifts relating to a favorite sports team or where someone went to college, you could also consider their hobbies or special interests, their children's names, or even where their children go to college.
A nice dinner out – including spouses ($$$-$$$$) – For this idea, I'm thinking that you attend this dinner with your client (and spouse if appropriate). This type of gift gives you additional face time with your client or referral source. If time and scheduling becomes an issue, you could always fall back on a gift certificate to their favorite restaurant.

A favorite activity ($$-$$$$) – Give them the gift of something that you know that they love to do – golf, a spa day, tickets to a game or concert. Bonus points if you attend with them (once again… face-time!)
A donation to a charity that they are passionate about ($$-$$$$) – This one is pretty self-explanatory. Show them that you care and appreciate their support by supporting something that they care about.
A favorite book ($) – if you've read a good book lately that you feel they would enjoy, share it! It's an inexpensive gesture but can be a way to highlight your common interests. Make sure to include a handwritten note on the inside cover.
A bottle of their favorite wine ($$-$$$$) – You can even order personalized labels on websites like Etsy. The key here is to send wine that they will actually like. It goes without saying that the gift will not be as well received if you send a dry red when they prefer a fruity white. In the US, not all states allow wine to be shipped across state lines, so be cognizant of the laws in the related states or provinces. Ordering from a website like wine.com can help take the guesswork out of this for you.
Gifts Personalized to Your World
While centering the gift around the client's world is arguably the best way to show that you've been paying attention to what they are passionate about, if you're struggling to come up with something, the next best thing is to share a bit of your world with them.
One good way to do this is to send a gift with some local flavor – something that falls into the category of the "best of" your area.
Being from Maryland, for a number of years I sent my out-of-state clients a "taste of Maryland" gift box that included Old Bay, a spice that is most commonly used in the steaming of Maryland Blue Crabs but can be used to season almost anything – even sprinkling on French Fries. (Heck, some die-hard Marylanders will even put it in their coffee!)
Another way to personalize a gift is to share something with your clients that gives them a little peek into who you are as a person. Doing so can help people to feel like they know you better and connect with you on a more personal level. For example, one of the most well-received client gifts I ever sent is when my daughter was a little girl selling Girl Scout cookies. I sent out 144 boxes of Thin Mints! Not only did my clients love the personal nature of the gift, but my daughter led her troop in cookie sales that year! Win, win.
Branded Gifts (Proceed with Caution!)
My long-held philosophy has been, "If it has your logo on it, it's not a gift. It's a promotion." My exception to this rule is if the item will be used and enjoyed by the client or referral source. For example, I had a financial advisor give me a high-quality golf umbrella that I still use to this day.
Forget the mugs, mouse pads, or pens. If you absolutely must send a branded gift, the key is to ensure that the promotional nature of the product is outweighed by its unique functionality, especially if that functionality relates to one of your client's passions or interests. For example:
For the outdoor enthusiast: Branded Yeti Tumbler ($$$)
For the coffee lover: Branded Starbucks Card ($)
For the music lover: Branded headphones or earbuds ($)
For the golfer: high-quality golf balls ($$)
Creative Examples of Radically Relevant Gifts
When you customize the thank you gift to the source's personal interests, you get a much bigger bang for the buck. It takes a wee bit of time, but the impact is huge. Your clients will thank you for your thank you!
6 Client Gift Ideas that I've Actually Done!
Sometimes you pick up ideas just by talking to your referral source over time. I often go to their LinkedIn page to learn a few things, like what university they attended.
If I can't pick up any ideas that way, I'll ask their assistant or ask someone who knows them to help me identify their hobbies, interests, sports teams, etc.
Note – I've changed the names of these fine folks to protect the innocent.
Everything Abraham Lincoln
I had no idea what to get Karl, so I called someone in his company for ideas. Steve said, "He's really into Abraham Lincoln. Everything Lincoln."
I figured he probably read all the books on Lincoln, so I went to Amazon to search "Lincoln Gifts." I found a very nice, bronze statue of Abraham Lincoln standing next to his desk in the House of Representatives.
As I was hanging up the call with Steve, he added, "I hear he's into wearing fun socks. I think he belongs to Sock of the Month Club."
While still in Amazon, below the statue, were the other suggested gifts. Lo and behold were a pair of socks with Lincoln's silhouette. Perfect! Thank you, Amazon!
Karl loved this! He sent me a great thank you note for my thank you gift.
Gardening and Vodka
Marcus provided a great email introduction for a speaking event. I asked his key assistant for some ideas.
"Marcus likes growing fruits and vegetables in his backyard. And he also likes vodka."
I found a book for growing fruits and vegetables in Marcus' part of the country. But it was only $14. While it's not about the money, I wanted to add something to the gesture.
So, I bought a bottle of my favorite vodka – Reyka from Iceland. I'm sure I broke all kinds of laws shipping that bottle to him. But he loved it.
Marvel Fan
Danny is a client who leads an ensemble practice in New England. I wanted to thank him for using our online academy and bringing me in to coach his team.
I learned from one of Danny's advisors that he was a big fan of all things Marvel Comics.
This was easy. I got him a great Marvel tee shirt. He wanted to know how I knew that he was into Marvel. These sorts of little surprises are worth every minute and every penny invested.
Tried and True
As I mentioned above, I will often try to find what university my client attended. With that knowledge, fun and affordable gifts are easy to find.
Coasters with the school's logo usually run about $15. Nice, insulated drinking bottles run about $25. I've given school flags, footballs, golf balls, and even items for their children.
Bourbon Aficionado
Paul didn't make an introduction, but he did provide some great perspective and ideas for the new book I'm writing. I wanted to say "thank you" in a special way.
I sent an email to two of his colleagues looking for ideas. Almost at the same time, they replied, "Paul loves a good bourbon."
I tend to avoid sending alcohol through the mail or via UPS. I'm sure it's not appropriate. So, for Paul, who also travels around the world speaking, I found a great decanter in the shape of a globe. I sent that to him, along with a couple of large ice cube molds.
Not too long after that, I was on a group video chat. Behind Paul on his credenza was the globe decanter.
Two Rules of Thumb
The cost of the item is not the main point. The main thing is to personalize the gift in some way.
If possible, have the item shipped to your office and then deliver or re-ship the item to the client with a handwritten note inside. This is much more personal than sending something straight from Amazon or another online store. Sometimes they don't insert the notes, or they are so small, the recipient doesn't see it.
ACTION STEPS From Bill Cates
Before you buy a warehouse full of generic gifts, make the commitment to using personalized gifts whenever possible.


If you're not sure how to personalize a gift for a client, reach out to their assistant for ideas or see if their Facebook pages can steer you in a good direction.


If you're going to use gifts with your logo on them, make sure they are classy and utilitarian.
Forward this article to a friend or colleague.
And don't forget ALL our resources – many of them free – are waiting for you at www.ReferralCoach.com/resources.
---
Virtual Referral Training is Here
Are you ready to grow your business … and change your life?
You can learn and implement our proven process while working from home or not seeing clients and prospects face to face.
Get the details and join us: www.CatesAcademyIndividuals.com