Is Your LinkedIn Profile Compelling or Repelling?
May 26, 2021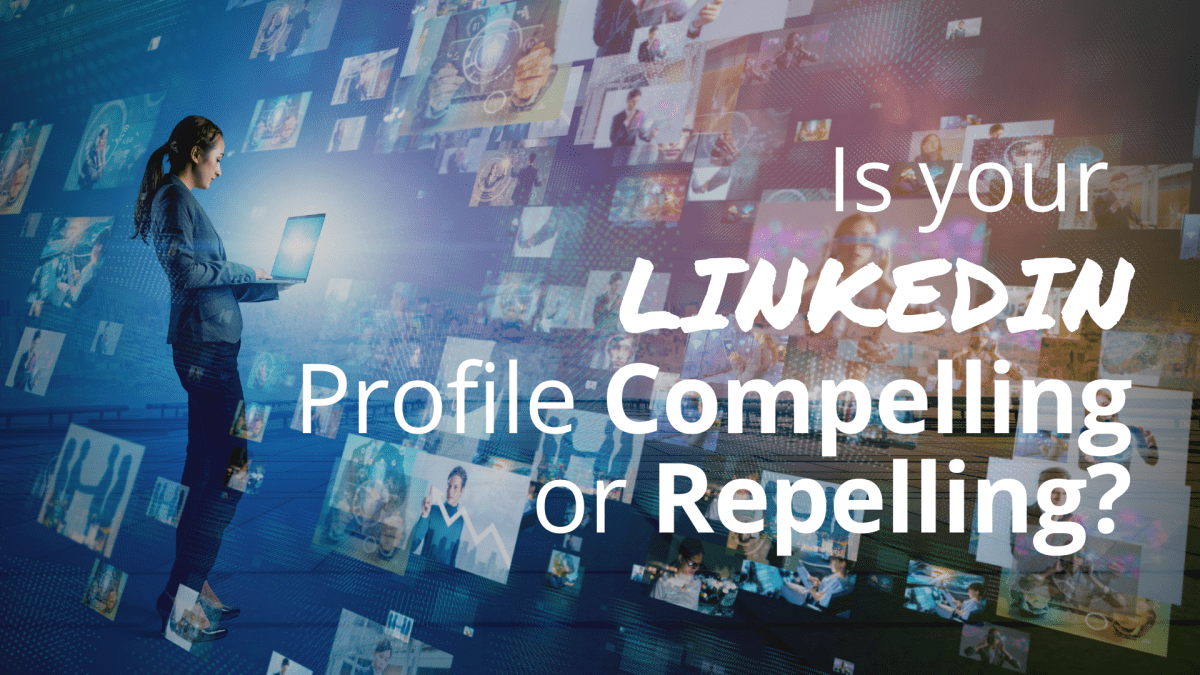 REMINDER: When people learn about you, they will look for you on the internet. Odds are the first thing they look at is your LinkedIn profile. While your profile may not convert them into a client, a bad profile (or no profile) will likely hurt your chances.
Your LinkedIn About Section is the main marketing message of your LinkedIn profile and should focus on talking directly to your target market and differentiating you from the competition. It should go further and deeper with the story you started in your headline.
[This blog post is an excerpt from a guide I co-wrote with Crystal Thies, the LinkedIn Ninja. You may get the full guide by purchasing a copy of Radical Relevance and then registering the book at www.RadicalRelevanceToolKit.com ]
When using LinkedIn for sales and business development, the About Section is not a bio; it's a place to create a great message about your value – one that follows all the principles and guidelines presented in Radical Relevance.
Let this section weave a story that uses a combination of who you serve (want to attract), their most important challenges and opportunities (showing empathy), your primary products and/or services, and what truly differentiates you from most of your competitors. By the way, you have to do this in only 2,000 characters.
In order to read your entire About Section, people have to click to open it up. This means that the first 2-3 lines must be compelling enough for them to take action to learn more about you.
The first two lines must make them want to "see more."
Your About Section can include the following 5 components:
Who you serve the best – your target audience.


The problems and challenges you address and opportunities you help them capture.


How you address those problems and opportunities (your process, services, and/or products).


How you are different than your competitors; communicated in a way that is relevant to the reader.


A call to action (to download a guide, take a quiz, watch a video, or some other action that will provide value and bring them further into your world).
Write your About Section in first person and present tense. Use "I" and "We" and "You" and "Your." Talk about what you are doing now and not so much about what you did. Talk about the transformation you help your clients achieve more than your process.
Imagine you are talking to the person that you most want to find and connect with on LinkedIn. Talk directly to them and tell them what they need to know so they will take action and connect with you. If you read it out loud to someone, it would sound like you're speaking with them and not at them.
If your perfect prospect is viewing your profile and they don't know that you specialize in helping them and how you can make their life or business better, then game over – they have moved on!
Here is an example of an About Section Crystal wrote for one of her financial advisor clients:
About

No one knows what it's like to be a business owner except a business owner; to experience the risk of putting it all on the line to create a company from nothing. Shouldn't your portfolio manager truly understand the blood, sweat, and tears that went into every dollar you hand them?
As senior vice-president and portfolio manager, I am also a stakeholder of XYZ Wealth Management. In my younger years, I helped launch a tech startup that was way ahead of its time. For 24+ years, I have assisted business owners invest their hard-earned money.

I've learned that entrepreneurs aren't looking to invest in cookie cutter portfolios. They want to invest the way they manage their own company – create a foundation that performs as expected while seeking those special opportunities that can produce exceptional results – or not (they know risk too). They don't want to spend more than necessary to get results and they want to lose as little as possible to taxes.

While tax efficient investing may not sound exciting, the money saved because of it is. Consider investing that money in emerging and innovative companies (i.e. cannabis, artificial intelligence, …) or special offerings unavailable to bank-based advisors.

The entrepreneurial culture started by Robert Roberts in 1954 makes XYZ Wealth Management the perfect firm to help business owners invest. In fact, it was founded with the premise that investors needed independent advice with more investment options than was available at that time. Today, the firm's assets have grown to over $40B. Our clients are mostly business owners and high-income professionals who value independent advice and more choices.

At XYZ Wealth Management, our advisors are both successful entrepreneurs and skilled advisors.

Our client base is an ecosystem where business owners can find funding or invest in other companies via private placement.

Trust is my gold standard. Once earned, my team and I will not break it.

Let's connect by starting with an email:   ___________________
ACTION STEPS
Review at least 10 About Sections from other financial professionals. What do you find interesting about some of them? Which of them sound like all the others?


Review your About Section for the five components above. Are you incorporating all five? Can you rework your About Section to make it more inviting to your ideal prospects? Can you rework it to make it more interesting?


Forward this article to a friend or colleague.
And don't forget ALL our resources – many of them free – are waiting for you at www.ReferralCoach.com/resources.
---
Virtual Referral Training is Here
Are you ready to grow your business … and change your life?
You can learn and implement our proven process while working from home or not seeing clients and prospects face to face.
Get the details and join us: www.CatesAcademyIndividuals.com