How to Talk Business at Summer Social Events
July 1, 2021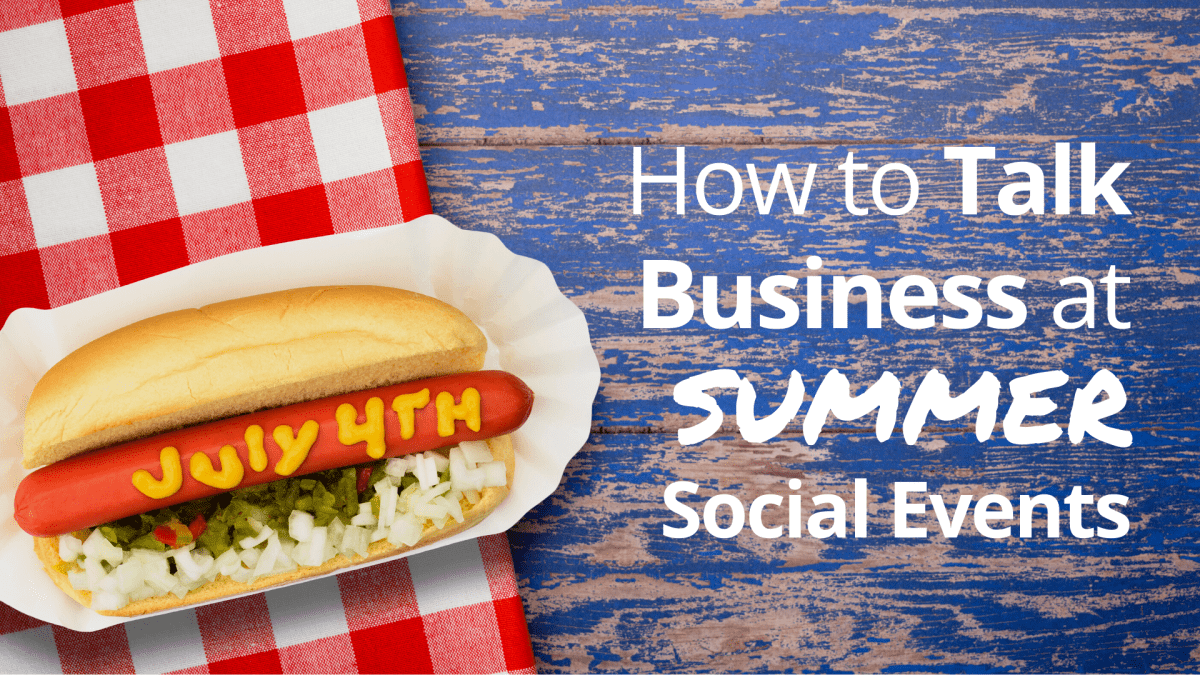 Backyard barbecues, boat outings, and sporting events are hallmarks of a fun summer. You'll be spending time with friends, family, neighbors and total strangers.
Make sure you save the "Repellent" for the mosquitoes, not the other guests. When someone asks you, "How's business?" or "What do you do?" In this blog, I've provided 3 ideas for answering those FAQs without chasing them away with your brochure bullet points.
But first, make sure you avoid 2 huge mistakes!

Mistake #1 – You smile because you have a chance to use that great networking event elevator speech that you've practiced 20 times in front of a mirror. You're confident, passionate, and irresistible. The other person, looking a little stunned, responds, "That sounds very interesting. Excuse me while I freshen my drink."
Mistake #2 – Because this is a social event and not a business networking event, you don't' want to scare anyone away. Because you don't want to make it look like you came to this summer event to prospect for new clients, you downplay your value, you get overly modest, and you change the subject.
So, now that we've discussed what NOT to do, let's move on to a more effective strategy for talking business at social events this summer…
3 Ways to Talk About Your Business at Social Events

Tell a Funny Story

Collect an inventory of funny stories and anecdotes that happen over the course of courting and serving clients. And, of course, change the names to protect the guilty.

Using humor at a social event is never a bad thing – as long as they're laughing with you and not at you.



Tell a Horror Story


Sharing stories and anecdotes about how your prospects and clients have totally messed things up for themselves can often work to get people wondering if they are making the same mistake.

This can be a dark-humor path to gaining the interest of the listeners for a future business conversation.



Share Your Client-Focused Why


In a nutshell, your client-focused why is why you believe in your value.
Maybe you got into your business because you could make a lot of money, or have flexibility in your schedule, or any number of other reasons.
Somewhere along the way you realized that you truly help people. This is your client-focused why. And like the other items listed above, this usually involves a story.
People love stories (that aren't too long). A story that shows your passion for your value can attract people into your world that results in new business.
What do you like to say at social gatherings? I want to hear from you! Really! Let's start a conversation and "share the wealth" of ideas. Please leave a comment or question below.
Forward this article to a friend or colleague.
And don't forget ALL our resources – many of them free – are waiting for you at www.ReferralCoach.com/resources.
---
Virtual Referral Training is Here
Are you ready to grow your business … and change your life?
You can learn and implement our proven process while working from home or not seeing clients and prospects face to face.
Get the details and join us: www.CatesAcademyIndividuals.com