Do You Need Your Prospects & Clients to Like You?
April 24, 2019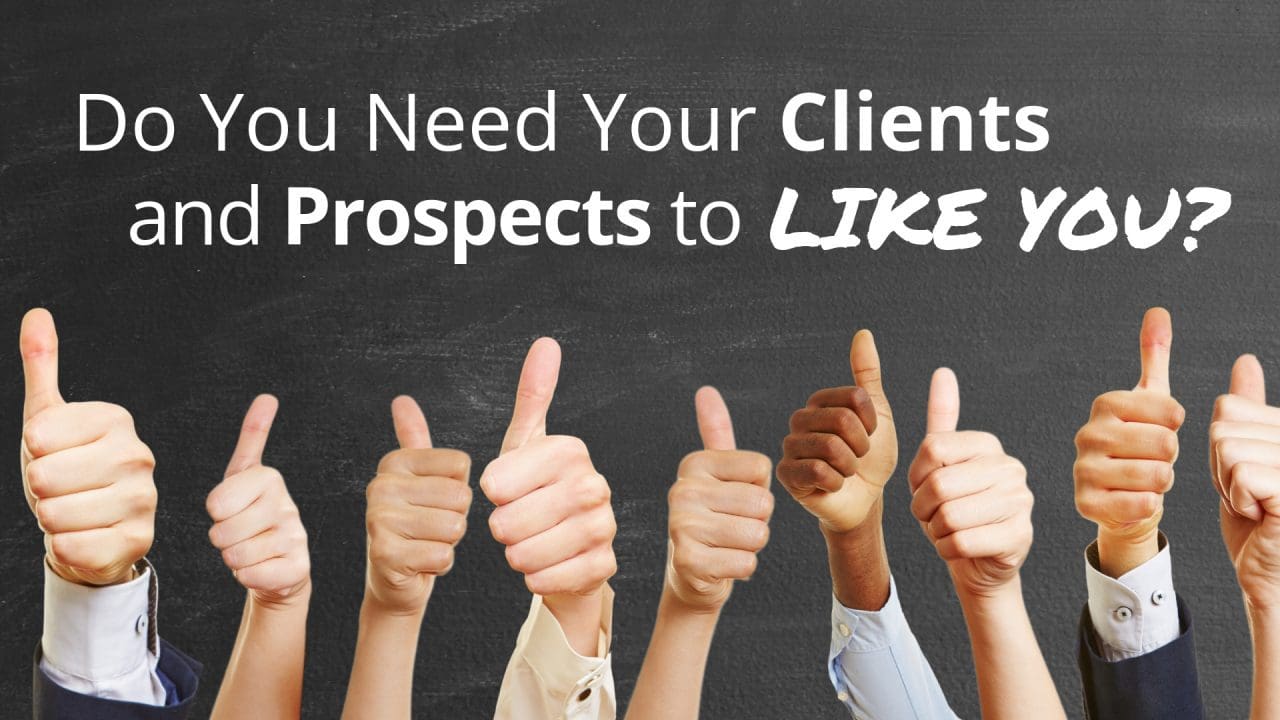 In a recent Facebook post, someone posed the question, "Which is more important – for a client to value you or like you?"
Some people chose "value" and others chose "like." What would you choose?
My reply was this, "They are both important. You need both to gain the client and keep the client."
With a brand-new prospect, there absolutely must be some sense of "I like this person" or they won't stick around to learn about your value.
My personal philosophy around this topic goes like this…
All things being equal, people do business with people they like. All things not being equal, people still do business with people they like.
It's a little different with referrals.
The research of Julie Littlechild (www.AbsoluteEngagement.com) has demonstrated a low correlation between client satisfaction and the giving of referrals.  She's been able to demonstrate that it is engaged clients who give referrals.
An engaged prospect or client is someone who has connected with you in two ways. First, your value. They like the questions you ask, the things you teach, the advice you provide, and your responsive service.
Second, who you are as a person. You've made a human connection with them.
So, who gives referrals? People with whom you've made a value connection and a human connection.
Are there exceptions?  Of course.  Have you ever done business with someone who you didn't like much, but referred their services anyway?  Probably. Maybe it was that automobile mechanic who was a bit gruff, but he did great work at a fair price.
3 Phases of Client Engagement
PHASE 1 – The Prospect Experience
People are always talking about "the client experience." While that's critically important, very few people talk about the "prospect experience." After all, it's the initial experience that prospects have with our value proposition and you as a person that determine whether or not they will decide to become your client. Are you creating that sense of client engagement with your prospects – even before they become clients?
PHASE 2 – The New Client Experience
Do you have a new client on-boarding process? Do you have a checklist in place for you (and your team) to follow to make sure you bring great value and great personal connection to your new clients? Do they say to themselves, "Wow, these guys really do it right." Or, "Wow, they really manage the details well."
For some ideas about new client onboarding, check this out:
https://referralcoach.com/client-onboarding-7-strategies
PHASE 3 – The Ongoing Client Experience
This is where your Client Service Promise kicks in – your plan for how you'll be staying in touch with your clients over time. The two main elements of a client service promise are: 1) keep bringing value or you're no longer necessary, and 2) build business friendships. You see, this idea of helping your clients feel engaged with your value and engaged with you (and your team) never ends. It creates the forever type of loyalty and makes you super referable. You'll get referrals without asking for them and if you do ask, you'll have receptive clients.
Back to the original question… Which is more important – value or likability?
Both are critical to gaining and keeping a client and getting them to provide you with introductions.
I want to Hear from You on this Topic
Questions?  Best practices?  Type your questions and comments below. Let's start a conversation and "share the wealth" of ideas.
---
---
NEW! Our Most Affordable 1:1 Coaching Package
"Before I met Bill Cates, I was making a ton of cold calls. Bill showed me how to go from cold calling to referrals and I tripled my production the very next month. I would not be where I am today without learning Bill's processes."
James Mwombela, Insurance Advisor
(Washington, DC)
Do you find it challenging to…
Get unsolicited referrals?
Ask for referrals/introductions without feeling uncomfortable? 
Get prospects to return your calls and emails?  
Confidently communicate your value in a way that turns ideal prospects into clients? 
Get introductions from key Centers of Influence? 
Maximize social event marketing?
If you answered "YES!" to any of the questions above, you're in luck. Over the past few months, I've offered a very limited number of exclusive, highly-discounted 1:1 personal coaching packages to my webinar participants. Due to the popularity, we've decided to extend this offer to our readers as well! 
If you want to breathe new life into your client acquisition process and make 2019, then reserve your spot today! We're only accepting 15 coaching clients, so don't wait… 
Learn More & Reserve Your Spot (ONLY $499!)