Want CPA Referrals? Do This First
August 26, 2020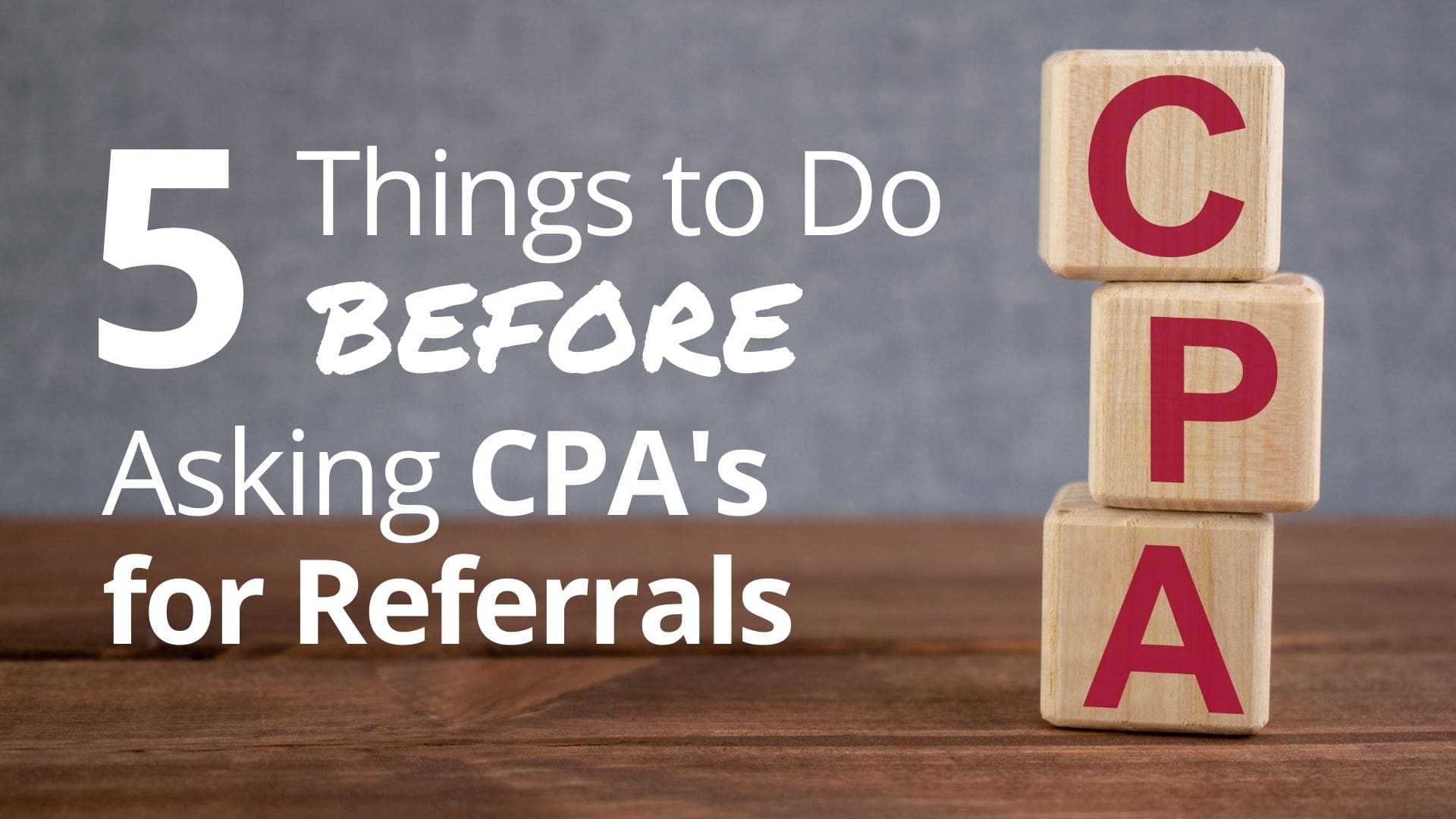 Very few financial professionals have cracked the code for creating truly productive relationships with CPAs. Most financial professionals are going about it all wrong and don't even know it.
Here are the three biggest mistakes that I see:
Trying to move too fast and pushing the CPA away.

Not hanging in there long enough to build the trust and referability necessary.

Not meeting and approaching the CPAs in the right manner.
In this blog post, I want to address this third issue. 
5 Things to Do Before You Contact CPAs
ACTION #1 – Meet the Right CPAs in the Right Way
The best way to meet CPAs is through your clients. You want to reach out to them from the perspective of "How can we serve our client in common better by knowing each other?"
As a financial professional, you should have the CPA contact information for all your clients. But that doesn't mean you're going to reach out to all of them.
Typically, the best CPAs to reach out to with this strategy are the ones where the client-CPA relationship is an active one. Small business owners and successful executives tend to have more than just a tax-time relationship with their CPA. Many of them are in touch with their CPA on a regular basis.
If the CPA truly values the relationship with the client you have in common, they will respond to your attempts to reach them.
ACTION #2 – What is the Client's Relationship with Their CPA?
Learn a few things about your client's relationship with their CPA. Get a sense of the CPA's practice and their relationship.
An important question to ask is, "Are you highly satisfied with your relationship with your CPA?" If they aren't, then you may have an opportunity to refer them to one of your current CPA alliances.
ACTION #3 – Research the CPA
Before you contact the CPA, do a bit of research. Look at their website to find some talking points for your first call or meeting. If they have a blog, read a couple of the articles. See if their vision and mission and values are compatible with yours.
See if their firm has any target markets that match up with yours.
ACTION #4 – Research the Industry
Spend 30 minutes on the internet learning about the current challenges that small to medium CPA firms are facing.
For example, two challenges most small to medium size firms face are:
Competing with the large firms for talent.

Adding high-value services beyond tax and audit.
Knowing some of these sorts of challenges will allow you to engage in a much higher-level conversation with them. They will see you as more professional and credible than the typical financial professional who knows nothing about their business.
ACTION #5 – Have a Clear Purpose for the Conversation
The best start to a conversation with your client's CPA is to help the two of you serve your common client better.
If you've done a financial plan (which I hope you have), then make a "review of their financial plan" as one of the main topics of conversation.*
Sometimes this review will reveal information about the client's situation that the CPA didn't know. Similarly, sometimes the CPA will know things about the client that didn't come out in the planning process.
*Note – You MUST get permission from your client to have this sort of conversation with their CPA. Also, ask the CPA if they will be billing the client for this type of conversation. The client may be perfectly fine with this. You just don't want any unwanted surprises.
Reaching out to CPAs about a client you have in common is an effective strategy, but don't wing it. Come prepared!
---
Virtual Referral Training is Here
Are you ready to grow your business … and change your life?
You can learn and implement our proven process while working from home or not seeing clients and prospects face to face.
Get the details and join us: www.CatesAcademyIndividuals.com