How One Bold Move Helped this Firm Survive (and Thrive!) in The Great Recession
December 21, 2017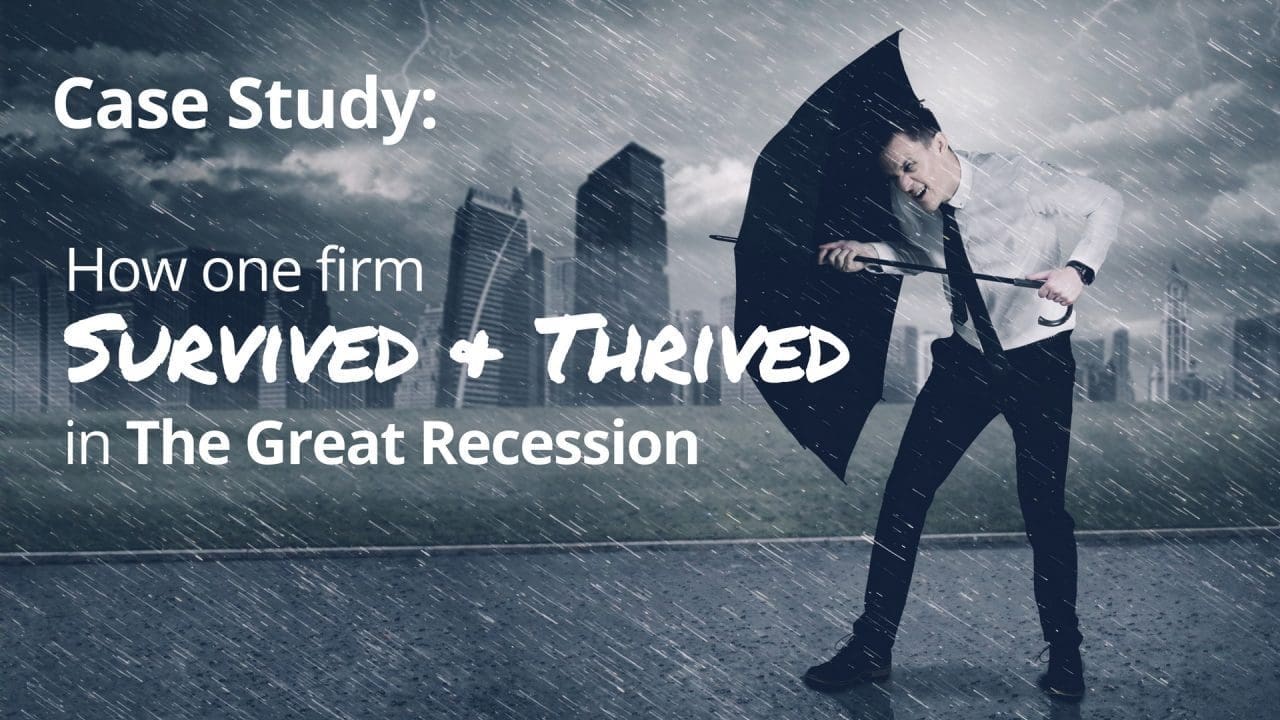 In the summer of 1999, two teenagers changed the music business almost overnight … and forever. The code written by Sean Parker and Shawn Fanning enabled people to download music at no cost. Illegal?  Yup!  Innovative and popular enough to spread like a wildfire? You bet!
The introduction of Napster was a trigger event for an entire industry. In an article for Mic.com, Tom Barnes writes, "Napster forced the music industry to develop digital distributions and streaming technology, which it could have done far earlier. Had the industry developed that technology instead of attempting to suppress it, artists may not have had to shoulder the massive economic fallout that they have. Luckily, artists won't bear that burden forever; streaming offers both the benefits of instantly accessible music and an increasing amount of pay." 
Similar examples are endless. The debut of Netflix permanently altered how people consume television. The roll-out of Amazon Prime turned the retail industry on its head. I don't know about you, but Uber seemed to come out of nowhere. In just a few short years, this company's name has become a verb. "You can just Uber over to the restaurant." Do you think the taxi industry sees the emergence of Uber and similar services as a trigger event? You betcha.
"Toto… We're not in Kansas anymore."
Speaking of trigger events, perhaps you remember the Great Recession? Technically starting in December of 2007, the housing market collapsed, sending many homes into foreclosure, and many real estate agents and mortgage originators looking for new employment. While maybe a few economists and industry observers saw this coming, most didn't. Most were taken by surprise.
Recently, I was having breakfast with Craig Strent, CEO of Apex Home Loans (headquartered in Maryland and doing business across 5 states). Craig is an extraordinary business person, creative thinker, and life-long learner who has taken his business to levels most mortgage companies only dream about.
While interviewing him for my upcoming book, Radical Relevance, I asked Craig how the Great Recession impacted his business, and the mortgage industry as a whole.
Craig stated: "Sometimes, change to an industry can come so fast that you'll wake up one day and wonder what planet you're on." He then became super serious, adding "We must always be ready and willing to justify, defend, or reframe our value to our prospects and customers, or we'll die a fast death in the marketplace."
From Service to The Experience
After furiously taking notes to make sure I didn't forget any of Craig's wise words, I asked Craig to elaborate.
"What differentiates our business is our commitment to building a long-term relationship with the client, something that is often ignored in our industry."
Craig went on to say, "I tell my clients, 'If you work with me, you'll never worry about your mortgage again. We send quarterly reports letting you know whether or not it's time to refinance. We manage your mortgage for you." 
Craig is certainly correct … the mortgage industry isn't known for the quality relationships they form with their clients. Between purchases and refinancing, I've probably done about nine mortgages in my lifetime. The only loan officer I remember is a former neighbor, who isn't in the business anymore. The behavior of most loan officers would suggest that they see themselves in a commodity business – pretty much competing on price alone –  and they assume that's how the rest of the world sees them.
By refusing to approach their business in the same way as their competitors, Craig and his partners not only weathered the economic storm that hit them hard, they slowly but surely began to grow. About the growth of his company, Craig said to me, "In what many perceive as a commodity-based business, we have grown exponentially, because we have built a business model designed to deliver a better experience for our clients."
"Better experience?" I asked. "I'm guessing you mean something more than just good customer service. Tell me more."
Replied Craig, "Our mission is this:  We deliver a superior home financing experience through a better mortgage process and lifelong mortgage management. Once we committed to this mission, we couldn't just let it be empty words. We had to deliver."
"We must always be ready to justify, defend, or reframe our value to our prospects and customers or we'll die a fast death in the marketplace."   

– Craig Strent, CEO, APEX Home Loans
Put Your Money Where Your Mouth Is
So, how exactly does Apex deliver on this promise of a better client experience?
Enter Steve Dorfman. I actually met Craig through Steve a few years back, when he contacted me to purchase 45 copies of my book Beyond Referrals and hire me for a workshop for Apex's 45 Loan Officers and Mortgage Planners.
Steve's role at Apex? Chief Experience Officer.
Now I ask you, how many small to mid-size companies have a Chief Experience Officer?  Heck – how many companies of any size go beyond delivering quality customer service to providing a great customer experience?
Dorfman knows that a company's ability to provide a great customer experience starts with the employee work experience. Dorfman told me once, "How a company interacts with its employees will determine how its employees interact with the customers. The external experience that we are able to provide to our customers is a reflection on our own internal culture of a great work-place experience."
In both methodical and creative ways, Steve is always on the lookout to install systems that ensure employees appreciate the experience of working for Apex Home Loans and that their customers always appreciate the experience of doing business with them.
Says Craig, "Without question, this shift and commitment to delivering a better experience is the single most important thing we've done to create a thriving business. Our prospects tell us that they can feel the difference from the very beginning and our customers can't believe that we are really staying in touch with them to keep the experience and value coming."
Whether you are in a business that feels like a commodity business or not, you can employ this same thinking to rise above the noise to get noticed and grow. Businesses trapped in "commodity thinking" pay attention to client satisfaction. Businesses who separate themselves, pay attention to client experience.
Regarding the growth of his business, Craig's said to me, "Bigger is not better. Better is better and bigger just came along for the ride."