The Importance Of Asking High-Value Questions (Updated: October 2018)
July 13, 2017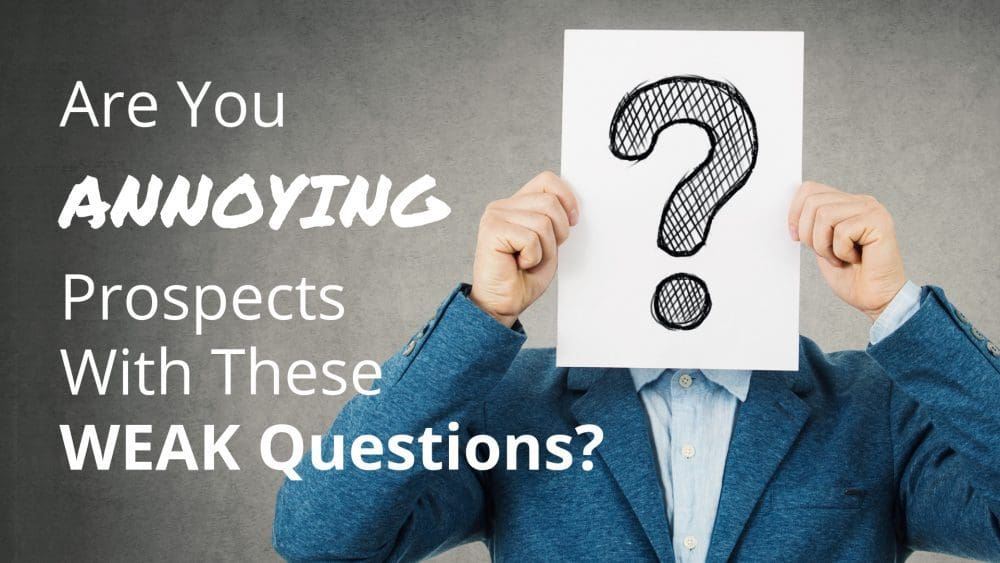 If someone promoting their product or service asks me "What keeps you up at night?" one more time, I'm going to go on a rant.  Okay… too late.  I'm on that rant now.
First – nothing keeps me up at night. I sleep very soundly.
Second – I get it. It's good to find out what our prospects find challenging.
Third – What if your product/service doesn't address their answer?  You've just wasted everyone's time.
Fourth – Don't you think it would be better to ask more relevant questions –  questions that demonstrate you know a little bit about them and their world?  Asking high value questions allows you to talk about your value in a way that's much more effective (meaning it moves them to take action)?
How to Make Your Value Proposition Super Relevant by Asking High-Value Questions
Before you overwhelm your prospects with possibly irrelevant (or overly general) information about what you do and the problems you solve, take a little time to get to know your prospect first.  In a past blog, I covered the importance of cold research (visiting your prospect's website and LinkedIn profile, for example) and warm research (the things you can only learn from your referral source or someone else who personally knows your prospect).
Dean Thibault heads up the Commercial Banking Division for Landmark Bank (based in Manhattan, KS).   While interviewing Dean for my upcoming book (Radical Relevance), we got into an interesting conversation about some of the trite "platitude" questions that we often ask. These platitudes are certainly not high value questions, and typically don't yield us the best information for relating our value proposition to the prospect's situation in a more relevant and compelling way.
What is a Platitude Question?
Dean gave examples of platitude questions such as:
"Tell me about your dreams."   AND   "What keeps you up at night?"
Dean said that a better question would be "What is the one thing that you would change related to __________ that would make a huge difference for you?"
Dean said, "General questions are weak.  More pointed questions bring more value to the conversation and give you something to work with."
Dan Sullivan (Strategic Coach), has been teaching his "R Factor Question" for years. "If we were to meet 3 years from today, what has to happen for you to feel good about________?"
Specific, high value questions allow you to provide specific, real-world answers to their challenges.
Listen to Learn First – Listen to Respond Second
Another way to go deeper with your questions, and gain more insight, is to use these three little words:  "Tell me more."  Instead of listening with an ear to respond, listen with an ear to learn even more – and then respond with a more relevant and compelling response.   A response that makes your prospect say to themselves, "This person really understands my situation."
Relevant research creates relevant questions. Relevant questions create:
evidence that you know a bit about them and their world
relevant conversations that earn trust
differentiation and value
earn you the right to that prospect's time and attention
Make Sure You're Asking Prospects This Question
How often do you ask your prospects and clients, "Why?" 
 
Why is that goal important to you?
Why did you want to speak with me about this situation?
Why do you think you haven't accomplished this goal already?
… You get the point.
Then, get to the why behind the why. Every why has more behind it. To create more relevant and compelling conversations, you need to learn more about your prospects' or clients' underlying motivation.
What questions do you like to ask your prospects to create relevance and impact?
Seriously! I really want to know. Let's start a conversation where we learn from each other. Post your response below.