Are You "Introducable"?
November 9, 2017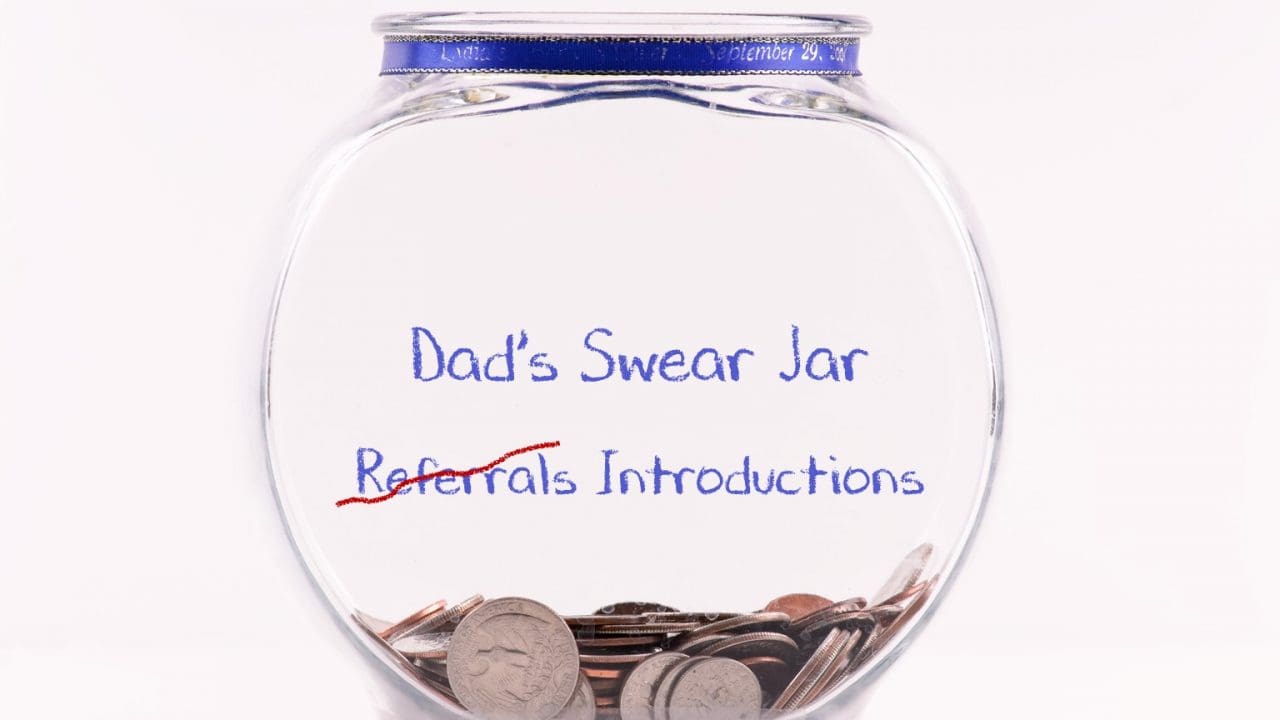 I don't curse much. And when my daughter was young, I pretty much never even said, "Damn." As she got a little older, that word did slip out from time to time. 
So my daughter bought me a Swear Jar – a piggy bank into which I was to put a quarter each time I said a "bad word." Why am I telling you this? Stay with me…
DO I NEED A REFERRAL SWEAR JAR?
3 weeks ago, I was conducting a full-day session and mentioned a recent study that demonstrated that many clients don't like to be asked for "referrals" but actually enjoy making "introductions."
About an hour later, I was talking about becoming more "referable" so as to obtain more referrals without asking. A gentleman in the front row politely asked, "Don't you mean introducable?"
He was right. And now, it appears I'm going to have to get a "Referral Swear Jar."  I can see it now… During my speeches and workshops, each time I say "referrals" I'll have to put a quarter in the jar. Old habits die hard.
The truth is, referrals (25¢) are pretty much worthless. It's just so hard to reach people these days, that we have to think in terms of "introductions."
5 Steps to Better Introductions
In the video that accompanies this blog, I run through 5 steps that will help you turn referrals (25¢) into introductions. 
(P.S. Make sure to keep watching until the end because around the 5:44 mark I share a link to download a FREE REPORT on how to secure better e-mail introductions ("Electronic Handshakes") 
[arve thumbnail="11690″ play_icon_style="none" width="570″ height="350″ src="https://www.youtube.com/embed/ONCusDxIIDQ" frameborder="0″ gesture="media"]
#1 – Be assumptive for the introduction. I don't believe you should ever assume someone is willing to give you referrals; that's too aggressive.
#2 – Make it collaborative. Creating the introduction should be a joint effort between you and the referral source.
#3 – Make it about protecting the relationships. We want an introduction that feels safe to all parties concerned.
#4 – Take your time. Don't rush through this. Get a good introduction.
#5 – A referral (25¢) doesn't count unless it's actionable!  I can't emphasize this point enough.  Anything short of that is wishing and hoping.


FREE WEBINAR!
How to Talk About Your Value at Holiday Events (and Beyond)
A LIVE High-Content Client Acquisition Webinar From Bill Cates, CSP, CPAE  


Tuesday, November 21, 2017
12:00p Eastern | 11:00a Central | 10:00a Mountain | 9:00a Pacific 

Seating is Limited – CLICK HERE TO RESERVE YOUR SEAT AT THE TABLE
What do you say when your brother's latest girlfriend asks, "So what do you do?" 
What do you say when Uncle Ernie asks, "How's business?"  

How do you get friends or family interested in meeting with you for a business conversation?
For actionable strategies for leveraging holiday social events to grow your business this season, click here to reserve your seat at the table. 
Have a friend or colleague who should also know about this webinar?
Click the "P.S. Don't Keep Me a Secret" graphic below to share!