5 Ways to Nurture Business Friendships with Clients
May 16, 2023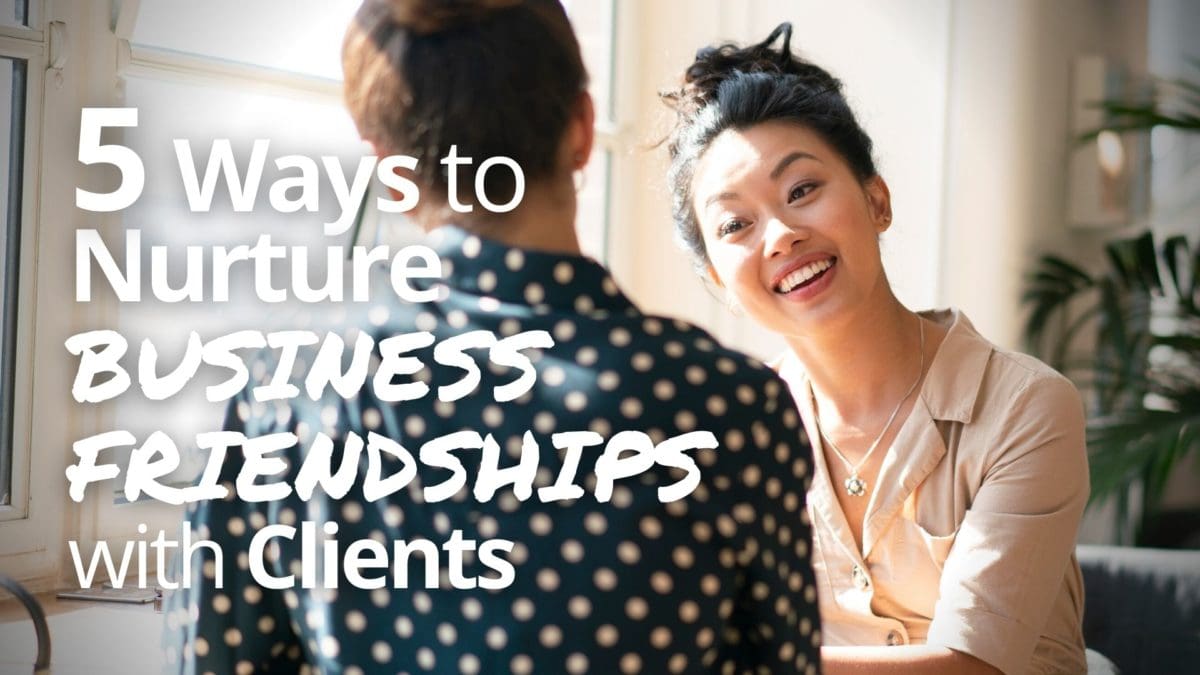 Let's dive into the exciting world where professionalism meets business friendship.
POINT #1
One study of affluent clients demonstrated that while satisfied clients are highly loyal (98%), a low percentage (20%) provide referrals and make introductions.
Engaged Clients create introductions. An Engaged Client feels connected with both your value and with you. Over time, many clients become business friends.
POINT #2
By the term business friendship, I'm not talking about sharing deep dark secrets with each other. I'm talking about a relationship that goes beyond your core work with your clients. Your meetings with them often devote 10% to business and 90% to everything else in each other's lives.
Your high-net-worth clients of $1M to $5M to $10M will most likely meet with you several times per year. You probably already invite them to your client appreciation events. Some of them invite you to their social events to which they invite other friends and family.
According to research by the Spectrem Group, nearly half of the millionaire clients consider themselves at least somewhat sociable with their financial advisor. Meanwhile, 27 percent keep things strictly professional.
Now, here's a fun twist: millennial millionaires are even more inclined to see their advisor as a friend! A whopping 63 percent of these young money moguls consider their advisor a friend to some extent. Only a measly five percent of millennials keep things strictly professional. On the flip side, baby boomers tend to lean towards keeping it professional, with over a third indicating a strictly no-nonsense relationship. And let's not forget our friends in the information technology world; they prefer to keep things more buttoned-up and professional.
NOTE – Real friendships are usually forever. Business friendships can be transitory.
Like Attracts Like
If you are someone who leans toward building these business friendships with your clients, most of the clients you attract will likely be interested in that type of relationship. If you prefer a more buttoned-up relationship, most of the clients you attract will want the same.
You probably already have some clients who fit this category. These types of relationships grow naturally. And there are some things you can do to encourage their growth – should you wish.
5 Ideas for Nurturing Business Friendships with Clients
Breaking Bread – I highly recommend you schedule at least one meal with your "A" clients every year. If one member of a couple is the lead in the relationship, it would be advised to invite the other partner to that meal. If you have a partner and he/she enjoys these sorts of things, he/she should attend.


Appreciation Events – When clients who like you and trust you get together with other clients who like you and trust you, they all leave liking and trusting you more. It's called Congruency Theory. At client appreciation events, you'll typically talk about anything but business.


Celebration Events – A celebration event is an appreciation event with a guest or guests of honor – such as small birthday lunches, small anniversary celebrations, and even retirement parties. Check out how Joe De Sena has used retirement parties to grow his high-successful practice: https://referralcoach.com/episode-6-client-appreciation-events/


Personalized Gifts – Any gift personalized to a client's interests can further the business friendship. Probably the biggest bang for your compliance-friendly bucks is a gift to their children or grandchildren.


Charitable Activities – Making a financial contribution to a client's charitable endeavors is good. Gifting your valuable time to an event or project will win you the most business-friendship points.
I would say that the business-friendship building part of your business can certainly be the most enjoyable. This is where you give yourself permission to have some fun while you continue to do the important work you do for your clients.
Action Step
The concept expressed in the above piece is probably not new to you. And I suspect, you probably do some of these things already. My suggestion is to become more purposeful and organized around this. If you have team members, get them involved to help you.
---
Virtual Referral Training is Here
Are you ready to grow your business … and change your life?
You can learn and implement our proven process while working from home or not seeing clients and prospects face to face.
Get the details and join us: www.CatesAcademyIndividuals.com