5 Ways to Increase Your Odds with LinkedIn
October 7, 2021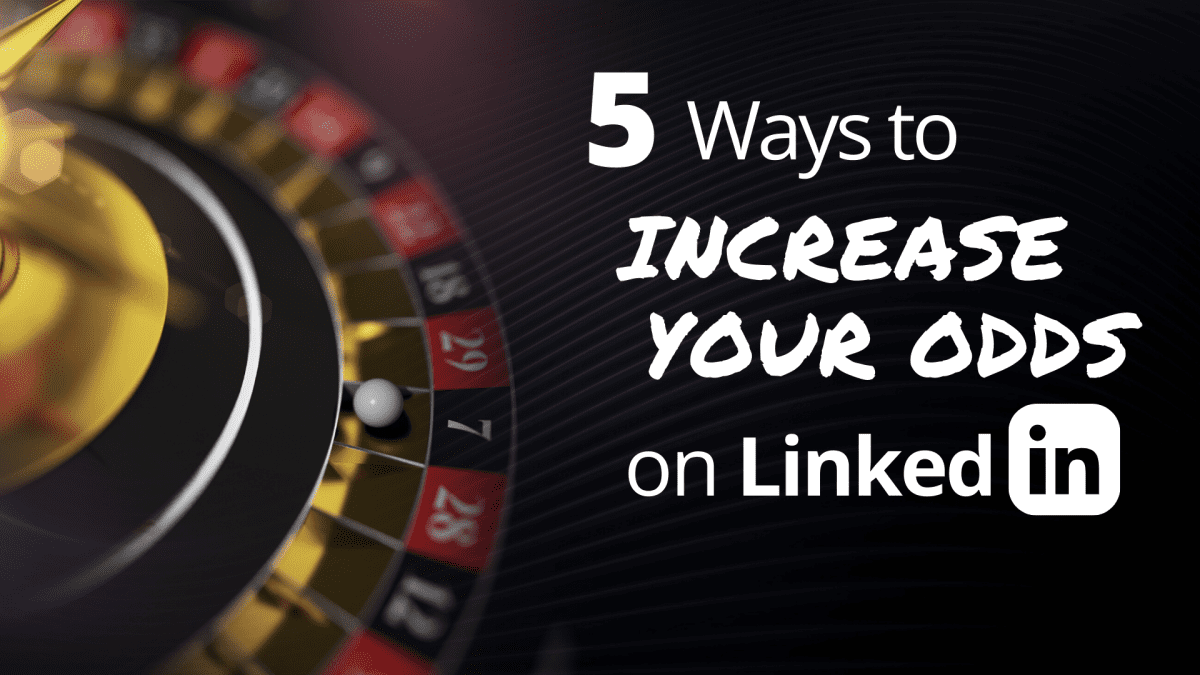 At least once per week, I'm asked, "How do I use LinkedIn to get more referrals? Should I go on my client's profile and look for prospects?"
Taking a close look at a client's LinkedIn profile in an effort to generate introductions will be a waste of time if you don't have a way to increase your odds of coming up with one or more people to whom they'll introduce you.
Since your clients likely won't know most of their LinkedIn connections, here are 5 ways for you to increase your odds of coming up with a few people your client knows and would be willing to introduce to you.
NOTE – These ideas are not isolated. They can work together to increase your odds.
5 Tips to Boost Your Chances of Getting Introduced on LinkedIn
Look for Familiarity
I like to see who has endorsed and recommended my client. You can often tell if the person writing the kind words about your client has a good relationship with them. For example, if your client uses Robert as their profile name, but the endorser calls him Bob, this is an indicator of familiarity.



Combine a Market with a Category
Typical target markets for financial professionals are employees in a large company, business owners in a specific industry, medical practices, universities, and other specific professionals. Narrowing your search for people in the same profession as your client will increase your odds of your client knowing them and introducing you to them.

A typical category for financial professionals is "5 to 7 years from retirement." When you match a clear target market with a category, your approach to the prospect will be much more relevant and effective.



Be Totally Transparent
Have you ever tried looking through a client's LinkedIn profile with them present or using a tool like Zoom? Many clients who love you and who have become advocates will tell you to, "Have a look at my LinkedIn connections. Tell me who you'd like to meet." I have had many clients tell me that over the years.

Take it to the next step and do it with them. Use some of the other ideas in this article to help your client narrow their focus. Start by doing a search of everyone in their company or industry. This can actually be a lot of fun and quite productive.



Have Some Fun
Speaking of fun, if your client doesn't know you were looking at their profile, yet you want to bring this up, here's a fun way to do it. It goes something like this…

YOU: Bob, I know we're connected on LinkedIn. Have you been using LinkedIn much?

BOB: Not much. I have a bunch of connections, but I don't do much with them.

YOU: I'm trying to use LinkedIn more. If you felt like someone was stalking you yesterday, that was me. You know I'm always looking to bring my important work to others, so I took the liberty of looking at your profile. I see that Laura Harris wrote a really nice endorsement of you. She appears to be in a similar business as you. Assuming we can come up with a comfortable way for you to introduce me to her, would you be open to that?
Prime the Pump
Here's what I've learned about using LinkedIn or any other way to start a conversation about introductions. Even if your client doesn't feel comfortable introducing you to someone you bring up, it can often prime the pump for a productive brainstorming session. You get the conversation going and many clients jump right in.
The Worst Outcome
Here's the very worst thing that will happen if you try any and all of the above ideas: you will plant a great seed that can sprout and bear fruit later. Don't be surprised if the next time you speak to them, they say, "Hey… I think I have someone for you."


ACTION STEPS
Make your LinkedIn Love List. This is a list of all your "A" clients who love you and/or have made introductions for you in the past.


Get permission to go through their profile in an effort to identify one or more people who look like good candidates for the work you do.


Schedule an in-person meeting or online meeting to discuss your results and possible opportunities
Forward this article to a friend or colleague.
And don't forget ALL our resources – many of them free – are waiting for you at www.ReferralCoach.com/resources.
---
Virtual Referral Training is Here
Are you ready to grow your business … and change your life?
You can learn and implement our proven process while working from home or not seeing clients and prospects face to face.
Get the details and join us: www.CatesAcademyIndividuals.com