5 Steps to Get Introductions from Your Network & Natural Market
April 1, 2019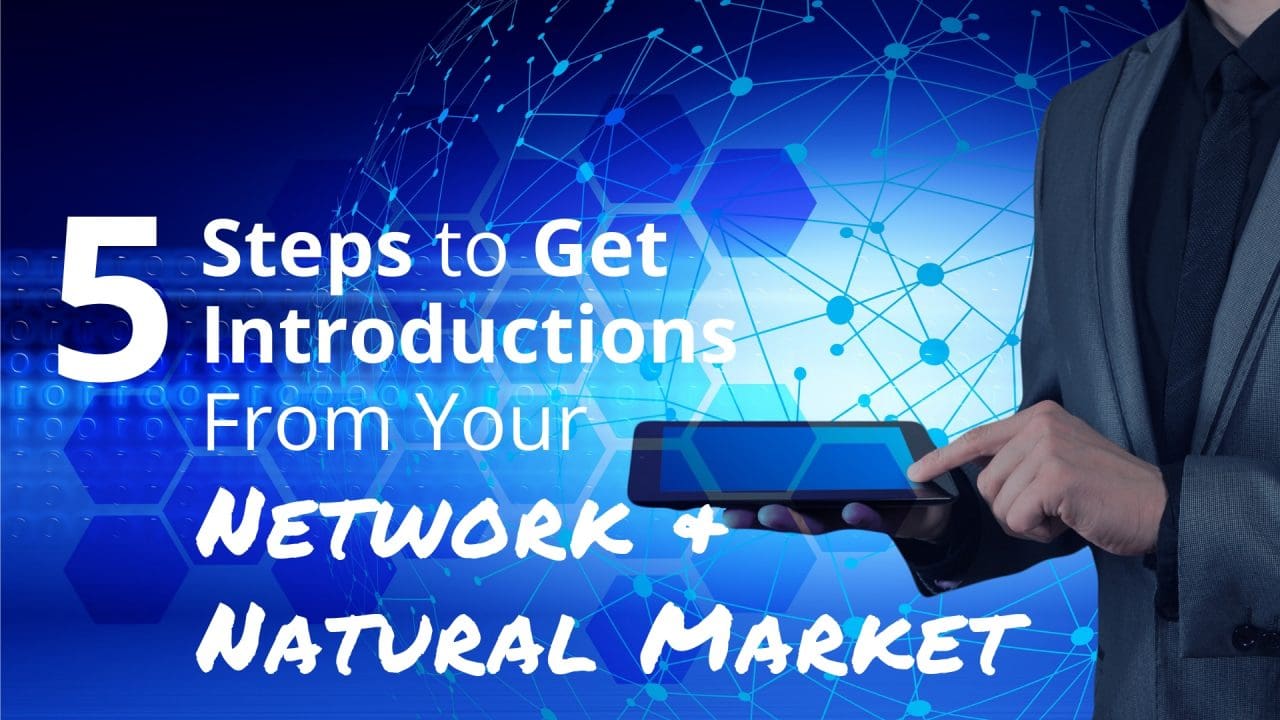 Bill – I have people in my network who will unlikely ever become clients of mine. How do I use your concepts to engage with them for introductions?
This is a question recently submitted from one of our Cates Academy members.
Can you relate? We all have people in our network (natural market) who may be perfectly willing and able to provide great introductions. This article covers my answer to that question.
5 Steps to Get Introductions from Your Network
How you approach each person in your network will be relationship-specific. With that said, here are the 5 main steps:
STEP 1
Be transparent.
No need to be secretive or bashful. Let them know you could use their help in bringing your value to others.
I'm making a concerted effort to work with more business owners in your industry. I would really value your opinion on how to go about that.
Remember – Asking for help (specially to help others with your value) is a sign of high self-esteem.
STEP 2
Become Referable
Schedule plenty of time to make sure they understand your value – what you do for people/businesses.  You must be referable in their eyes.
Demonstrate your full process and how you bring value to your clients in all phases of your relationship (with prospects, brand-new clients, and ongoing clients).
George – What else do you need to know about the work that I do to help you feel most comfortable in providing me with introductions?
STEP 3
Be Clear
Unless you're willing to talk to and/or take on clients who aren't ideal for you (and you probably shouldn't), teach these folks about your ideal clients – who you serve the best.
George – I'm not the right advisor for everyone. Let me describe some of the attributes of the folks we serve the best – the folks for whom our processes are designed.
STEP 4
Be Specific
Don't make the classic mistake of asking, "Who do you know who I can help?"  Don't throw open the entire universe for them to visualize. Help them visualize individuals or small groups.
If you can identify specific people you know that they know, ask for specific introductions.  If not, suggest categories and generally brainstorm with them.
One my clients, Bruce Davison (Wichita, KS) once said to me, "They can't introduce you to everybody. They can only introduce you to somebody."
George – I know you know Laura Smith. Can we come up with an approach for you to introduce me to Laura that will feel comfortable to everyone and, at least, peak her interest in hearing from me?
STEP 5
Get Connected
Don't settle for weak word of mouth. Make sure you get as strong of an introduction as possible.  Leverage the trust between your referral source and the new prospect.
George – One method of introduction that I've found effective is what I call an Email Handshake. Based on what you've already said to me, perhaps it can go something like this:
"Laura, meet Bill Cates. He has helped me get super clear about some critical business strategies and has helped me refine my value proposition that is helping me attract just the right clients.
"Bill, meet Laura. Laura and I go way back. She's a very savvy business owner and I think will appreciate the work that you do."
Are you open to doing something like that? If so, let's figure out what you might want to say to Laura to peak her interest in hearing from me.
To summarize… Make sure you are referable. Be clear about who you want to meet. Secure a solid introduction.
What do you do in this situation? What questions do you have?
I want to know. Please comment below. Let's start a conversation and "share the wealth" of ideas.
---
NEW! Our Most Affordable 1:1 Coaching Package
"Before I met Bill Cates, I was making a ton of cold calls. Bill showed me how to go from cold calling to referrals and I tripled my production the very next month. I would not be where I am today without learning Bill's processes."
James Mwombela, Insurance Advisor
(Washington, DC)
Do you find it challenging to…
Get unsolicited referrals?
Ask for referrals/introductions without feeling uncomfortable? 
Get prospects to return your calls and emails?  
Confidently communicate your value in a way that turns ideal prospects into clients? 
Get introductions from key Centers of Influence? 
Maximize social event marketing?
If you answered "YES!" to any of the questions above, you're in luck. Over the past few months, I've offered a very limited number of exclusive, highly-discounted 1:1 personal coaching packages to my webinar participants. Due to the popularity, we've decided to extend this offer to our readers as well! 
If you want to breathe new life into your client acquisition process and make 2019, then reserve your spot today! We're only accepting 15 coaching clients, so don't wait… 
Learn More & Reserve Your Spot (ONLY $499!)