5 Actions to Activate Your Advocates
July 17, 2019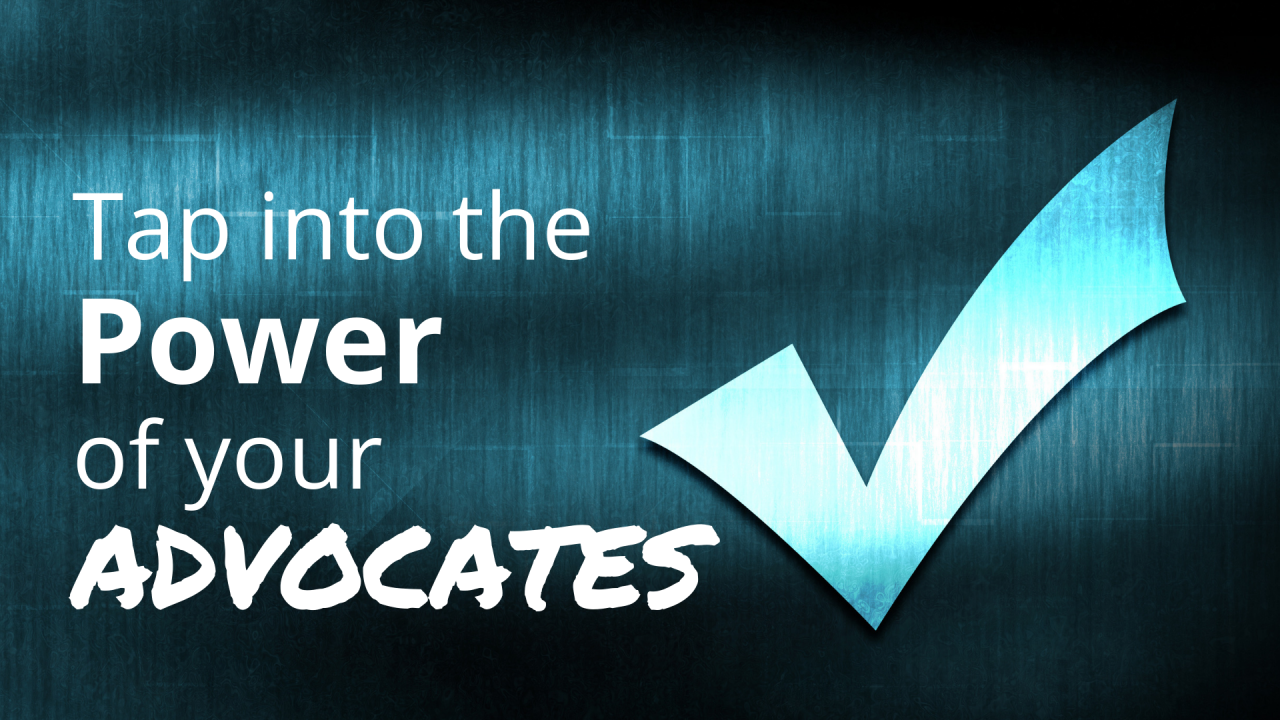 Some clients will recommend you to others but may fail to actually introduce you.
Advocates, on the other hand, will not only recommend you, they will make sure you get connected. They will hound their friend, or you, or both until the connection gets made.
We all love our advocates. Let's create some more!
Too Busy to Read?  Listen & Multi-Task
The reality is that you may be sitting on a goldmine of advocates, just waiting to tell others about you. Here are a few actions you can take to bring that gold to the surface.
How Prospects Will Be Treated
Make sure your advocates (and all your clients for that matter) know what to expect from you when you contact their friends, family, and colleagues. Remind them that you will respect everyone's confidentiality. Let them know that you will work with them to create an introduction that feels comfortable to all involved.
Who You Serve the Best
Be transparent with your advocates. Teach them who you serve the best, so they only introduce you to Right-Fit Clients™. Tell them that you're looking (on a mission) to serve people just like them.
Don't Settle for Word of Mouth
Remind your advocates that just mentioning you to others isn't usually enough to create a connection and get your important work to their friends and colleagues. Discuss with them how you like to get introduced and get their buy in to what you've found works. ("Here's what I've found works the best.")
Keep Your Advocates in the Loop
All along the way, let your advocates know how the introduction is proceeding (without revealing proprietary information). If the prospect becomes a client, get permission from the new client to let the advocate know. If you're having trouble making a full connection with the prospect, let your advocate know that as well. They'll come to the rescue.
Get the New Client to Thank the Advocate
It's important for you to show you appreciation for introduction – with at least a handwritten note or maybe a gift card, What's even more important is that you get the new client to show their appreciation to the advocate. Suggest that to the new client. Better yet – have a thank-you lunch with everyone involved. (You pick up the tab.)
Not providing your potential advocates with information to help them help you (and those you serve), is like a starving person passing up a buffet with a sign that says "Free Food!"
How do you develop your advocates? What questions do you have?  I want to hear from you!  Really!  Let's start a conversation and "share the wealth" of ideas.  Please leave a comment or question below.
---
NEW! Our Most Affordable 1:1 Coaching Package
"Before I met Bill Cates, I was making a ton of cold calls. Bill showed me how to go from cold calling to referrals and I tripled my production the very next month. I would not be where I am today without learning Bill's processes."
James Mwombela, Insurance Advisor
(Washington, DC)
Do you find it challenging to…
Get unsolicited referrals?
Ask for referrals/introductions without feeling uncomfortable? 
Get prospects to return your calls and emails?  
Confidently communicate your value in a way that turns ideal prospects into clients? 
Get introductions from key Centers of Influence? 
Maximize social event marketing?
If you answered "YES!" to any of the questions above, you're in luck. Over the past few months, I've offered a very limited number of exclusive, highly-discounted 1:1 personal coaching packages to my webinar participants. Due to the popularity, we've decided to extend this offer to our readers as well!