3 Growth Strategies for a Great 2016 and Beyond
December 17, 2015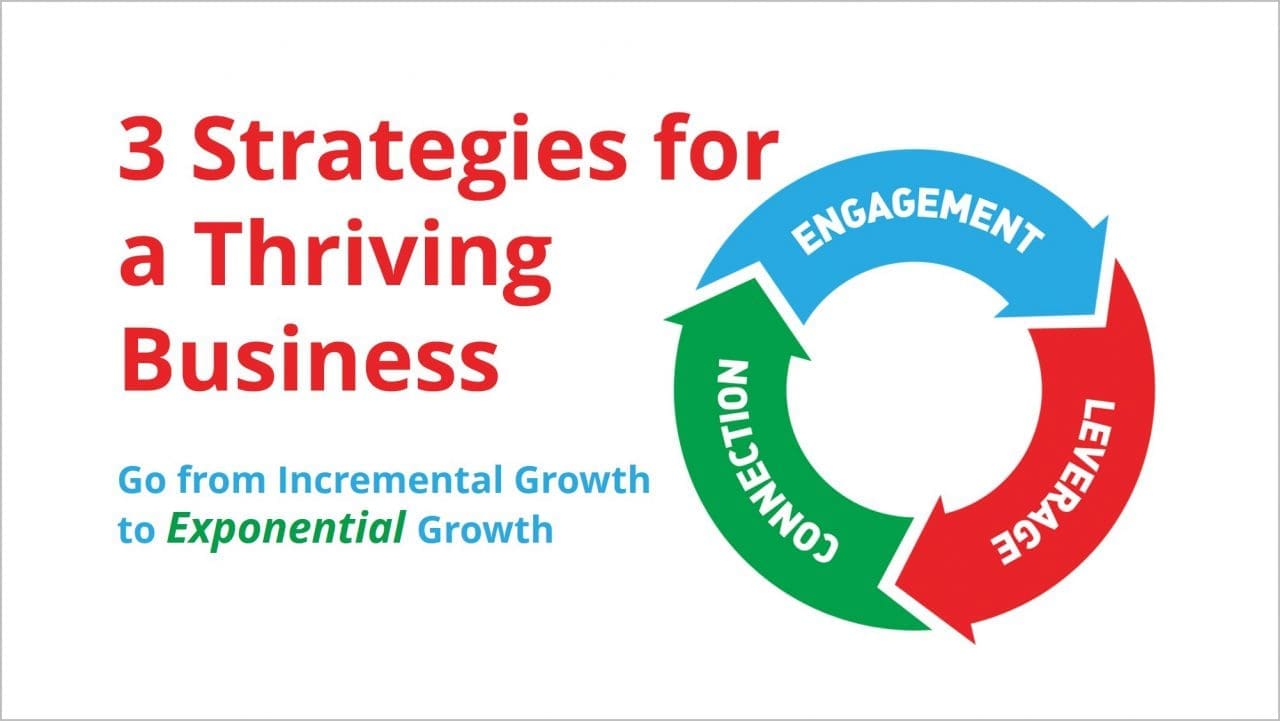 Go from Incremental Growth to Exponential Growth
Before we get to the 3 Growth Strategies, let's start with a simple formula you can use for any aspect of your business. Nothing magic here; simple and effective: Vision > Strategies > Tactics. Unfortunately, most professionals and business owners go straight to the tactics. They have a great idea and implement without much regard for the overall vision and strategy. While the idea might be sound, the results will be limited.
For the purposes of this article, let's use this vision: In 2016 I Will Create Exponential Growth by Establishing a Culture of Client Acquisition through Personal Introductions. (If you have a team, change "I" to "We.") Can you get behind that vision? I suspect you can. Now… 3 Growth Strategies to support that vision.
Growth Strategies: #1

–

Engagement
Research has proven that to bring in more new business and generate introductions, we need to go beyond client satisfaction and client loyalty to Client Engagement. From the very beginning of your new relationships you want to make sure you are facilitating your prospects' and clients' sense of engagement with both your value and you as a person. This, by the way, can produce referrals and introductions without even asking for them.
The Prospect Experience
Make sure you have a great initial process that brings great value to your prospects. Having a Here-to-There Conversation and telling them your Personal Why will help you connect on both key levels – your value and you.
The New Client Experience
Provide an onboarding process so your new client truly feels welcome and that they are "joining" something. If appropriate for you and the work you do, create a sense of "joining the family." The onboarding process should, again, hit both aspects of engagement: value and personal connection.
The Ongoing Client Experience
Your Client-Service Promise should drive the continuing relationship. Going into each year, have the year planned out as best you can so you know exactly how you'll be in touch with your A-Level Clients. No winging it allowed! Have a plan. Work the plan.
Growth Strategies: #2 

–

Leverage
If you've been following my work for a while, you know that it is leverage that transforms incremental growth that comes from great client service into exponential growth that puts you on the fast track to increasing your success.
Promote Introductions
You're probably already familiar with the many methods I teach for promoting introductions, i.e., planning seeds. One of the most effective methods is to teach your clients how you would proceed should they identify someone who might find value in your work. Take the mystery out of your referral/introductions process. Build your conversation for the two main elements of "confidentiality" and "handle with care."
Asking for Introductions
So many "marketing experts" are saying, "You can't ask for referrals or introductions. You just have to earn them." Well… I agree with the second part. You do have to earn them. But once you've provided value and the prospect or clients recognizes your value, many of them will be delighted to introduce you to others. But you usually have to ask or you won't receive. Don't let these "experts" project their fear onto you and limit what's possible for you and what I've helped thousands of professionals do.
Growth Strategies: # 3

–

Connection
So we have a client willing to introduce us to one or more people, but you're not done yet. You have to create a connection to the new prospect or you've just wasted everyone's time.
Traditional Introductions
Collaborate with your client or center of influence about the best way to connect you to their friend, colleague, or family member. "George, I'm certain that Laura would prefer to hear from you before she hears from me. Let's see if we can craft an approach that feels comfortable to the both of you and, of course, piques her interest in hearing from me."
Event Introductions
An alternative to the traditional introduction is encouraging your referral source to invite the prospect to either an educational event or a social event. Some of my clients like to combine the two. There's nothing wrong with that. Some clients are totally comfortable making traditional introductions – like an electronic introduction (email to the two parties). And some clients prefer inviting the prospect to an event where their friend can get a sense of your value and who you are before deciding to schedule a meeting with you. I think it's best to have both methods in your tool kit so you can capture as many qualified prospects as possible – in the way your clients prefer.
In Summary
1. Set your vision for 2016 – In 2016 I Will Create Exponential Growth by Establishing a Culture of Client Acquisition through Personal Introductions.
2. Then implement the 3 strategies of: Engagement, Leverage, and Connection; along with the tactics or processes that support the growth strategies.
Let me know how it goes? Need deeper training or coaching? I'm here to help.
I would enjoy hearing from you. Send an email directly to me at BillCates@ReferralCoach.com