CASE STUDY – Virtual Client-Attraction Social Events
July 29, 2020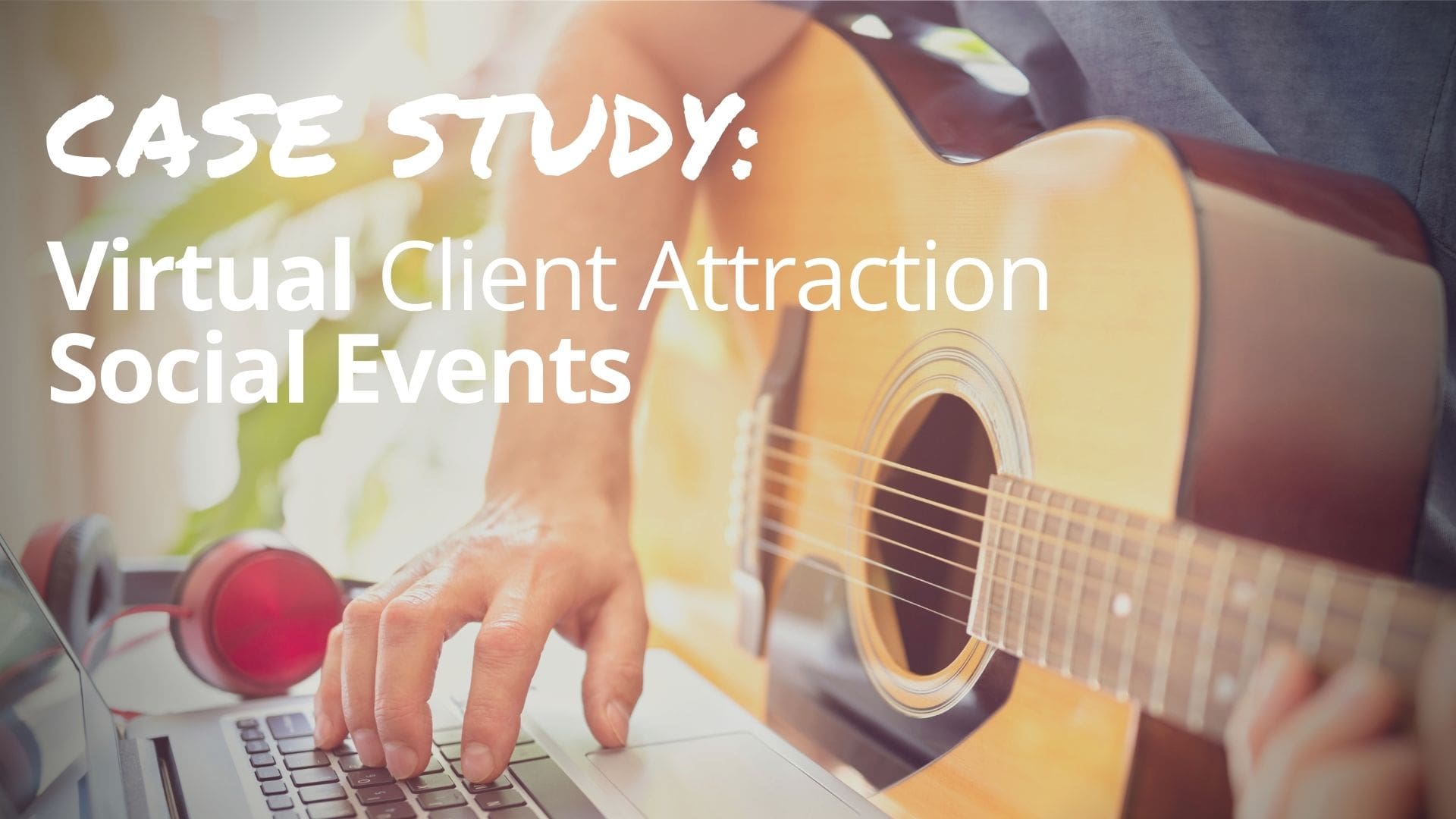 Bring-a-Guest events have long been a staple in financial services as a way to meet qualified prospects.
But what about in this virtual world we're living in at the moment? Can Social Event Marketing still work?
Enter Lisa-Marie Winnings, a highly successful, 24-year veteran of financial services.
Lisa-Marie told me, "I didn't want to be one of those advisors who seemed content to wait for things to get back to normal." She knew she had to find a way to engage with her clients that would also stimulate new client activity.
Friday Night Music Series
Lisa-Marie is friends with a talented musician performer. She came up with the idea to host a series of five virtual performances over the course of five Friday evenings.
She purposely didn't have her clients use their webcams. She wanted them to not have to worry about being onscreen, so they could just relax and enjoy the musical performance however they liked.
The Charcuterie Tray Was a "Wow"
Everyone who signed up to attend this event received a very nice charcuterie tray, hand delivered to their home by an employee or one of her children.
The great musical performance and the first class tray of food moved many of her clients to rave about it on their favorite social medial platform.
This prompted Lisa-Marie to open up the remaining four performances to guests of her clients.  Since the charcuterie tray was being delivered to the guests' home as well, she certainly started these new relationships with a great first impression.
The Results
Without doing any special follow up with the clients or guests, Lisa-Marie acquired three high-net-worth clients. The initial income from these new clients paid for her cost of putting on these events many times over.
Conditions permitting, she is arranging for an event with the same musician in a small theater in her town. All of her clients and all of their guests are excited to be able to experience this performer in person and meet Lisa-Marie and her staff.
Inviting Guests to Client Appreciation Events
I know that a common challenge for advisors, consultants, reps, and agents who host client appreciation events is getting their clients to bring interested and qualified guests.
Either the clients don't bring anyone or whomever they bring isn't necessarily qualified or interested in meeting them.
I've written a short guide addressing this challenge. It's yours for free right here: https://referralcoach.com/wp-content/uploads/2020/07/Cates-Clients-Inviting-Guests-to-Event-1.pdf
Questions? Comments? I'd love to hear from you in the comments section below.
---
Virtual Referral Training is Here
Are you ready to grow your business … and change your life?
You can learn and implement our proven process while working from home or not seeing clients and prospects face to face.
Get the details and join us: www.CatesAcademyIndividuals.com