Trigger More Referrals that Convert into Appointments
March 7, 2023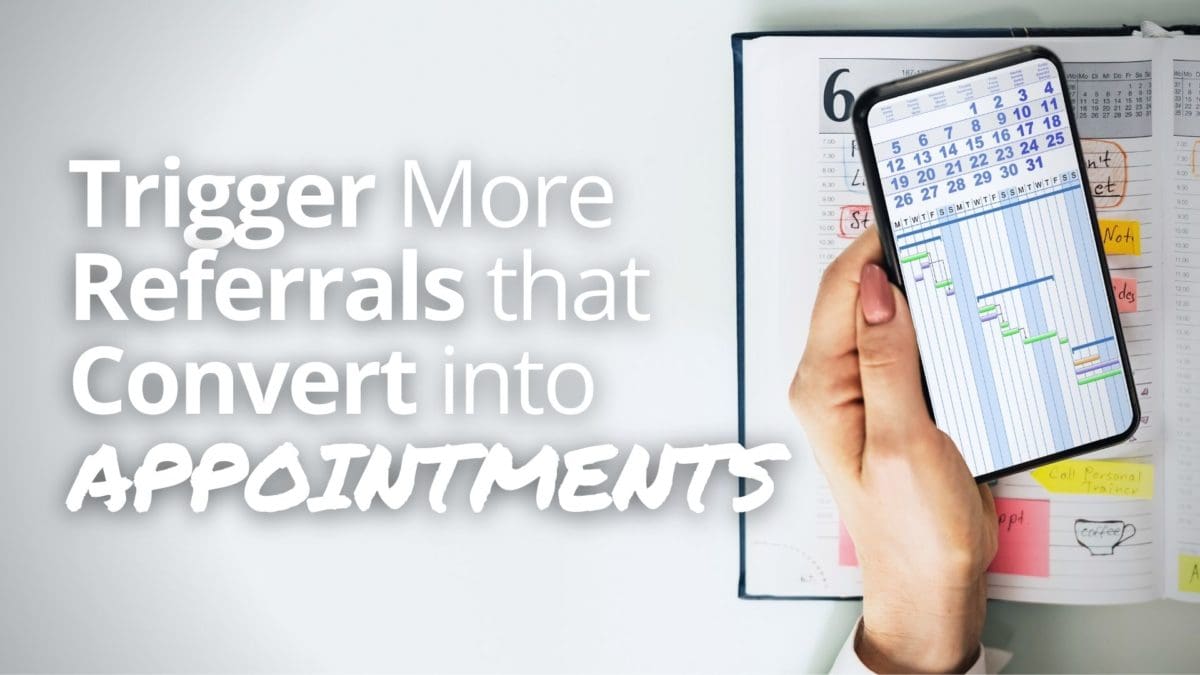 Have you noticed that most of the prospects who convert into clients are going through some sort of life event that has put you and your work on their radar?
Look… Any introduction to a qualified prospect from a trusted source that carries the power of borrowed trust is probably worth pursuing.
That said, when a prospect is going through a life event and/or has money in motion, then your odds of setting an appointment and winning that new client increase significantly.
Therefore, one of the best ways to ask for introductions is to come prepared with a list of categories that might trigger your clients' thinking.
In this article, I'm going to give you a list (by no means exhaustive) of typical life events and money-in-motion categories you'll want to consider using to trigger possible introductions.
Then I'll give you a sample word track for how you might bring this up in a meeting with a client or center of influence.
Come Prepared with Categories
Since money intersects all aspects of one's life, any life event might be considered a money-in-motion event. So, admittedly, the lines could be a bit blurry between the two. With that said, here is the way they are typically considered in our industry.
Money in Motion
Selling a piece of property.
Selling a business.
Starting a business.
Changing jobs.
Legal settlement.
Inheritance.
Bonus or raise at work.
Cashing in a long-held stock.
Paying off debt.
Purchasing a rental property.
Buying a vacation home.
Refinancing a mortgage.
Leaving a job or retiring.
Divorce or separation.
Life Events
Getting married.
Having a child (including adoption).
Personal injury.
Major illness.
Death of a friend or loved one.
Becoming a caregiver.
Moving residences.
Getting fired.
Graduation.
Taking a sabbatical.
Using These Categories for Referrals/Introductions
"Hey, Bill. The concept is great, but how do I bring this up with a client?"
Great question. Here's a sample word track using my tried-and-true V.I.P.S. Method™ for asking. Do this right after the Value Discussion (the V in V.I.P.S.)
YOU
Denise, I'm so glad you're finding this process helpful. I certainly enjoy working with you. You know I'm on a bit of a mission to bring this important work to others – to help them make financial decisions that are in their best interest.
With that in mind, I was hoping we could brainstorm just a bit about who you know you think should at least be aware of our process.
I have a few categories to run by you that just might trigger a few folks for you. In fact, you're in one of those categories so we can start with that.
CLIENT
What category am I in? [curious smile]
YOU
Well… you initially came to me because your older sister had just retired, and that made you start thinking more seriously about your own retirement – if you had enough money and how you would turn your savings into income.
This is a very common category of folks who really do need to speak with us – and before it's too late to take advantage of the many options available. Who comes to mind as someone who might be in or around this life situation?
Is it really that simple and easy? Yup!
You're asking a client who has experience with and understands your value. Is this going to hurt a relationship? Of course not.
There are 3 main things that are likely to happen:
They think of one or more people who are candidates for introductions to you.


They can't think of anyone in that category, so you move on to a few other categories.


They're not comfortable talking about introductions at this time. Back off gracefully knowing you've educated them a bit and you've let them know that you are never too busy to see if you can be a resource for others.

Do I expect you to use the exact words I demonstrated above? Not really. Make the conversation genuine for you.
NOTE – When asking for introductions, the more specific the better. Start with people you know that they know personally and/or categories such as those just mentioned. Try to avoid throwing up the entire universe for their consideration, which is likely to cause them to draw a blank. Also, try to avoid saying, "Can you think of anyone who might benefit from the work I do."
---
Virtual Referral Training is Here
Are you ready to grow your business … and change your life?
You can learn and implement our proven process while working from home or not seeing clients and prospects face to face.
Get the details and join us: www.CatesAcademyIndividuals.com