27-Second POWER SCRIPT for identifying "perfect-fit" clients
March 13, 2018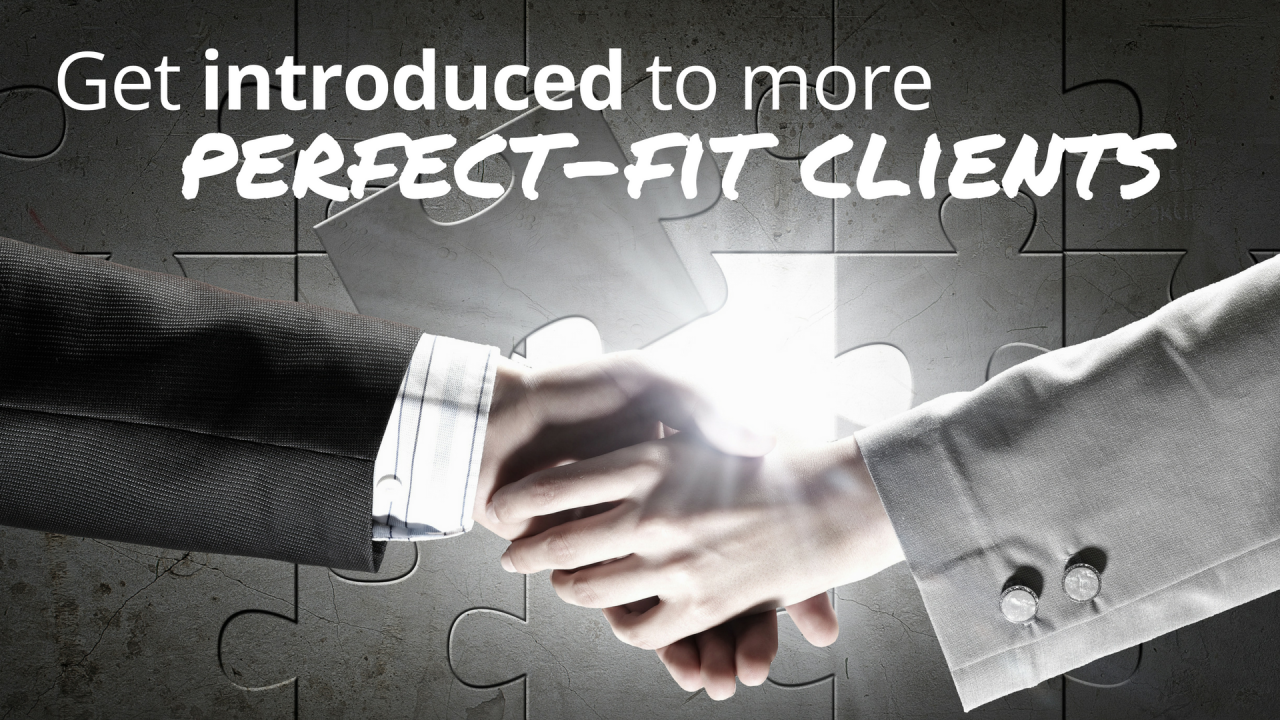 On a recent call with my coaching client, Rod Gibbings, we were discussing the importance of teaching our clients and centers of influence who we serve the best; who we are trying to attract into our business. After all, if your introduction sources don't know the answer to this important question, they'll keep sending people to you who don't fit. 
Are you right for them?
Here's a question I pose during most of my speeches and workshops. "If a prospect is not the right fit for your business – for the work you love to do and the direction in which you want your business to grow – are you the right person (advisor, consultant, coach, agent, etc.) for them?"
Everyone always agrees that the answer is an emphatic "No!" Taking on clients who aren't the right fit for you creates lose-lose situations.
If you are truly committed to always doing what's right for your clients, you'll avoid the pitfall of taking on anyone who comes your way.
Stop Talking about

Ideal Clients
As Rod (a Private Wealth Manager based in British Columbia) and I were discussing this important topic, I drew the distinction between an ideal client and a perfect-fit client.
While, technically (according to dictionary.com), the word ideal means "regarded as perfect of its kind", not all our clients and centers of influence regard it this way. Rod noticed that although he had taught many of his sources what an ideal client was for his business, they kept sending to him less-than-ideal prospects. He realized that to many of these referral sources, ideal meant "nice to have, but will take others as well."
Start Talking about Perfect-Fit Clients
I advised Rod to change his term to Perfect Fit, and to use phrases such as "the folks I serve the best" and "the clients whom my practice is geared to serve."
Here's a sample word track that illustrates this idea in the context of promoting the possibility of introductions down the road:
Donna, there's something I'd like to run by you for a minute. Many of my clients like to introduce the important work that I do to others. Should that opportunity arise for you, I think it would be a good idea for you to know who we serve the best these days – for whom our processes are best suited.
In fact, you are considered a perfect-fit client for us. You have saved well toward retirement and you know the value of professional advice. Typically, our processes are geared to serve individuals or couples who have at least $250,000 of investable assets and make a combined income of $175,000 or more. While I don't expect you to know the exact details of someone's financial situation, it would be good for you to at least have a sense of the right fit.
The last thing we want to do is waste someone else's time and energy only to discover we aren't right for them. One exception to this might be a very close family member – such as your parents.  Making sense?
It's important to note that, as always is the case with the word tracks and sample scripts that I provide, you adapt them to make sure they are both genuine for you and appropriate for the situation.
Two Action Steps
Unless you're willing to take on just about anyone, please start teaching your clients and prospects what a "perfect-fit" is for you. When you meet with prospective centers of influence, don't be surprised if they ask you this right off the bat.
Please leave a comment or ask a question below. Let's start a conversation to bring even more depth to this topic.