"How should I describe your work to others?"
August 10, 2022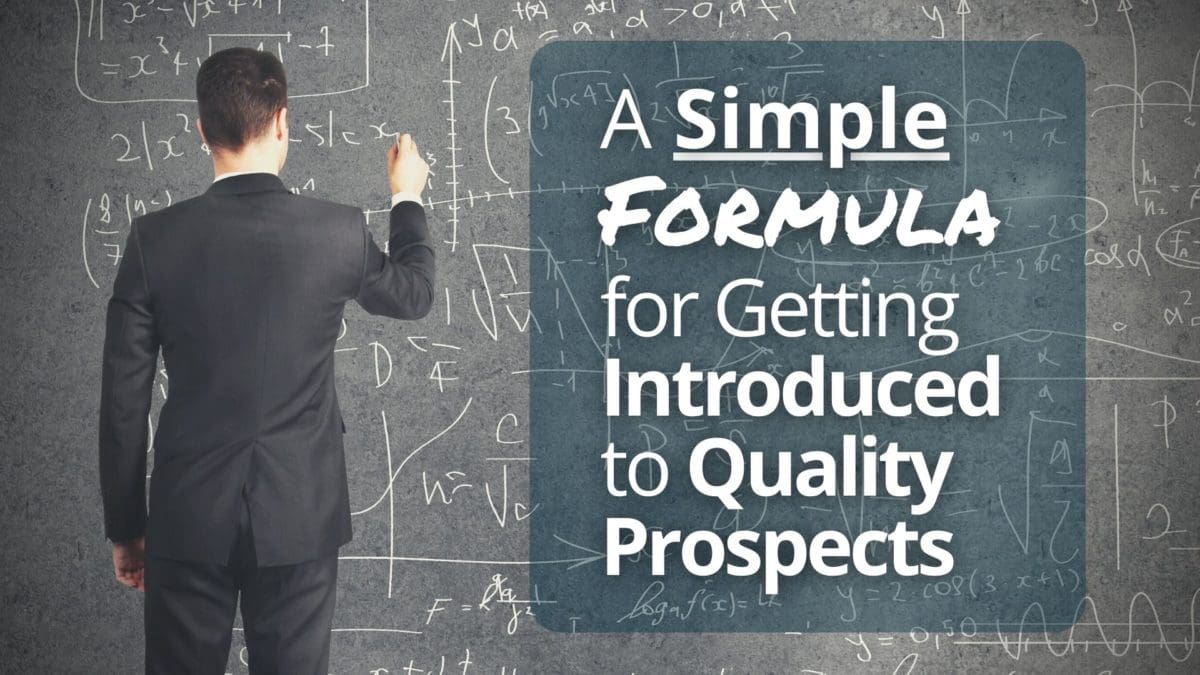 Have you ever had a client ask you, "What should I tell others about you?"
And did you have a very simple answer for them; an answer that they would remember and effective enough to compel someone to want to meet you?
This is a perfect example of where the phrase less is more might be applied.
I was discussing this concept with a friend who is a business consultant. He took a sabbatical from work for a couple of years and has now jumped back into the game.
As he was renewing his relationships with friends, colleagues, and former clients, he was pleased to learn that they all wanted to help him. And to do that, they needed to know the answers to a few very basic questions such as:
Who do you want to meet?
How will I recognize a good prospect for you?
What are the problems or symptoms of problems you can alleviate?
How can you help them?
What should I say to folks about you?
How do I spark their interest in meeting you?
Name Your Value in One Sentence
You're probably familiar with the TV show Name That Tune, where contestants try to identify songs in as few notes as possible. Contestants would say, "I can name that tune in 3 notes." (This show first aired on radio in 1952 and moved to TV in 1954. It has since been revived at least four more times since then.)
I recommend you develop a way for others to introduce you to quality prospects in as few words as possible; in just one sentence if you can.
Keeping this to one sentence will benefit everyone in at least 3 ways:


The introducer will easily remember what to say about you to others.
The prospect will instantly get what you do and why they should meet you.
It will work in a text, an email, or a quick conversation.
Bill, do you have a simple formula to help me get started?
Yes, I do. I'm so glad you asked. It goes like this…
If you are _______ and you want to _______, you need to meet _______.
PART A: If you are – describes the ideal prospect.
PART B: You want to – identifies one or two benefits or goals.
PART C: You need to meet – endorses you.
At the risk of appearing self-serving, I'll start with a few examples that I might use for my business. Then I'll give you a few more examples designed to help spark your creativity.
If you're a financial advisor and you want to acquire more ideal clients, you need to meet Bill Cates.
The Rule of 2 – Condensing your value proposition into one sentence like this is not always an easy thing to do. The Rule of 2 allows you to use up to two types of prospects and/or add a few more descriptors to Part A and/or Part B, but not Part C. Use your best judgment. Just do your best to keep the overall sentence concise and clear.


If you're a veteran financial advisor wanting to acquire just the right type of clients, you need to meet Bill Cates.


If you are a financial advisor and you're looking to leverage the power of a well-defined target market, you need to meet Bill Cates.
I could go on and on, but enough about me. 😊 Here are a few examples you can adopt and adapt to fit your situation.
If you're several years or less away from retirement and are hoping to retire without taking a pay cut, you need to talk to Peter Smith.


If you're a small business owner hoping to exit your business while maintaining a high standard of living, you need to talk to Laura Jones.


If you're between 30 and 50 and have children, you need to speak with Francis Jenkins.
As you can see, the possibilities are endless. Feel free to get creative and possibly have a little fun, however, never let your creativity and cleverness get in the way of clarity.
Now it's our turn.
Why don't you give it a try? Send me an example. I'd love to see how you apply this simple formula and will be happy to provide feedback if you wish. DIRECT: Bill@ReferralCoach.com.

Find this message helpful? Don't keep it a secret!
Forward this article to a friend or colleague.
And don't forget ALL our resources – many of them free – are waiting for you at www.ReferralCoach.com/resources.
---
Virtual Referral Training is Here
Are you ready to grow your business … and change your life?
You can learn and implement our proven process while working from home or not seeing clients and prospects face to face.
Get the details and join us: www.CatesAcademyIndividuals.com