Your Perfect Formula for FAST Referrals Without Asking
August 12, 2020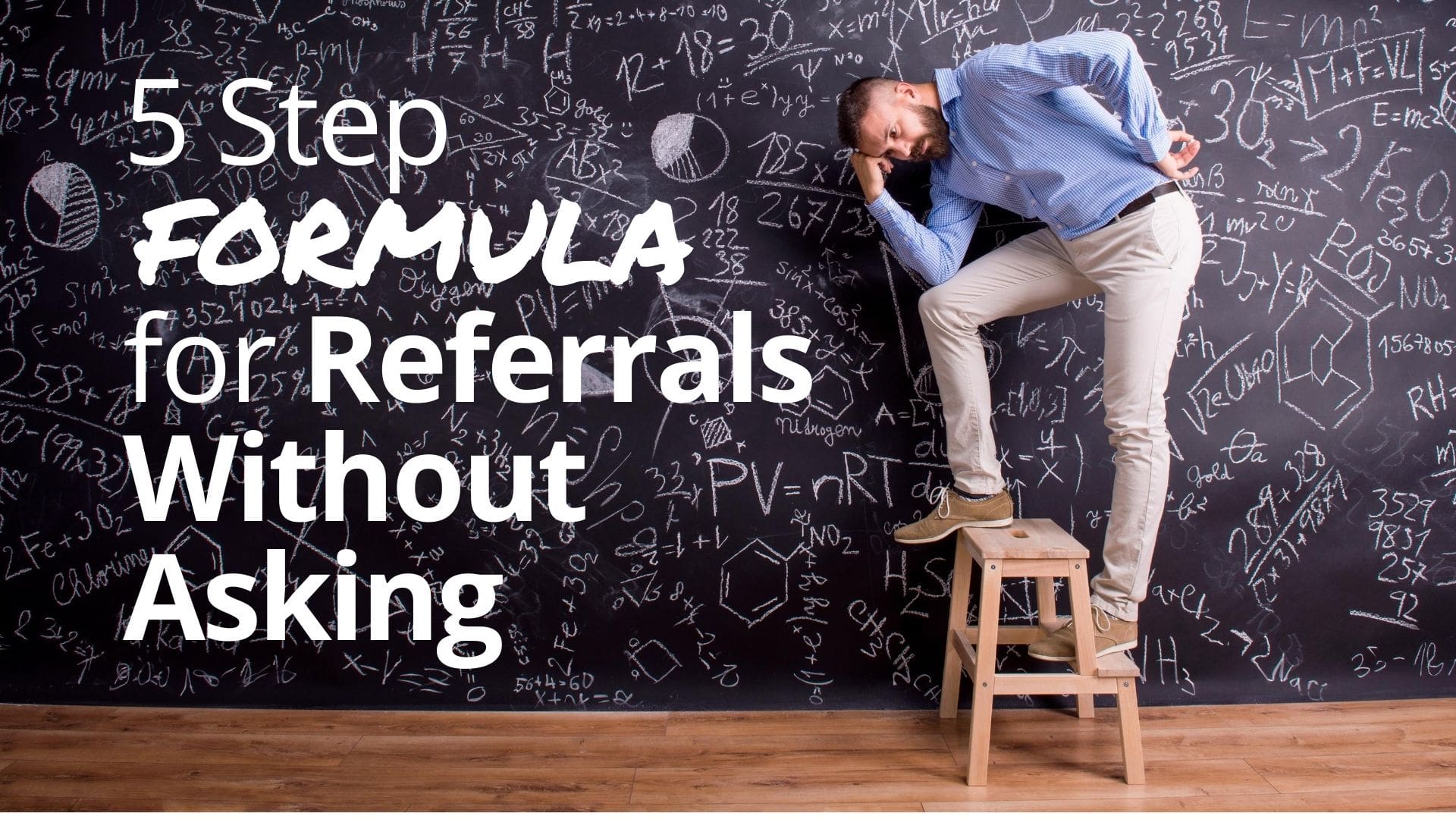 Are you getting referrals or introductions without asking for them? You should be, you know.
Your ability to generate unsolicited referrals is a barometer of your referability.
While there are a number of factors that contribute to your referability, here five steps that are totally within your control.
5-Steps to Referrals Without Asking
STEP 1 – Share Your Client-Focused Why
Telling your prospects and clients why you believe in your value builds their sense of engagement with you.
Everyone has a different why. It could be why you got started in this business, why you're still in it after many years, why you're with your current firm, or  something that happened to you, your family, or another client that woke you up to your true value.
This is all about demonstrating your emotional connection to your value.
STEP 2 – Give Referrals / Make Introductions
It's important that you see yourself as a connector. You provide value to others by giving referrals – making connections.
For some clients, you may have the opportunity to make introductions to prospects for their business. You can certainly introduce them to other financial and legal professionals who are related to the work you do. And, sometimes, you can connect them to other resources that have little or nothing to do with your core work.
STEP 3 – Promote Introductions
Early on in new relationships and throughout the lifetime of a relationship, you want to let your prospects and clients know that you are never too busy to see if you can be of value to others to whom they might introduce you.
I often call this "Planting Referral Seeds." Celebrate it when you meet a new prospect through a referral/introduction. Teach them who you serve the best – to increase the chances that they'll send more qualified folks your way.
STEP 4 – Get in the Habit of Checking for Value
People will provide unsolicited referrals if they like you and believe in your value. To create a culture of referrals, it must become second nature to check in with your prospects/clients on a regular basis, to clean up minor issues and ensure that they are experiencing all you have to offer.
I call this process "The Value Discussion." You see, you become referable when value has been delivered and value has been recognized. Hopefully, your clients are already telling you nice things about how they experience your value. With that said, I recommend that you conduct Value Discussion at just about every meeting of substance.
STEP 5 – Remove the Uncertainty
One of the most effective steps you can take to generate unsolicited referrals is to explain to your prospects and clients how you will proceed if/when they identify someone who should become aware of your important work.
Many of your prospects and clients will withhold their referrals until they are assured of two things:  1)  you will maintain complete confidentiality, and  2)  you will not do anything to make them regret making the connection. Teach them that you will handle this with great care – having them make a comfortable, yet effective introduction.
This formula works, but only if you work it.
You can apply these steps in your very first appointment – sometimes covering all 5 in the same appointment.  Just remember this:  ideas do not make you more successful. Only acting on those ideas will bring you the success you desire.
---
Virtual Referral Training is Here
Are you ready to grow your business … and change your life?
You can learn and implement our proven process while working from home or not seeing clients and prospects face to face.
Get the details and join us: www.CatesAcademyIndividuals.com