7 Strategies to Engage Your Staff in Your Referral Marketing Plan
June 29, 2017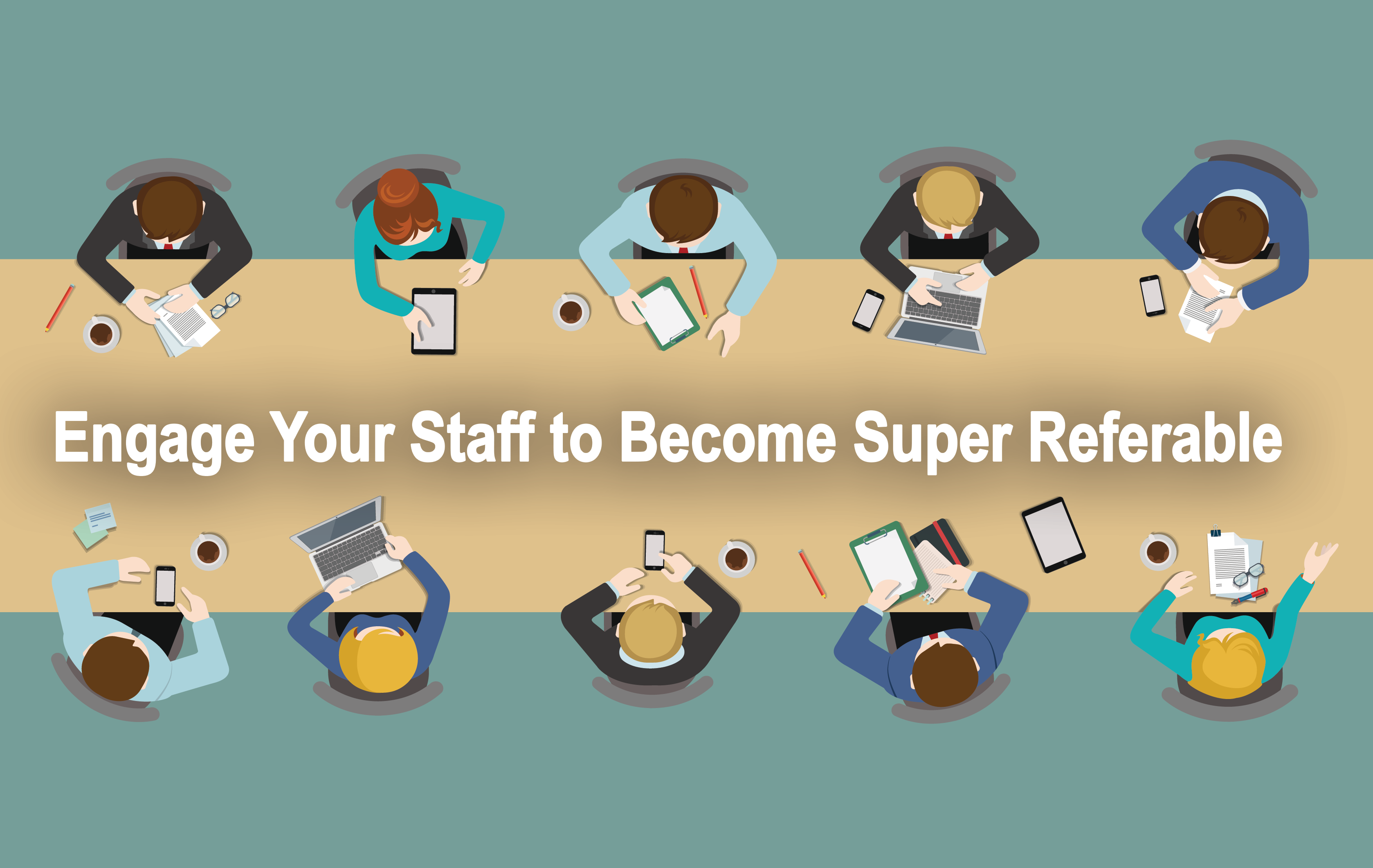 Have you ever thought about ways to engage your staff member(s) or assistant to help you generate more referrals and personal introductions?
A new feature of Exponential Growth 2017 is that we are inviting participants to bring an assistant or staff member with them to the boot camp. While a member of your staff may never ask for referrals from your clients, there are a number of things they can do to have a significant impact on the process. (see below for Staff Tuition)
QUIZ: Does Your Referral Marketing Plan Engage Your Staff?
___ Do they fully understand and believe in your value?

You believe in yourself and the work you do. Right? Does your staff believe in you and the work you do? Do they even truly know the value of the work you do? If not, make sure you teach them. And, make sure they hear all the good things you hear from your clients and the role they played in garnering that praise.
___ Can they articulate your value in a clear, concise, and confident manner?
I guess I should ask YOU this question first – right? Do you have clear, concise, and confident ways to communicate your value to prospects, clients, and centers of influence? Taking steps to engage your staff starts with you.  (The good news is that you can work on this at Exponential Growth 2017 with your assistant.)
___ Can they recognize a solid prospect for you and encourage that prospect to take a call with you?
Okay, this may be a bit of a stretch for some team members. But, it certainly makes sense to work with your staff so when they are in social settings and someone asks what they do, not only can they articulate the value of your firm, but also ask a few relevant questions and determine when they're speaking with someone who might value the work that you do.
___ Do YOU treat your staff like you want them treating your clients?

Your team members are unlikely to treat your clients any better than you treat your team members. This is called "trickle down client service." Your team members are your clients. Make sure they are happy, and they will go above and beyond the call of duty for your clients. One way to know if your staff are doing what they need to do to make your business referable is that your clients are giving you unsolicited positive feedback about them.
___ Do your staff members know how they contribute to making everything about your firm referable?

Generating more referrals and personal introductions is not just a matter of asking for them. It's about creating a true culture of referability within your firm. Everything you and your staff does either boosts or diminishes your referability. When a client or center of influence sends someone your way, make sure your staff knows that this prospect is, "A referral from George Smith. He gets the royal treatment."  Because even if the prospect doesn't become a client, he/she will tell the referral source about the experience.
___ Are you creating opportunities for your staff to meet your prospects and clients face to face?
Humans are inherently social beings. And face-to-face engagement will contribute to smoother phone conversations, especially when resolving problems or recovering from mistakes.
___ Have you taught your staff how to recognize opportunities to promote introductions?
Some staff members – especially marketing assistants – can gain the skill and confidence to engage with clients in a conversation about introductions. But that's the exception, not the rule. 
I recommend you teach your staff to identify all the "value recognizing statements" they hear from your clients, and follow that up with words such as, "I'm so glad you're finding value in working with us. If you ever think of a friend, colleague, or family member that should know about the work we do, please… don't keep us a secret!"
PS – Don't keep these ideas a secret. Tell your colleagues and business-owner clients.