"Can You Ask for Referrals in a Letter?"
March 11, 2019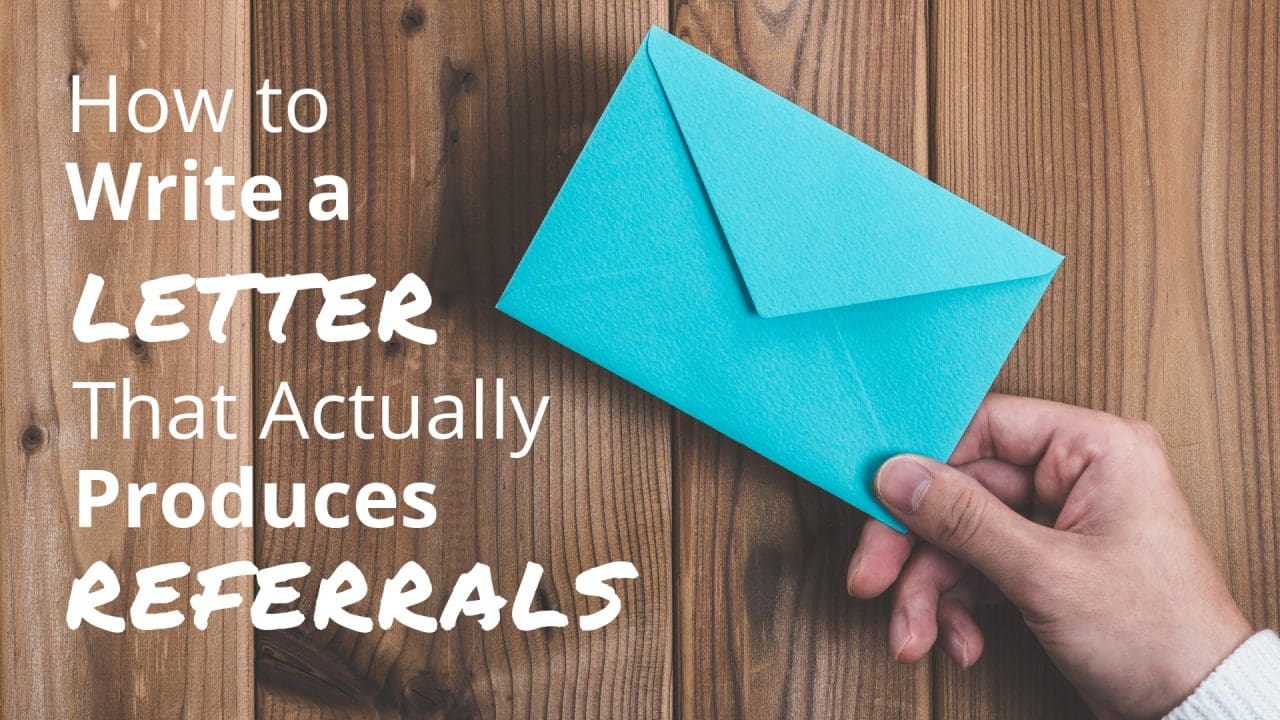 I get asked that question several times a year. The short answer is, "Don't waste your time." Sure, lightning strikes from time to time, but I recommend you use a letter for a different, though related, purpose.
The two main reasons why clients are reluctant to discuss referrals:
They are concerned about confidentiality.
They are not sure how you'll handle the referral, therefore, protective of their relationships.
A Letter You Can Mail to Your Clients
Here's the sample of a letter that helped one of my coaching clients create to send to her clients this past January. You can mail a similar letter to your clients that will serve to promote the possibility of introductions, while handling the two main objections stated above.
Dear ___________,
I want to take a moment to wish you a very Happy New Year and also thank you for the trust you've placed in me with something as important as your financial matters.
The more I work with my clients, the more I believe that everyone should take the time to make educated decisions with regard to their financial future (and that of their family).  Unfortunately, many people – even very intelligent and successful people – put off getting the assistance of a professional advisor; to ensure they're covering all their financial bases.
I'm driven by my mission to provide top-notch advice and service to all I meet.
I suspect there are people in your life who you believe should at least know about the important work I do. And if so, I'd like to let you know how I'd handle an introduction to anyone you think appropriate.
First – All the work that we've done and things we've discussed will be kept in complete confidence. Even if you introduce me to close family members or close friends. I cannot cross that line of confidentiality.
Second – I don't like to call people from out of the blue and surprise them… and make them wonder, "Why did he/she give my name out to this person?"  No one likes to get those kinds of calls anymore.  I've found it's best for all concerned to meet people through introductions.  As you identify people who should be aware of the work I do, you and I can discuss the best way for you to introduce me to them – so everyone feels comfortable with exactly what will occur.
Perhaps my mentioning this has made you think of one or two people?  If so, please give me a call or send an email letting me know. You and I can hop on the phone for a few minutes to discuss the ideal way to proceed.
Here's to our mutual success in 2019!
Thanks for not keeping me a secret! 
Sincerely,
In Summary…
Asking for specific introductions is always best done in person or over the phone. Email can work if you have a good relationship with your referral source. If you feel compelled to send a letter, make it about helping your clients feel "safe" about providing you with introductions.
Questions?  Best practices?  I want to hear from you!  Really!  Let's start a conversation and "share the wealth" of ideas.
---
NEW! Our Most Affordable 1:1 Coaching Package
"Before I met Bill Cates, I was making a ton of cold calls. Bill showed me how to go from cold calling to referrals and I tripled my production the very next month. I would not be where I am today without learning Bill's processes."
James Mwombela, Insurance Advisor
(Washington, DC)
Do you find it challenging to…
Get unsolicited referrals?
Ask for referrals/introductions without feeling uncomfortable? 
Get prospects to return your calls and emails?  
Confidently communicate your value in a way that turns ideal prospects into clients? 
Get introductions from key Centers of Influence? 
Maximize social event marketing?
If you answered "YES!" to any of the questions above, you're in luck. Over the past few months, I've offered a very limited number of exclusive, highly-discounted 1:1 personal coaching packages to my webinar participants. Due to the popularity, we've decided to extend this offer to our readers as well! 
If you want to breathe new life into your client acquisition process and make 2019, then reserve your spot today! We're only accepting 15 coaching clients, so don't wait… 
Learn More & Reserve Your Spot (ONLY $499!)