Prospecting vs. Marketing: Finding the Right Balance
May 6, 2020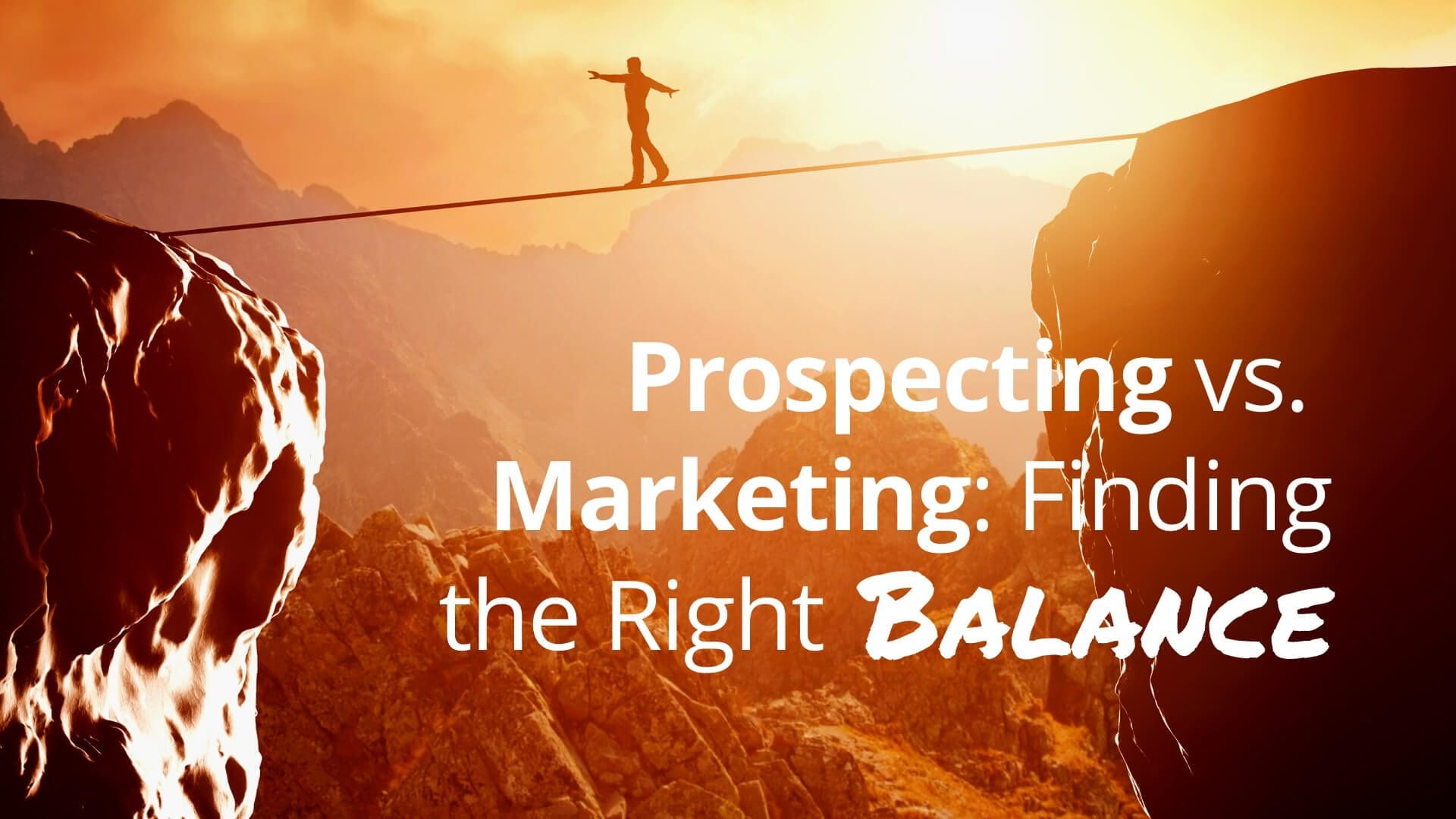 I've always loved prospecting. Call it, "The thrill of the chase." Prospecting can be creative and rewarding – especially when you find a new prospect and convert them into a new client. Prospecting takes energy, persistence, and a true belief in the value you bring to others. Without that belief, ongoing prospecting is hard to sustain.
I also love marketing. There's no better feeling than creating a marketing strategy that attracts highly-interested and qualified prospects into your world – virtually ready to do business with you.
All prospecting and no marketing can lead to frustration and burnout.
This may seem counter intuitive, but for many reasons, building your business purely on prospecting will often result in an uneven flow of prospects.
Most people rev up their energy to prospect through cold calling, networking, and calling leads. They have enough success, so they shift their attention to working with those clients. Once those new clients have been onboarded, they shift their attention back to prospecting.
The financial services industry has always done a pretty good job at teaching people how to prospect for new clients and sell their products once in front of a prospect. New agents or advisors are expected to make tons of phone calls and send tons of emails and/or LinkedIn messages to strangers, trying to spur some interest.
Most managers teach what they did when they were in production or whatever programs "The Mothership" provides. Unfortunately, these methods or programs are often outdated or developed by people who have never been in the field.
All marketing and no prospecting can lead to missed opportunities.
As I stated above, effective marketing will pull people into your world. A few will be ready to do business with you. The rest will take a bit of work on your part to get them over the finish line.
When someone doesn't say "yes" right away, a bit of prospecting kicks in. You want to have a process to stay in touch with those prospects to help them make a decision that's in their best interest. Hopefully, that will be working with you.
Unlike prospecting, the financial services business has not been particularly good at teaching reps how to market their services. I think this is one reason many people wash out early in their careers and others never rise to the level of success they desire.
Can you give me some examples of each?
I'm inclined to put these activities in the pure prospecting camp:
Telephone cold calling
Door-to-door cold calling
Direct mail or internet generated leads
Booth or table at an event
Social media prospecting
There are some activities I tend to label as hybrid between prospecting and marketing. These activities include:
Educational events
Networking – events and related activities
Requesting referrals and introductions
Bring-a-guest social events
Marketing activities come in the form of:
Building a reputation in a clearly defined target market
Social media posting – when you post items of value to the readers
Advertising – printed and digital
Building a network of Centers of Influence
Are you limiting your success by not using more marketing?
Unless you develop a lead-generating machine, you may never reach your full potential. And if you do develop a lead-generating machine, your cost per opportunity may be high, reducing your profitability.
I've been in the financial services industry for 25 years. My observation is that the two most productive marketing strategies for financial professionals are:
Reputation Marketing – Building a reputation in the right target market.
COI Marketing – Creating your own personal sales force of influencers.
Stay tuned to this blog for future posts designed to help you become a better marketer – to start attracting just the right prospects into your world, predisposed to work with you.
REMEMBER – Whatever you do or don't do now, will show up in your business 3 to 6 to 9 months from now. So, start doing something!
---
Virtual Referral Training is Here
Special Referral Stimulus Offer SAVE $200
You can learn and implement our proven process while working from home or not seeing clients and prospects face to face.
Get the details and join us: www.CatesAcademy200.com