2 Strategies to Be More Relevant to New Prospects
October 7, 2020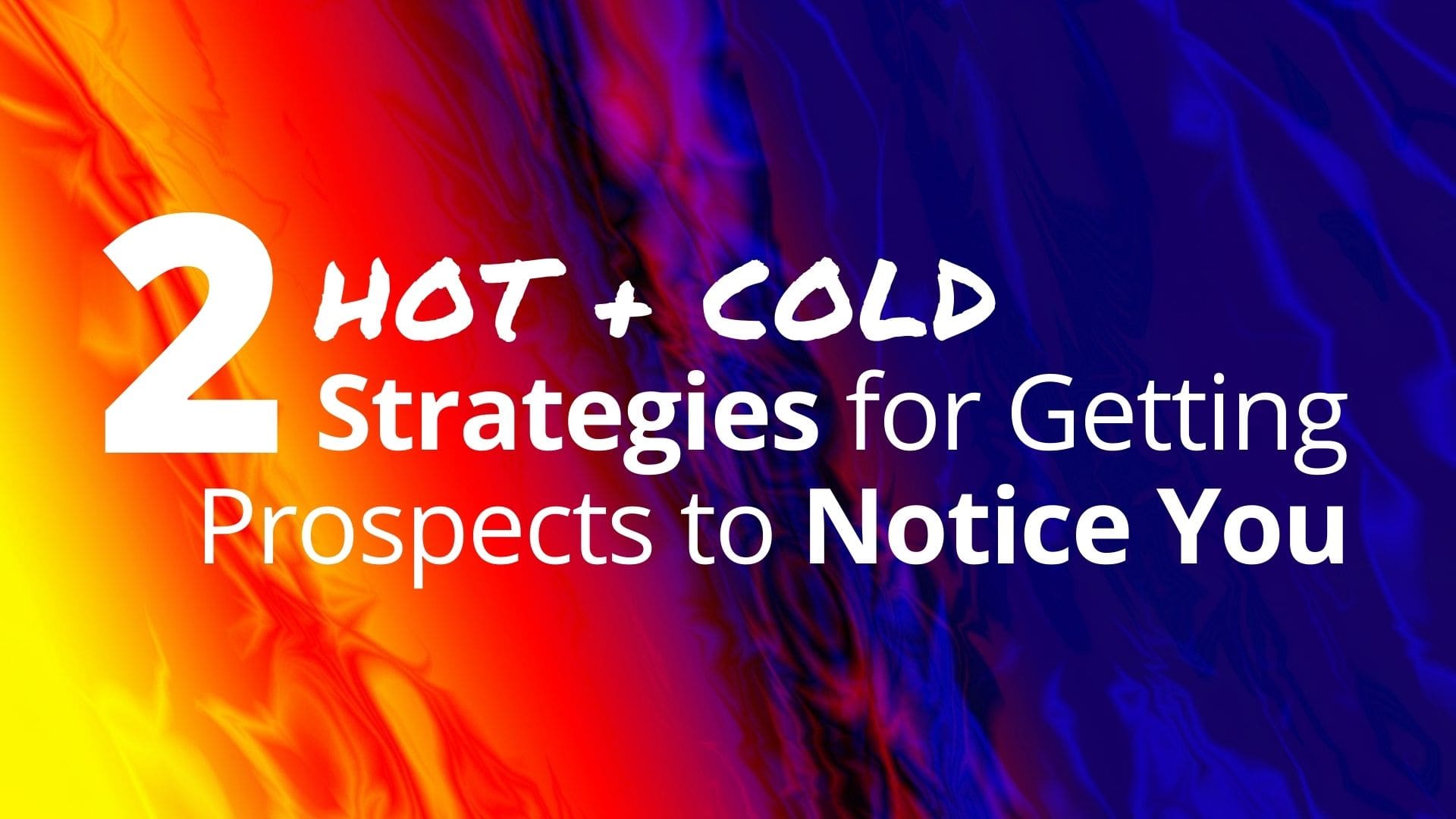 To deliver a relevant message that will grab your prospect's attention, you first need to know a few things about them. The more context you have, the more relevant your message will be. And if you're not relevant to them, you'll be ignored.
In fact, you should never, ever, ever contact a prospect without doing a little research.
There are two main types of research that you can tap into before contacting your new prospect. Both have value.
Cold Research
With cold research these days, it's mostly using online research to learn about both the prospect and, if applicable, the prospect's business. Cold research includes, but is not limited to:
Reviewing the company website and their profile if it's available.

Reviewing the prospect's LinkedIn page.

Googling them. You can often find articles and press releases written by or about your prospect.
Sam Richter (www.SamRichter.com), author of Take the Cold Out of Cold Calling, is one of my favorite resources on this topic. I recommend looking at his proprietary Sales Intel Search Engine (https://www.sellingintel.com/a/cates) as one of your sales research tools.
Warm Research
Warm research helps you learn information that you aren't likely to get with cold research. It involves finding out what you can from people who know your prospect, especially your referral source. Here are some questions you might ask of your referral source:
What's going on in their life (and/or business, and/or career) that's most important to them right now?
If you can position the introduction (and your follow-up) to them in a way that ties the work you do to what's top of mind for them, you now have a radically relevant approach. You will at least gain their attention.

Can you give me a sense of their personality?
This will help determine how you might adjust your communication style to be more in line with theirs. Are you dealing with someone who's bottom line-focused or open and chatty? Can you bring some humor to your approach?

How do you think they'll react to this introduction?
Do your referral source and this person regularly exchange resources and make introductions? Is the prospect typically open or resistant to new ideas?
Tell me something you like, admire, or respect about them.
This is one of my favorites because I can usually find a way to apply what I learn to my approach – and I'll bet you can, too. For example, your referral source might say, "She's an extraordinary networker. She seems to know everyone, and everyone knows her." When you reach out, you can say, "George said that one of the things he admires about you is your ability to network. He told me that you are one of the best he's ever seen." There's nothing wrong with leading off with a little flattery.
Not Limited to Referrals and Introductions
Warm and cold research should not be limited to approaching prospects for your business. You can research anyone before connecting with them. Doing so will give you more confidence when meeting new people while helping to generate more meaningful conversations.
For example, let's say you're going to a philanthropic event that will include some heavy hitters with whom you'd like to connect. Research in advance everyone you hope to meet – just enough to learn a few things about each. It's amazing how much more confident you will feel in approaching these "strangers" and how much further your conversations will go when you're able to bring relevant topics to them.
Radically Relevant Action Step
Make it a habit to always do research before you contact prospects so you increase the probability of hitting them with the right message, at the right time, in the right way.
---
Upcoming Webinar

Building Productive CPA Alliances
Featuring Jonathan Kuttin – Barron's Top 100 & Hall Of Fame Advisor
Hosted by Bill Cates – Referral Coach International
Tuesday, October 20, 2020




1:00pm EST / 12:00pm CST / 11:00am MST / 10:00am PST
Now is a great time to start developing relationships with CPAs, many of whom can become productive sources of new clients. If you've struggled with this in the past, perhaps you didn't have the right approach.
You need to hear from someone who has cracked the code on what it takes to meet and develop results-producing relationships with CPAs and tax professionals.
Jonathan Kuttin currently has created over 70 formalized relationships with accounting firms around the country that provide hundreds of inbound referrals to his team every year. Through his unique relationship process, Jon has created long lasting referral sources and has essentially solved the hardest problem in our industry as financial professionals… "Where is my next client coming from?"
In this high-content session, you will discover:
the common CPA concerns and myths about partnering with Financial Advisors.
how to speak the CPA language and earn their trust.
the art of conducting an effective CPA initial meeting.
how to avoid common mistakes made by Financial Advisors when approaching CPAs.
how to effectively lead your CPAs to uncover active-referral opportunities.
how to develop your CPA relationships into truly prosperous, long-term, and mutually beneficial partnerships.
SPACE IS LIMITED
P.S. — Don't Keep This a Secret! Tell Your Colleagues