Bridge THEIR Gap – Bridge YOUR Gap – Release YOUR Brakes
November 17, 2016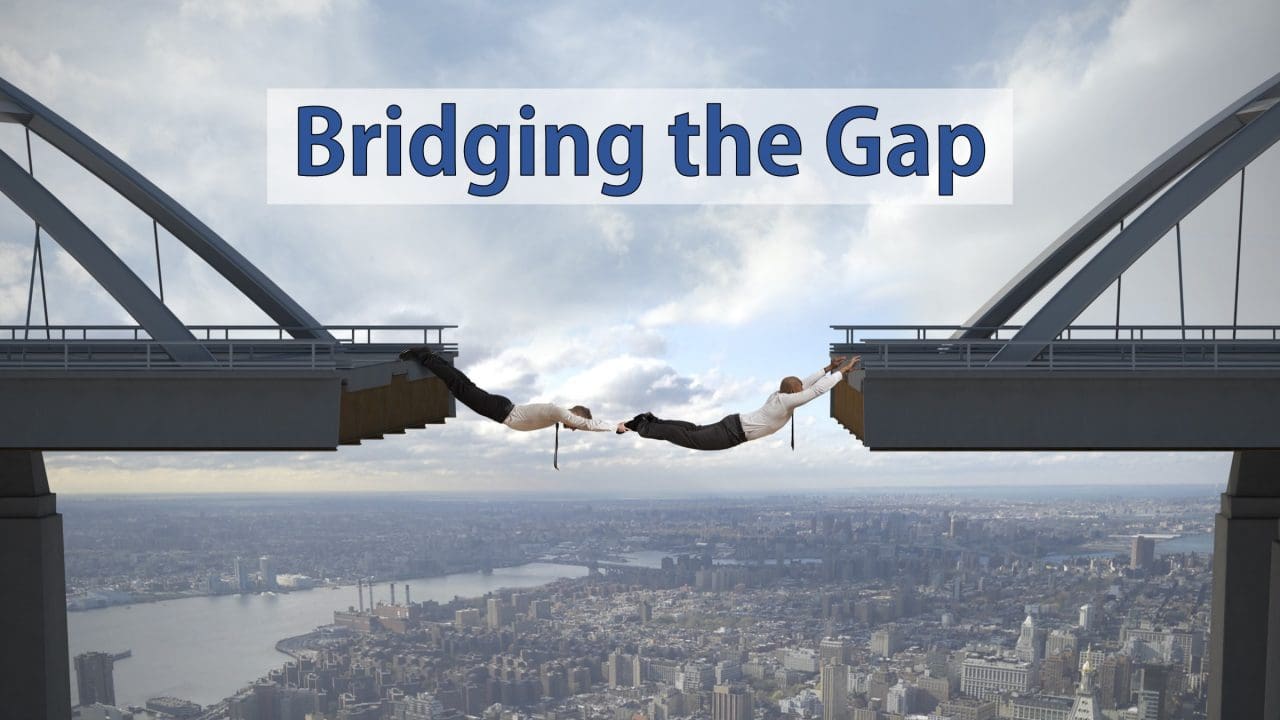 May I be so bold as to say that, "Your life's work is to bridge the gap"?  
In business, your prospects and clients are interested in working with you because they have a gap between where they are and where they'd like to be, related to the work that you do.
And what about you? Is there a gap between where you are and where you'd like to be in terms of acquiring more of just the right types of clients for your business?
Do you have a tendency to celebrate your progress or beat yourself up with regard to this gap? And what about your clients?
3 Gaps to Bridge
1. Your Clients' Gap in Clarity and Confidence
One of the most valuable conversations you can have with a prospect and/or client is about the gap between where they are and where they'd like to be in relationship to the work that you do. The process of helping a prospect get clear on what their gap looks like, what it's costing them (financially or otherwise), and how to close it provides value to your prospects even before you start to do your work.
I learned this simple strategy from Bill Whitley with the Risk Advisor Institute. (If you're a property-casualty or multi-line agent, you should consider membership in Bill Whitley's Mastermind Group.)
Whitley calls this the "Here to There Conversation." First, help your prospect or clients get clear on their "Here" – their current situation. Then, help them get clear on their "There" – their future situation. Finally, have a look at the challenges and opportunities expected in reaching their goal.
2. Your Gap in Business Growth and Profitability
What does it cost to run marketing and lead-generation initiatives? And what does it cost for a referral? Without question, making referrals and introductions a key part of your marketing plan is one of the only things you can do to actually increase revenue and decrease your marketing costs at the same time.
Learn much more about your referral gap with our newest video…
[arve align="center" thumbnail="10867″ width="480″ height="270″ src="https://www.youtube.com/embed/raVBXFE9PI8″ frameborder="0″]
P.S. Want more videos like this one? Subscribe to our YouTube Channel!
3. Your Judgement Gap
When you look at the progress of your business, do you judge yourself by the gap between where you are and where you want to be? Or do you take time to celebrate the progress you've made to get to where you are? Do you celebrate the gap you've covered so far with your business?
I learned about this gap from Dan Sullivan, founder of Strategic Coach. This is a negative, self-judgement gap I continually work on avoiding. Because I still have big goals for myself and my business, I often find myself judging my success – not by the great progress I've made – but by what I haven't yet accomplished.
Big mistake! I believe it's important to set big goals, work hard to achieve them, and not get complacent. On the other hand, I truly believe that spending too much time in the judgement gap is like driving our car with our foot continually tapping on the brakes.
By the way, if you find your clients getting stuck in this gap, see if you can help them get unstuck. Help them continually celebrate their progress.
I would truly love to see your comments and questions on this post. Please tell me what you think in the comments section below – Why did this week's post resonate (or why didn't it resonate) with you?
---


Our YouTube Channel just hit 1,000 Subscribers 
… and I want to celebrate with YOU!
Our YouTube channel is one of our most valuable free resources that we offer here at Referral Coach, and one of the easiest ways for subscribers to keep up-to-date with all of my latest video content!
In honor of this milestone, I'm giving away 10 FREE sets of my complete e-book collection, including Beyond Referrals, Get More Referrals Now, and Don't Keep Me a Secret!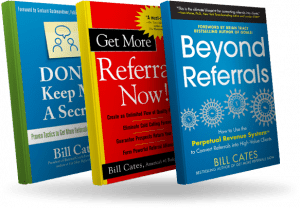 Winners will be randomly selected. For a chance to win, just follow these 2 simple steps before Monday, November 21st:
1. Make sure that you are subscribed to our YouTube channel. Not yet a subscriber? CLICK HERE to sign up.
2. Leave a comment on this video: "To Boost Referrals – Close Your Referral Marketing Gap". The comment should answer the following: "I love referrals more than ____________________."
Please feel free to have fun with this! I can't wait to see your responses. 10 winners will be chosen at random from the comments on Tuesday, November 22nd … so don't miss out! And remember – you MUST be subscribed to our YouTube channel to win!